.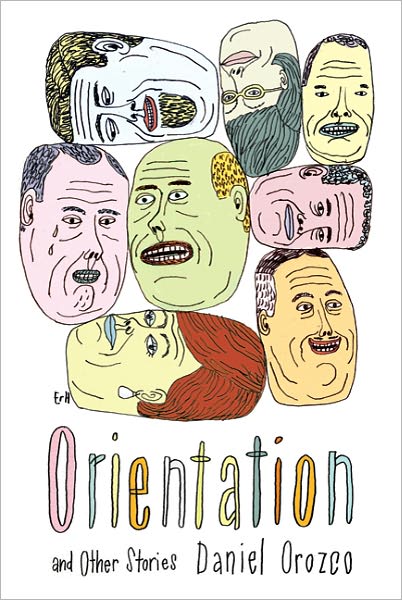 .
"This book has been a long time coming," Daniel Orozco writes in the Acknowledgments page at the end of "Orientation and Other Stories," his terrific collection of nine short stories. The book gathers up all of the pieces Orozco has published thus far in literary magazines (both print and online), starting with the title story which he wrote 17 years ago.
Recently, Orozco was interviewed by the local newspaper in the town of Moscow, Idaho, where he teaches creative writing at the University of Idaho. He described his painstakingly slow path in composition, during which he might spend a week writing a paragraph and a month writing a page. This was, he said, "a way that makes me feel comfortable about moving on."
It is no surprise, then, to find every one of the nine stories in "Orientation and Other Stories" to be of consistently high quality. That consistency does not come from Orozco chaining himself to one comfortable formula or style. No, he manages to pull something different and original out of the hat at each performance.
Thematic links do appear among the stories. Although he can be satirical (especially in several of the stories that take place in office settings) and flat out hilarious (as in the farcical mutual seduction of two cops in "Officers Weep"), Orozco's overriding interest is in deadly serious matters: what it means to be alive ("this feeling that you're part of a world with other people in it, and that you matter because somebody else seems to think you do'); why are human connections so difficult ("You can't know anybody, not really, not in the brief overlaps of flimsy acquaintance, nor in any of the tenuous and fleeting opportunities for connection that we are afforded"); how living our modern, pretend lives (building imaginary connections) dooms us ("you get where you are by yourself'). Yes, much of this is bleak, depressing. Some of these stories will make you shiver in self-recognition.
If you've previously read one or more of Orozco's stories, you probably don't need any persuading. But if not, and you want to get a taste of his writing, the "Click to Look Inside!" book feature here on Amazon will give you access to the first eight pages of the first story. A complete version of the story is available elsewhere online (search the three words, Orozco Orientation nomrad). Want more? The fourth story in the collection, "I Run Every Day," is available for free, in its entirety, at All-Story, the online literary magazine supported by the filmmaker Francis Ford Coppola (search the two words, Orozco Zoetrope). That story will begin to impress you with a remarkable thing Orozco has mastered as a writer, even in the small compass of these short stories: how to slow down or speed up the reader's sense of time, in the service of the narrative. This is especially felt in "Somoza's Dream," in which Orozco, the son of Nicaraguan immigrants, imagines the life in exile of the Nicaraguan dictator. He "stops time" at the moment of Somoza's gruesome assassination. Time speeds at the end of "Only Connect," as a woman somehow harbors, for decades, an act of moral cowardice.
Fine touches are encountered in each story. In "Shakers," a minor earthquake shakes old mortar off the ceiling of a prison dining hall, where it sifts down onto the prisoners, "dusting the tops of their heads like cannoli." The best employee working for a Temp agency is granted "the assurance of permanent temporary employment." A master at conveying the personal atmospherics of the workplace (Orozco notices how newcomers get tagged with nicknames, like "Baby" or the "I Don't Know Girl"), he is equally observant describing the physical environment. Here is an office at the end of the week: ". . . the inevitable sound of an empty office–the enormous quietudes of Friday that roll through the corridors and lap into the conference rooms and cubicles like a submerging tide."  He seems fond of exotic insects: a walking stick here, a helicopter damsel there. Even mechanical equipment can be anthropomorphized: "Overhead, security cameras mounted atop thirty-foot poles turn slowly, taking in the perimeter with ho-hum weariness."
Additional notes:
1.  There's news that Orozco is under contract with the publisher, Farrar, Straus & Giroux, to complete a novel he started back in 2005 while living in a small town in West Texas. The settings will trace his personal journey as an adult: San Francisco, Washington state, and "a fictional town very much like Moscow."  Its release date is still "a few years out." In the meantime, the current book, "Orientation and Other Stories," shows Orozco's progress toward a psychological and moral accounting of our lives today. Count me as one who looks forward to reading his long-form report.
2.  Significant reviews of the book are found here and here. Revealing print interviews of the author are found here and here (in the first, from 2006, Orozco describes his work habits and ends by quoting Colette: "Who said you should be happy? Do your work."). A 15-minute radio interview conducted at WNYC Radio in April is available for listening here.
3.  An abbreviated version of my review of "Orientation and Other Stories" is posted on Amazon, here.
.
Tags: Daniel Orozco, Orientation, Somoza