.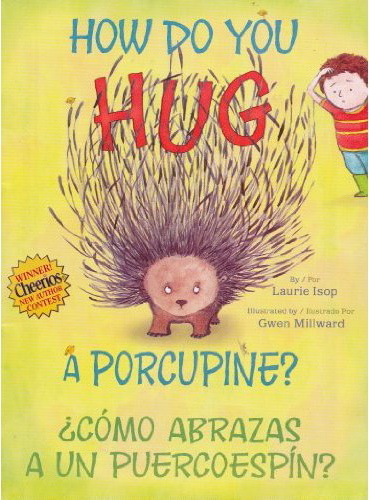 .
The storyline of Laurie Isop's "How Do You Hug a Porcupine?" follows a simple and naturally pleasing formula. One by one, eighteen children pair up with one or more huggable animals.
What ensues is a festival of the warm-and-fuzzies.
Featured are a dog, cat, horse, cow, pig, ostrich, giraffe, bunnies, a yak and more. Coming in last is the most challenging of the potential hug receivers: a porcupine. But, Hooray! Undaunted, one little boy accepts the challenge. A big heart and patient ingenuity (hint/spoiler: his clever solution involves some well-placed marshmallows) are all it takes to succeed. The book's final page delivers us into a warm embrace.
All of this activity is captured in Gwen Millward's sweet, 1950's-style illustrations, created with pencil, ink and watercolor. Her pictures will bring smiles especially to baby boomers who are now grandparents. Notable are several views of the porcupine with quills extended, and one of an elephant modeled in washes of gray. If your child or grandchild is a budding artist, and likes to draw animals, consider this book as a means to inspire her or him to learn the ways of watercolor.
A Spanish translation by Argentina Palacios Ziegler appears just below the original English on each page. Ziegler favors communicating the original text's meaning, rather than slavishly duplicating its meter or rhyme scheme. (Her only arguable misstep occurs when she chooses to use the verb "de vomitar" to convey the idea of the boy's stomach "feeling kind of queasy," just so she can rhyme the previous line ending, "va a dar.")
The moral of the story is as old as the New Testament and as ever-relevant as the Golden Rule: We must try to find a way to muster our courage and reach out to those who, because of some seeming difference, appear unapproachable. And yet there is nothing heavy-handed about the message in "How Do You Hug a Porcupine?" It is one of those books that can inspire, from young readers and maybe the listener in your lap, both childish and non-childish thoughts.
NOTE: The version of the book I read was one of 3 million free copies found in Cheeries boxes this Spring. It is a small paperback (7″ x 5 ¼"). On July 26, Simon & Schuster will publish a larger, hardback edition, but in English only. Expect copies of the bilingual version to pop up at used bookstores, such as stores on Amazon, here. Additional background from General Mills/Cheerios can be found here. Laurie Isop talks about her book in a video posted here.
.