.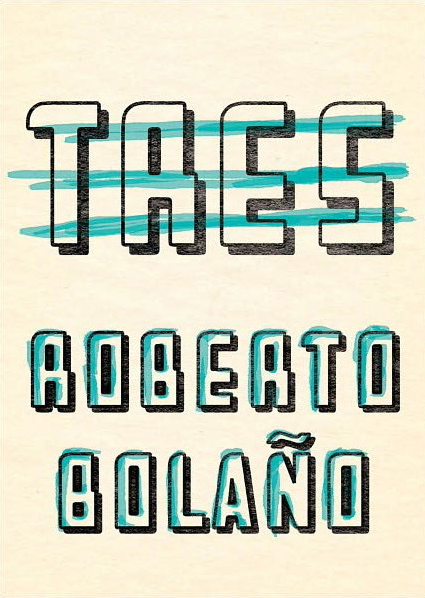 .
TRES is a compilation of three long poems, one written in 1981 and two in 1993, before Bolaño turned his energy to the composition of his major novels. It is a companion to another collection of poetry, Los perros románticos ("The Romantic Dogs"), which contains 43 poems dating from 1980 to 1998. Both volumes first appeared (in Spanish) in 2000.
"The movement of a free mind at play" is how the American writer Cynthia Ozick once described the quality of a well-written essay. I think it's a suitable description for what readers find most appealing about Bolaño's writing, no matter its ostensible literary form or its disruption of those forms.  All of his output — from the sprawling novels like "2666" and "The Savage Detectives" to the short stories to "Between Parentheses: Essays, Articles and Speeches, 1998-2003" — is of a piece.  His execution of the subject matter in tripartite TRES — the playing out of a love affair; the feverish road trip of a band of musicians traversing Chile, Peru, and Ecuador; and the extended set of dreams in which Bolaño defers to his fellow authors (among them, Philip K. Dick, Mark Twain, Archibald MacLeish, and Carson McCullers) — follows Ozick's credo.
The fact that TRES is labelled poetry is an irrelevance. Bolaño transgresses boundaries. If you are otherwise a fan of Bolaño's novels and stories but generally don't like "poetry," my advice is to ignore the poetry tag.
One disappointment I had with the book was the relative paucity of Bolaño's signature epigrammatic statements on art and life. Although the works were at times compelling, I think that for anyone new to this author, there are more auspicious places to start. My candidates: "By Night in Chile" or "The Savage Detectives."
To state that TRES weighs in at 176 pages is deceptive. The book is actually a quick read because of abundant white space on the pages of the two prose poems. If you are reading only the translated pages of this dual-language book, expect to spend 20 minutes or less with each of the three parts.  The original Spanish text appears on the left pages and the English translation (by Laura Healy) on the right. Kudos to the publisher, New Directions, for using not a common glued binding but a binding sewn with thread. This allows the book to stay open and flat for bilingual readers who wish to follow the flow of the words in both languages.
One disappointment is the absence of any helpful editorial content to explain the bare texts — if not annotations or notes, then at least an Introduction would have been a welcome feature. Until someone pens a critical biography of Bolaño to guide the serious reader, bits and pieces of background and context are accessible on the internet. As an Introduction to TRES, I recommend a lengthy, breezy but enlightening 2009 blog post ("The Best of Bolaño is Yet to Come," signed "Rise") written in anticipation of  the appearance of an English translation of the book. The blogger includes some insider comments from the translator Laura Healy.
After reading TRES, I found the following online reviews helped me better understand what I had read. All three are strong in analytical insights:
1.  A review by Dawn Marie Knopf in The Faster Times ("Sharp Instruments and Lynched Messiahs") here
2.  A review by Andrew R. Chow in The Harvard Crimson ("Poetry Collection Introduces the Real Roberto Bolaño") here
3.  A review by Miguel Jimenez ("Another Bolaño Book, Another Work of Genius") here.
.
A version of this review is posted on Amazon, here.
.