.
A few days ago I saw Lincoln, the new Steven Spielberg film. I will see it again. When I do I want to pay close attention to a brief scene that, in my memory, shows the quiet side of the booming brilliance of Tommy Lee Jones' depiction of Thaddeus Stevens.
.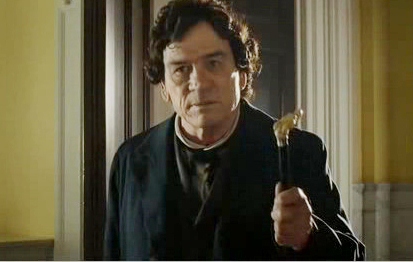 .
Jones portrays Stevens, long-term Representative from Pennsylvania and abolitionist leader of the Radical Republicans, as a man in motion. Born with a club foot, Stevens relies on a walking cane. The handle of that cane — made of brass or, more likely, carved ivory — appeared to me to be in the shape of a dog's head. The dog quite possibly is a greyhound, similar to this one:
.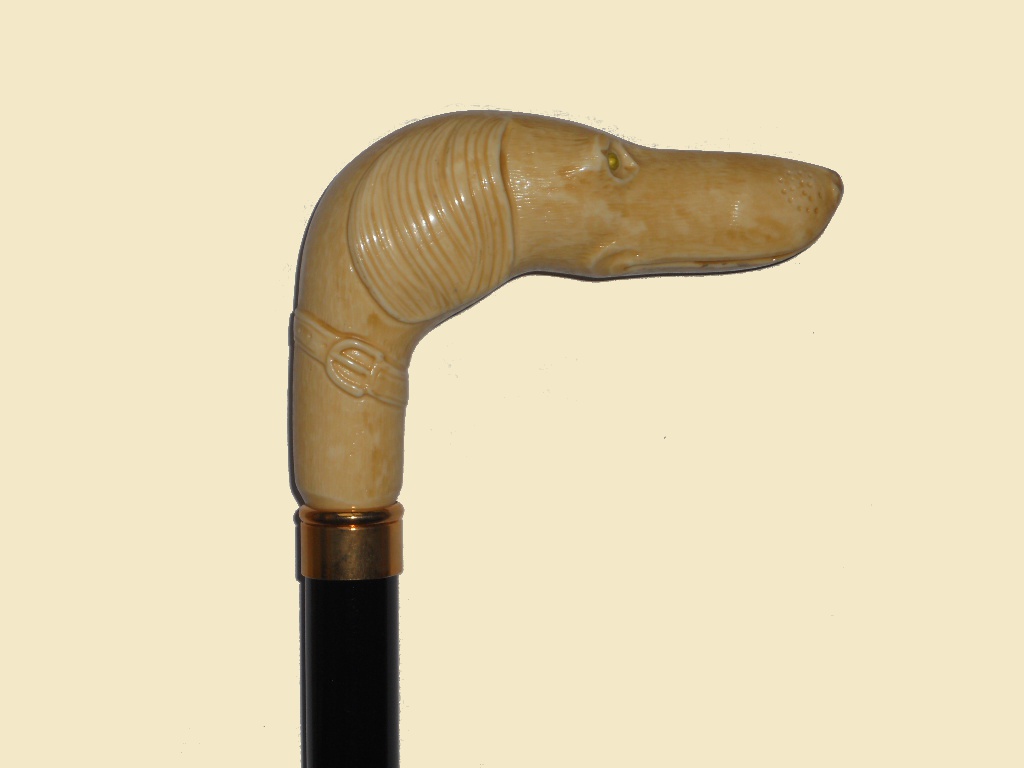 .
Greyhounds are known for their prey-drive. They are bred for coursing: the pursuit of game, which they catch by virtue of their speed, running by sight not by scent.
The quiet scene that so struck my fancy is the one in which we find Stevens sitting in a chair on the floor of the House of Representatives. He is there to participate in the debate over the 13th Amendment to the U.S. Constitution that will abolish slavery. The proposed Amendment is a political test and for Stevens, above all, a moral necessity. The prize of the Amendment's passage in the House is uncertain.
As captured in Spielberg's lens, Stevens sits alone with his thoughts while other Congressmen mill about. In one hand he clutches his cane, as if for added support. His blocky head turns and scans the chamber left and right. We follow his eyes which, the director wants us to understand, are the eyes of a wily politician surveying friend and foe, hungrily sizing up prospects.
And then comes a playful, comic detail, a gesture I strongly suspect was Tommy Lee Jones' idea. It is simply this: Stevens slowly rotates his cane. What we see moving, of course, is the cane handle, the greyhound. Jones, the ventriloquist, covertly moves his dummy. Follow it now — an alert animal head, eyeing one side of the room and then the other. Is the run for the prize about to begin?
.
It usually takes me a second look to discover all that a great actor delivers. Today I was able to revisit a bit of Tommy Lee Jones' performance, as found in one of the official video clips from Lincoln. It is the only one that focuses on Jones. It lasts only 32 seconds and is available on YouTube, here.
.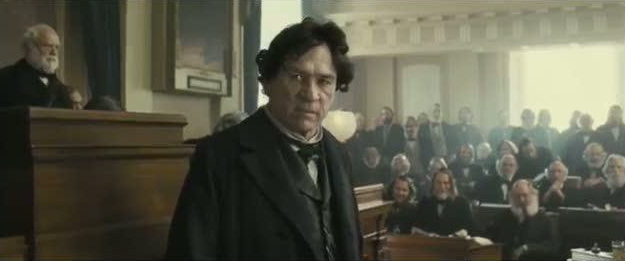 .
In this scene Stevens, in the very center of the floor debate, is in high dudgeon mode. Notice how the actor seizes the opportunity to marry oratory with physicality. In a subtle move (at the 0:22 mark), just as the stream of invective he directs at his opponent (George H. Pendleton) reaches a climax, Jones attempts to move forward, first glancing downward to guide his wayward foot. This seems an inconsequential gesture, the precaution of a 72-year-old man who's unsteady on his feet. But it is more than that. It sets up the next beat. Only seconds later, Jones re-creates his awkward gait in service to his speech. This time he stamps his foot audibly on the wooden floor ("the foot of man," he dubs this action) — pounding his words with a final exclamation point.
.
Update (11/25/2012 at 5:30 pm): Folks at the greyhound forum believe the cane Stevens carries is a greyhound cane, as does the blogger Shannon.
.