.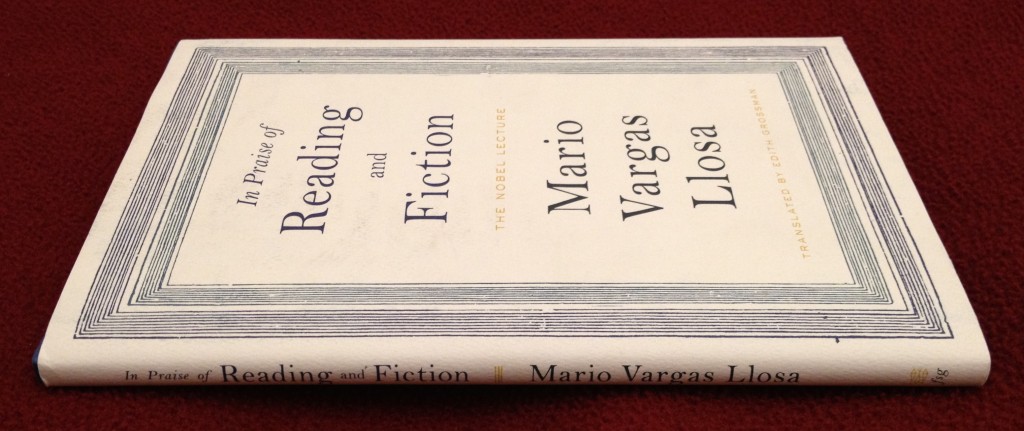 .
The other day at the World Bank InfoShop I bought two remaindered copies of "In Praise of Reading and Fiction," Mario Vargas Llosa's 2010 Nobel lecture. It occupies 38 pages of this ultra-slim volume.
The text is available free online at "The Official Website of the Nobel Prize," here. A video of Vargas Llosa reading the essay in Spanish before an audience at the Swedish Academy in Stockholm on December 7, 2010, can be found here.  His reading lasts 54 minutes.
Why then buy the book?
For me the book's smallness suggests a gesture, so the best answer may be to give it as a gift — on the birthday of a reader friend, or at a house-warming for that bright looking couple who's moved next door, or to someone you care about who's recovering from illness or setback.
It also occurs to me the book may be useful if you happen to be suffering from a condition I call "reader's block" (a sibling to enervating "writer's block"). This is when you feel like you will never again be able to muster the energy to sit for longer than an hour, quietly and attentively, occupying your hands and eyes with one of those wonderful objects known as books. Here is an engaging lecture by a worldly writer; it may just be the ticket for a short trip back to your love of reading.
Vargas Llosa touches intelligently upon a wide range of subjects, and he does so in a straightforward, one might say earnest, fashion. The author's thesis is a bold one: "Thanks to literature," he asserts, "civilization is now less cruel than when storytellers began to humanize life with their fables."
He talks freely about literature, of course (among the American writers he praises are Melville and Arthur Miller), but also about politics, including his path from Marxist to democrat and liberal; about the people and culture of Peru, the country of "every blood"; and about his debt to France, where he learned how literature truly "is as much a calling as it is a discipline, a job, an obstinacy." He talks about his love for his patient wife, and about his personal journey as an author, frequently interrupted by the "vertigo" that begins to seize him whenever a gestating novel "takes shape and begins to live a life of its own." He amusingly recounts how, at age 70, he became a stage actor.
Most humbly he begins and closes the lecture with reminiscences of childhood, what he calls the time of "dreaming, reading, and writing." When I read these passages I was reminded of a remark Albert Camus made in his maturity, a statement I've long been fond of:
"A man's work is nothing but this slow trek to rediscover, through the detours of art, those two or three great and simple images in whose presence his heart first opened."
Surely Vargas Llosa possesses a kindred spirit. He recalls:
"My mother told me the first things I wrote were continuations of the stories I read [about the Three Muskateers, Captain Nemo, Jean Valjean, among others] because it made me sad when they concluded, or because I wanted to change their endings. And perhaps this is what I have spent my life doing without realizing it: prolonging in time, as I grew, matured and aged, the stories that filled my childhood with exaltation and adventure."
.