.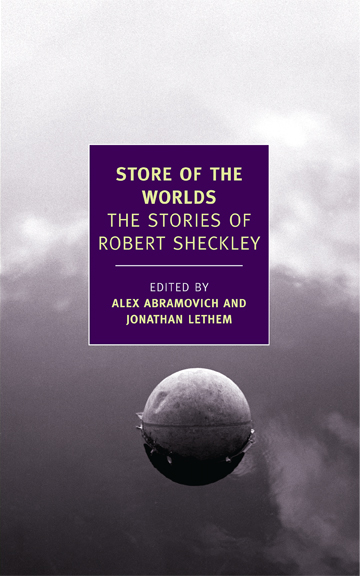 .
The legion of Robert Sheckley fans is usually a quiet and unassuming bunch. Yet sometimes they stir. The occasion of a new publication, or even the repackaging of old material, may spur hidden aficionados to step out of the shadows and publicly declare their loyalty.
One such declarant is Michael Dirda, Pulitzer Prize winning book critic for the Washington Post, whose review of STORE OF THE WORLDS, a newly-gather collection of 26 short stories from the 1950s and 1960, appeared this week under the headline, "A Master of Satirical Fiction."
If you've never read anything by Sheckley and wonder if he's worth a try, Dirda provides some helpful comparables: Kurt Vonnegut's books, the sardonic comeuppance stories of John Collier and Roald Dahl, Edward Gore's little albums, and reruns of "The Twilight Zone."
To that affinity list I'd add this advice: If you remember fondly the mind-stretching experience of your college anthropology class, and/or if your ideal of humor is all sorts of Lord-what-fools-these-mortals-be satire, then this guy's for you, and STORE OF THE WORLDS is a good point of entry.
One caveat. Don't be misled by the fact this volume appears under the imprint of New York Review Books, whose reputation rests on resurrecting out of print literary gems. Sheckley is not a "literary" writer, at least not as that term is generally understood. Your reward as a reader is not the quality of his prose. Your reward will be to enjoy the playfulness of a fertile mind — a mind delivering ideas sometimes antic, mostly sardonic.
There's one other collection of the author's stories currently in print that you should consider as an alternative: The Masque Of Manana. It's a hardback and contains 41 stories, 15 more than the paperback STORE OF THE WORLDS. Among the stories found in both books are the four Dirda specifically calls out in his review. Another fan-favorite, "Watchbird," a cautionary tale that presaged by half a century today's controversy over domestic use of drones, is found in STORE but not in MASQUE. One of Dirda's favorites is mine also: "Shape," aka, "Keep Your Shape," an aliens-visiting-earth story in which Sheckley maintains tension so well that you're simply overwhelmed by its lovely dénouement.
I was introduced to the world of Robert Sheckley by a friend way back in graduate school, and, following a pattern not unknown to inveterate readers, gobbled up the author's work — some novels but mostly the collections of tasty short stories — like a kid in a candy store. Those days you could easily find Sheckley in bookstores specializing in science fiction/fantasy. Every city had one. (But today?) Another source: the disreputable dark dusty corners of used bookstores where ratty SF paperbacks were kept.
Thank you, NYRB, for allowing readers like me to revisit these stored pleasures.
.
A shorter version of this review is posted on Amazon, here.