Archive for the 'Culture' Category
Saturday, April 20th, 2013
Sunday, February 17th, 2013
.
At an auction last week I bought a painting by the American artist Barry Bridgwood. Hot Dogs is the title he gave to the enigmatic work.
Bridgwood was born in Massachusetts in 1957. He attended the Art Institute of Boston (1978-81) and the School of Visual Arts in New York City from 1981-83. He then joined the creative ferment known as the East Village art scene of the 1980s. From the vantage point of today, observers and critics confess the difficulty if not impossibility of reducing to an easy formulation the polymorphous art spawned by that time and place. As one who was there has written: "The East Village didn't have a style per se, it was more of an explosion of artists trying to get their work out." I agree, and so for the moment let generalities  give way to an appreciation of the works themselves, including this one:
.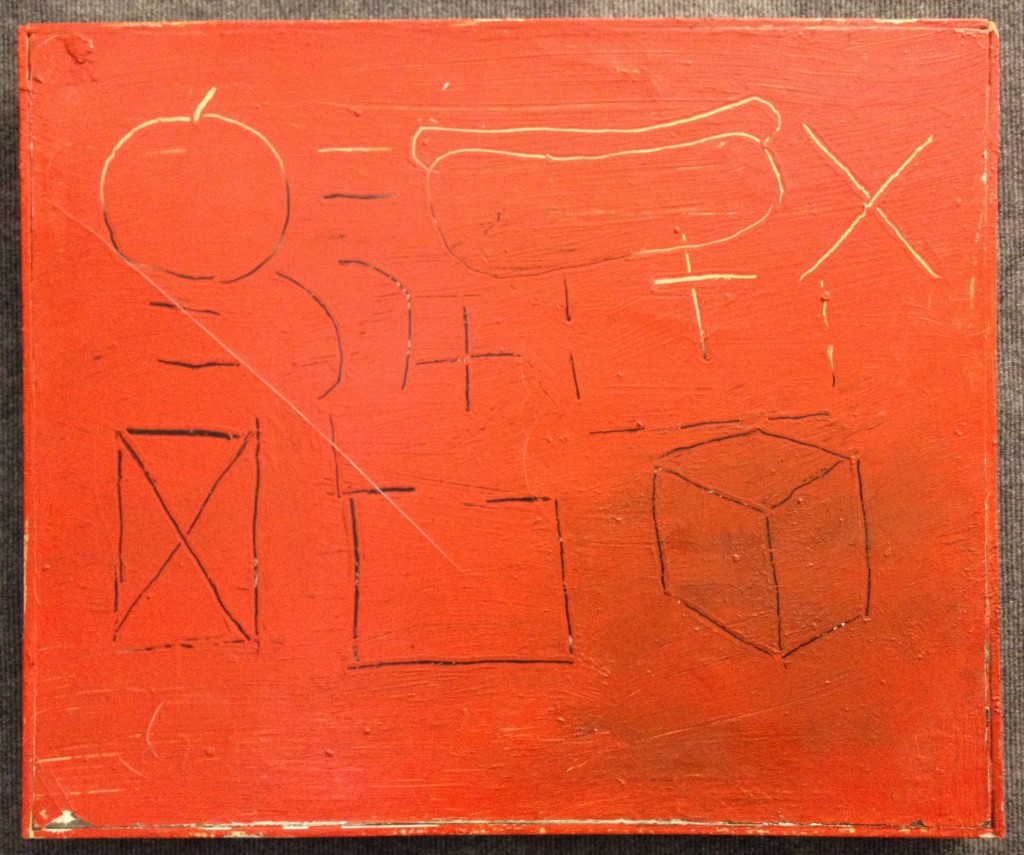 .
[Hot Dogs, 1983, oil on canvas with integrated strip frame, 20 3/4 x 25 inches, signed and dated verso, and inscribed "New Math Gallery"]
.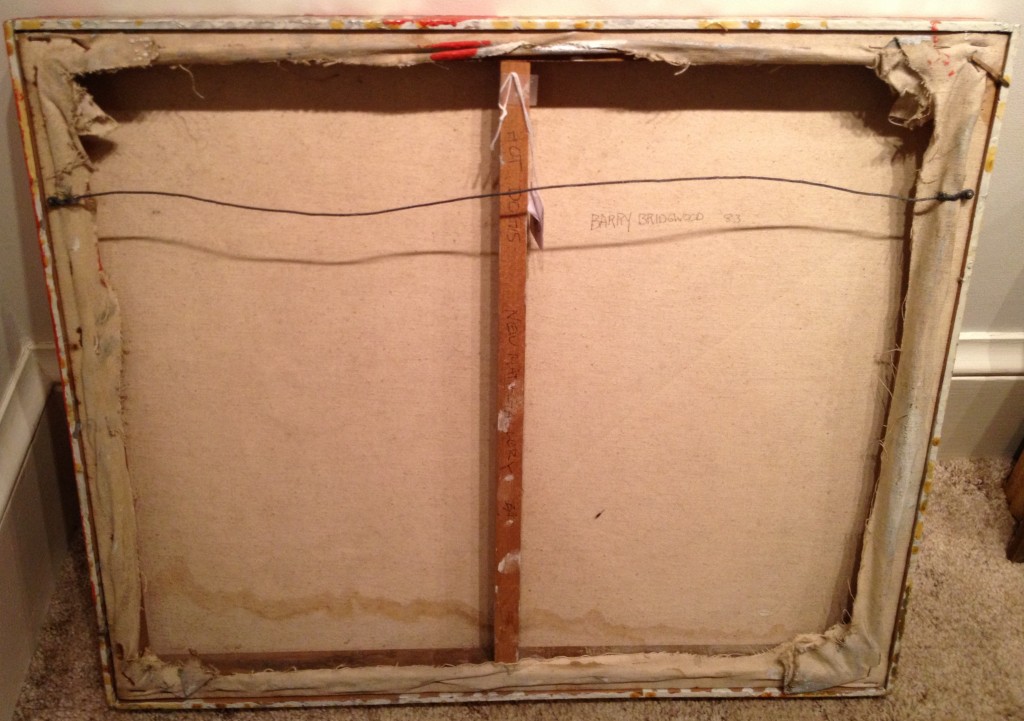 .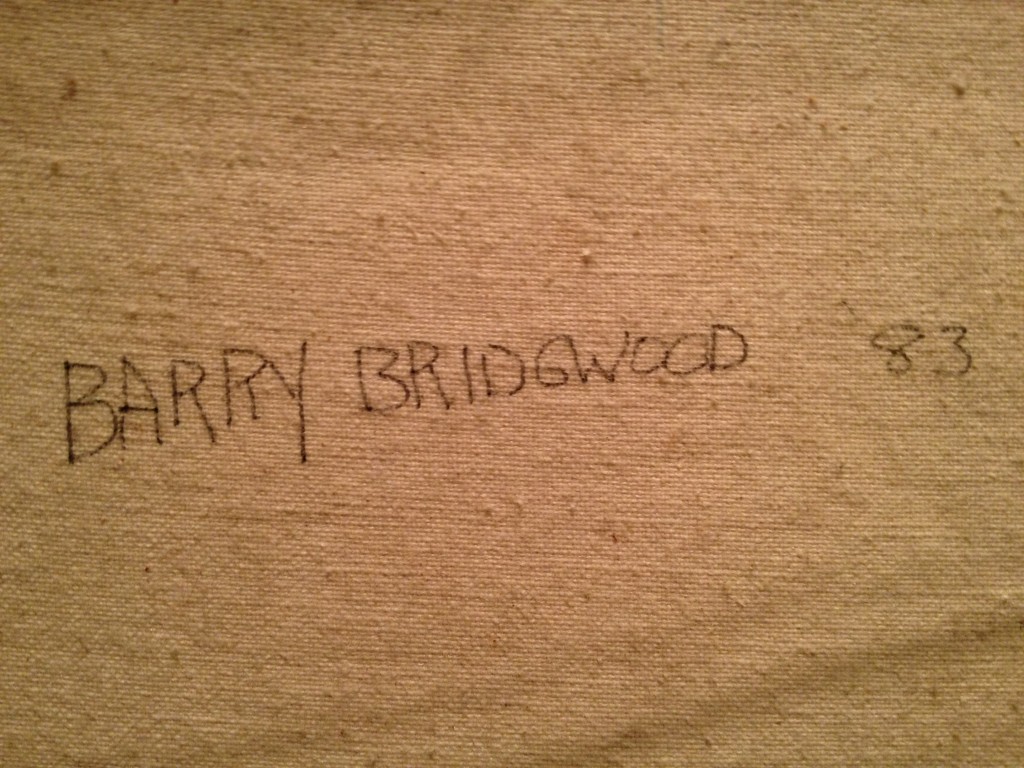 .

.

.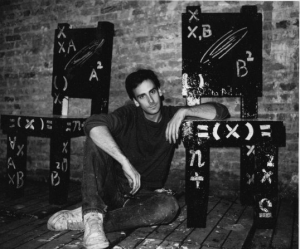 .
Hot Dogs was shown at one of the initial exhibits — and possibly the very first show — at one of the East Village's pioneer store-front galleries, New Math Gallery. When in 1983 Nina Seigenfeld decided to open the gallery (with co-owner Mario Fernandez) she and Bridgwood were still students at SVA. Seigenfeld recently wrote an engaging but all-too-brief history of the gallery, describing the energy of the time and the "camaraderie and sense of community that can never be replaced." Her article appeared in the Spring 2010 edition of Fine Art Magazine, available online here (page 36). The online site of Artists Space includes a photo of the first location of New Math Gallery; two years later the gallery moved to a larger space on Avenue A between 12th and 13th Streets, which it occupied only a short time until the co-owners decided to shut it down in 1986).
.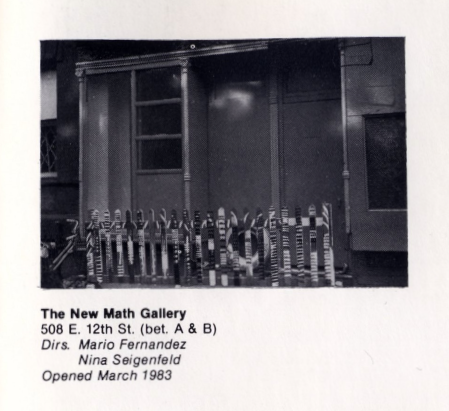 .
What attracted me to Bridgwood's Hot Dogs? At first blush it was the unplaceable color of the work, at least as it appeared in the auction's online catalog entry:
.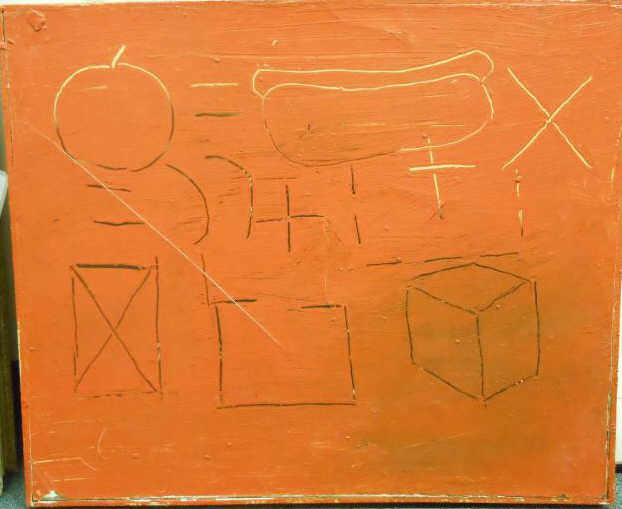 .
Now that the painting is hanging on a wall in my home I can report the color in the illustration was false. It is not mustard, not orange, not salmon, notred, and so the intrigue of its "actual" color remains powerful. This mercurial chroma also confounds my digital camera's optics. I've been photographing the painting at various times and vantage points, and the camera simply cannot decide what the object's definitive color is.
Then there is the subject matter of the painting. The incised drawings, which reveal a white ground in some areas and an under-layer of black elsewhere, present a conundrum.
All of the figures you see stay mute and polite within the bounds of the painting's rectangular field. However, if the viewer is so inclined, this content may be ordered into three horizontal bands. So arranged, the analysis may follow this path:
The top band initiates what appears to be a mathematical equation. Its opening terms include contour line drawings of two recognizable objects. These are a piece of fruit with a stem (most likely an apple) and a hot dog cradled in a bun. The relationship of the two comestibles to each other and to what lies ahead is established via two basic interstitial symbols. One establishes equality (=) and the other spurs multiplication (X). The first line ends with a cliffhanger. That "times" sign is a transitive verb that asks, Times what?
In other words, my defensible assumption is the equation continues on to the next line (the middle band). There, equal symbols appear again, confusingly. The symbol for addition (+) shows up, in black and white flavors. There too are two parentheses. The usual function of parentheses in a long mathematical formula is to organize and clarify complex relationships among terms. But at this point in our scanning of the painting, exactly what is being organized is becoming ever more elusive.
Then on to the the bottom band. It may or may not be a continuation of the conversation. How do we know whether it belongs in the formula? Certainly the tone is different. Gone are the carnal suggestions of the objects met in the top line, their roundness hinting of succulence. Such temptations are abandoned, replaced with straight lines that form three geometric constructions. We see: a rectangle with an internal "X" large enough to touch its four corners; an outline of another rectangle, this one empty but with a broken top segment suggesting openness; and finally a classic cube tilted to show three of its implied six surfaces. The viewer may wish to reconsider whether the middle band is meant as connective tissue between top and bottom bands. Certainly the stability of the relationship is nowhere near certain.
An extraneous piece of the puzzle is this: The work's title promises hot dogs (plural) yet there is only one weiner to be seen. Does the painting offer a mechanical formula to create more? Is this a blueprint for a duplicating machine whose first test run involves processing a simple frankfurter?
Equally elusive is the question of the quality (the success or failure) of the work. The art that emerged from the East Village in the early 1980′s attracted its share of haters, and this remains true today. Detractors dogtail even (or maybe especially) the artists who went on to rise furthest from its midst — Jeff Koons (childish fixations!), Keith Haring and Jean-Michel Basquiat (all that scribbling and doodling on blank slates!). Is it possible the painting now in my custody deserves the same obliquey – lazy and puerile! – and I'm just too blind to realize it? In time will my judgment change? Who knows.
Right now I'm enjoying the sight of Bridgwood's playful handling of the enamel paint-smeared canvas that he treats as his very own schoolroom chalk board, a proprietary surface to mark with personally meaningful signs and symbols. The syntax of those signs and symbols — and the ultimate message of the painting — I will wait to decipher.
I'm reminded of the young instructor who points to figures upon a blackboard in a watercolor done a century ago by Winslow Homer titled Blackboard (1877). Do you see, there in the bottom row, a large "X" whose four limbs touch the corners of an imprisoning rectangle?
.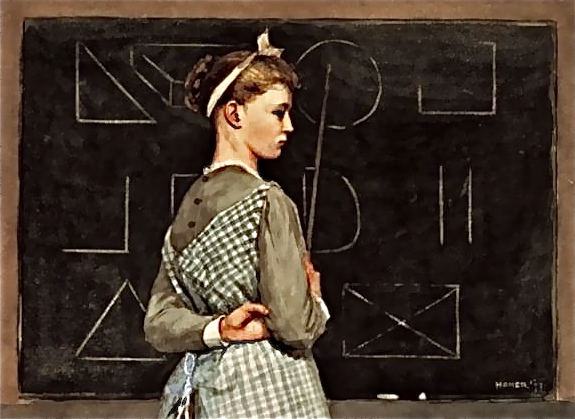 .
Where is the teacher who will help the eager, interpreting viewer to decode the formulas of here and now?
.
.
__________
Update 1 (02-19-2013): During my Facebook conversation with the painter, begun yesterday, Barry Bridgwood told me, "I did a lot of 'math' in my early 80′s paintings." I must follow up on that remark.
Update 2 (02-20-2013): The artist generously replied to my questions about his math paintings. Highlights:
I feel the math draws the viewer into it and makes the mind think and ask questions! like a magnet! … I started to put algebra/math in my paintings as a type of a further abstraction element … Although by the mid 80′s, 1984 on, I was making mostly the computer generated work, I did keep making paintings with algebra in them … My 1st show at New Math was mainly algebra type paintings … In 1990 I had a show at Laurie Rubin Gallery in Soho that had both the computer silk screen work and "math" paintings … Many of the "math" painting sold very well, many collectors have them … There where 2 in a New York Group show in September called "Crossing Houston" at Smart Clothes Gallery on Stanton Street in the Lower East Side, an "80′s NY/East Village" show … The math paintings have started showing up in shows and the auction! It's great to see them again! … Also, putting algebra in paintings can make them look smart. I was in a group show at Harvard University some years back called "Smart Art" !
Bridgwood's Facebook page contains this photo, from the 2012 exhibit, "Crossing Houston," at Paul Bridgewater's Smart Clothes Gallery, showing two other 1980′s paintings with one of his small "computer paintings" from 1992 in between:
.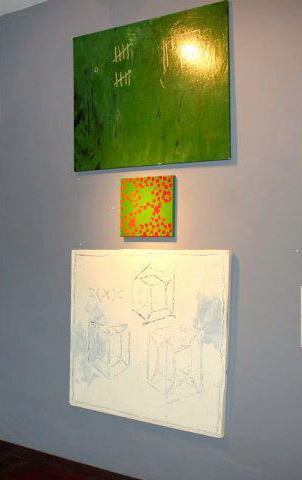 .
Update 3 (02/26/2013): During a Facebook conversation today, Nina Seigenfeld Velazquez writes, "I think Hot Dogs might have been in our very 1st show at New Math."
Update 4 (04/27/2013): I came across two other paintings from Bridgwood's series of "math paintings."
One was painted the year following Hot Dogs and features a reused frame as an integral part of the work (Untitled, 1984, enamel on board, 24 x 36″ with integrated frame). It is reproduced on page 321 of the March/April/May 1986 edition of the German art publication, Kunstforum International, in an article entitled "Tropical Codes" by Tricia Collins and Richard Milazzo. Bridgwood is one of 24 New York Scene artists profiled by the authors — a group engaged in "new conceptual work [that] entails, for the most part, a post-Simulation model involving the collapse of abstraction and appropriation into a hybrid form–a new cultural sandwich for informed mouths."
.
.
Describing the signs infusing Bridgwood's art of this period, Collins and Milazzo observe:
"The image (usually mathematical symbols and various fruit) is primitively scratched into the pictorial surface, constructing an unnatural painterly (hot) system of austere (cold) signs, extreme in their transparent, scientific, but, ultimately, fictional transmission of signic energy across a slow, opaque, nebulous surface."
The second painting I recently located belongs to the collection of the Fisher Landau Center for Art, in Long Island City, New York (Untitled, 1985, acrylic on canvas, 40 x 40″, property of Emily Fisher Landau, New York).
.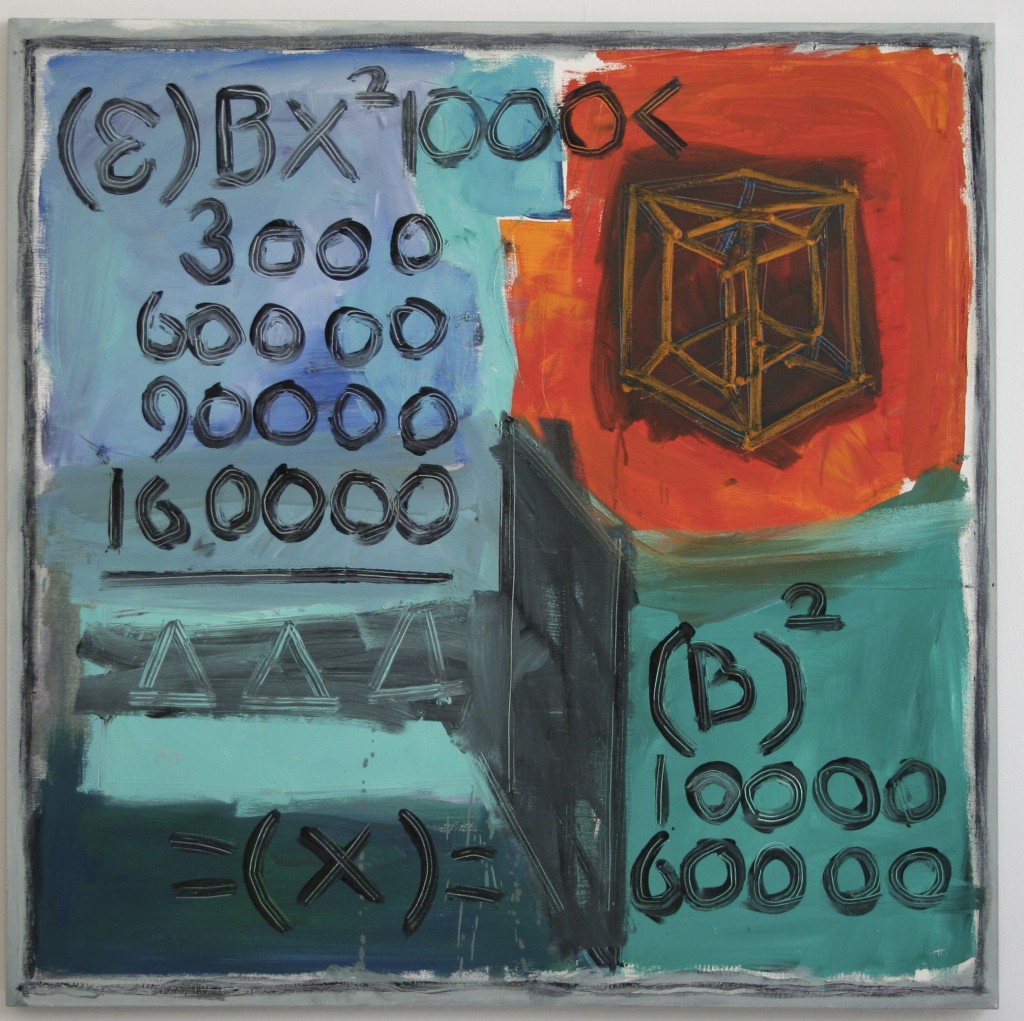 .
Sunday, November 25th, 2012
.
A few days ago I saw Lincoln, the new Steven Spielberg film. I will see it again. When I do I want to pay close attention to a brief scene that, in my memory, shows the quiet side of the booming brilliance of Tommy Lee Jones' depiction of Thaddeus Stevens.
.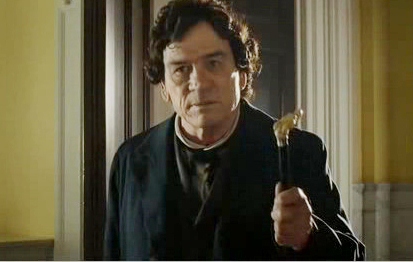 .
Jones portrays Stevens, long-term Representative from Pennsylvania and abolitionist leader of the Radical Republicans, as a man in motion. Born with a club foot, Stevens relies on a walking cane. The handle of that cane — made of brass or, more likely, carved ivory — appeared to me to be in the shape of a dog's head. The dog quite possibly is a greyhound, similar to this one:
.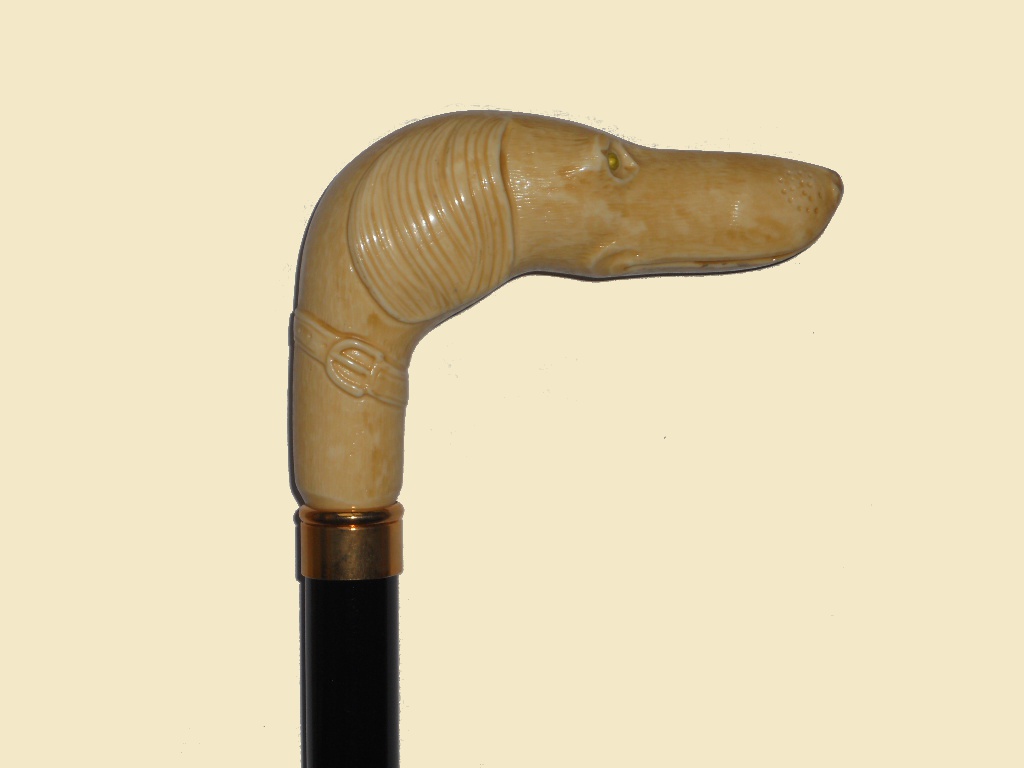 .
Greyhounds are known for their prey-drive. They are bred for coursing: the pursuit of game, which they catch by virtue of their speed, running by sight not by scent.
The quiet scene that so struck my fancy is the one in which we find Stevens sitting in a chair on the floor of the House of Representatives. He is there to participate in the debate over the 13th Amendment to the U.S. Constitution that will abolish slavery. The proposed Amendment is a political test and for Stevens, above all, a moral necessity. The prize of the Amendment's passage in the House is uncertain.
As captured in Spielberg's lens, Stevens sits alone with his thoughts while other Congressmen mill about. In one hand he clutches his cane, as if for added support. His blocky head turns and scans the chamber left and right. We follow his eyes which, the director wants us to understand, are the eyes of a wily politician surveying friend and foe, hungrily sizing up prospects.
And then comes a playful, comic detail, a gesture I strongly suspect was Tommy Lee Jones' idea. It is simply this: Stevens slowly rotates his cane. What we see moving, of course, is the cane handle, the greyhound. Jones, the ventriloquist, covertly moves his dummy. Follow it now — an alert animal head, eyeing one side of the room and then the other. Is the run for the prize about to begin?
.
It usually takes me a second look to discover all that a great actor delivers. Today I was able to revisit a bit of Tommy Lee Jones' performance, as found in one of the official video clips from Lincoln. It is the only one that focuses on Jones. It lasts only 32 seconds and is available on YouTube, here.
.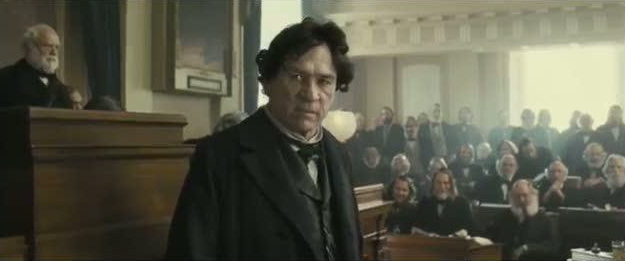 .
In this scene Stevens, in the very center of the floor debate, is in high dudgeon mode. Notice how the actor seizes the opportunity to marry oratory with physicality. In a subtle move (at the 0:22 mark), just as the stream of invective he directs at his opponent (George H. Pendleton) reaches a climax, Jones attempts to move forward, first glancing downward to guide his wayward foot. This seems an inconsequential gesture, the precaution of a 72-year-old man who's unsteady on his feet. But it is more than that. It sets up the next beat. Only seconds later, Jones re-creates his awkward gait in service to his speech. This time he stamps his foot audibly on the wooden floor ("the foot of man," he dubs this action) — pounding his words with a final exclamation point.
.
Update (11/25/2012 at 5:30 pm): Folks at the greyhound forum believe the cane Stevens carries is a greyhound cane, as does the blogger Shannon.
.
Sunday, September 9th, 2012
.
This spring I added a piece to my collection of mid-19th-century oil sketches by American artists. The painting, by William Hart (1823-1894), comes from the May 15, 2012 sale at Heritage Auctions. The work is an oil on canvas, 12 by 19 1/2 inches, titled "Rocks on the Shore."
Here is the photo included in the auction catalog.
.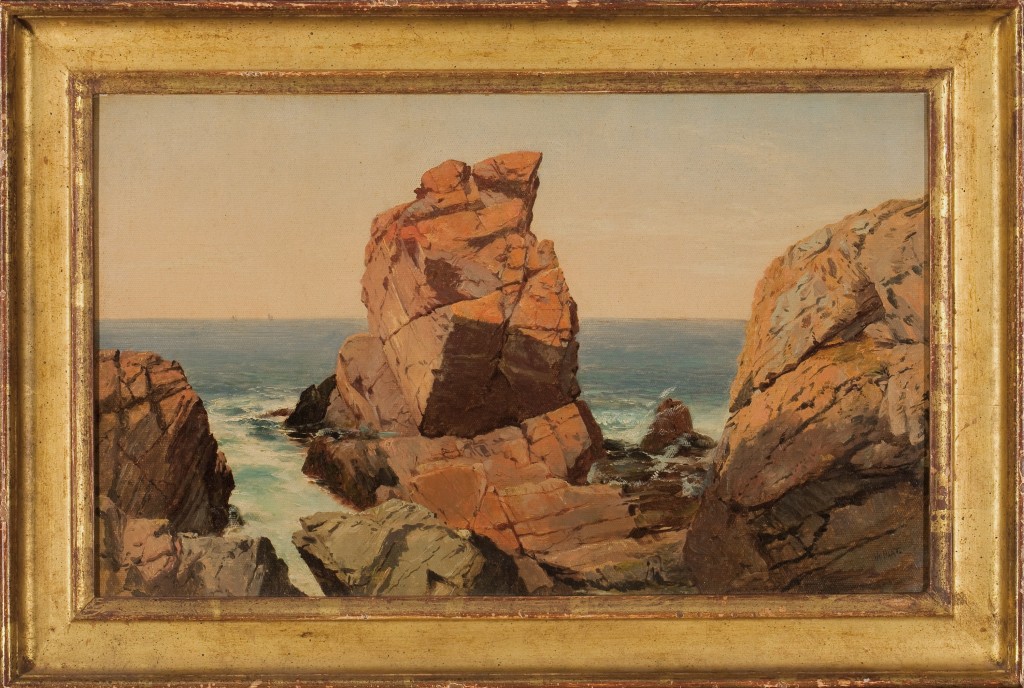 .
It sometimes takes time for a work of art to reveal its value, secrets, and beauty. This painting is a good example of a slow reveal.
So far I've been led to two revelations.
The first discovery came about when I decided to uncover the work's original appearance. A century and a half of accumulated dirt and time-yellowed varnish had obscured its glow. For this assignment I relied on the technical skills of an experienced painting conservator. His principal task was to remove dirt and varnish (what turned out to be two separate layers of varnish) that veiled the artist's accomplishment.
Here is a photo taken during an early stage of conservation treatment (note the upper left quadrant).
.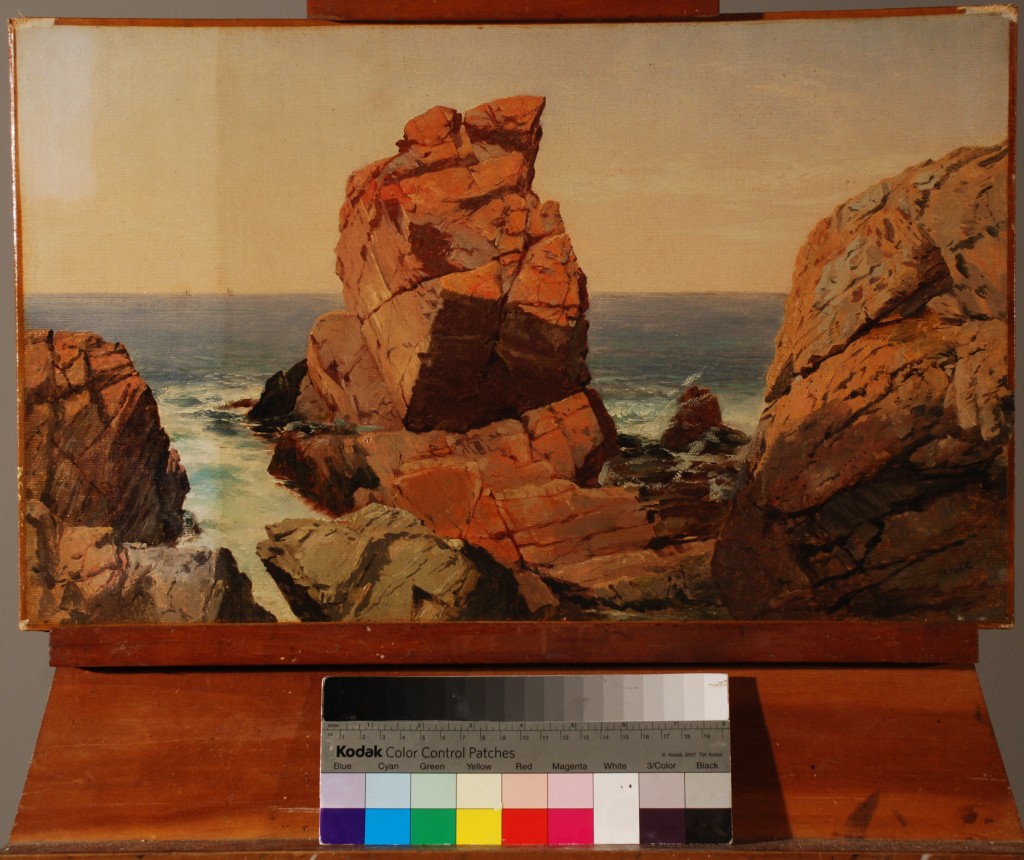 .
The result of the cleaning was striking. Revealed was a fresh, high-keyed painting that engages the viewer's eye. The scene Hart depicts has an immediate impact. This reaction is a sign of a fine plein air sketch — a painting completed, or at least begun, in the open air, in a face-to-face encounter with the natural environment.
.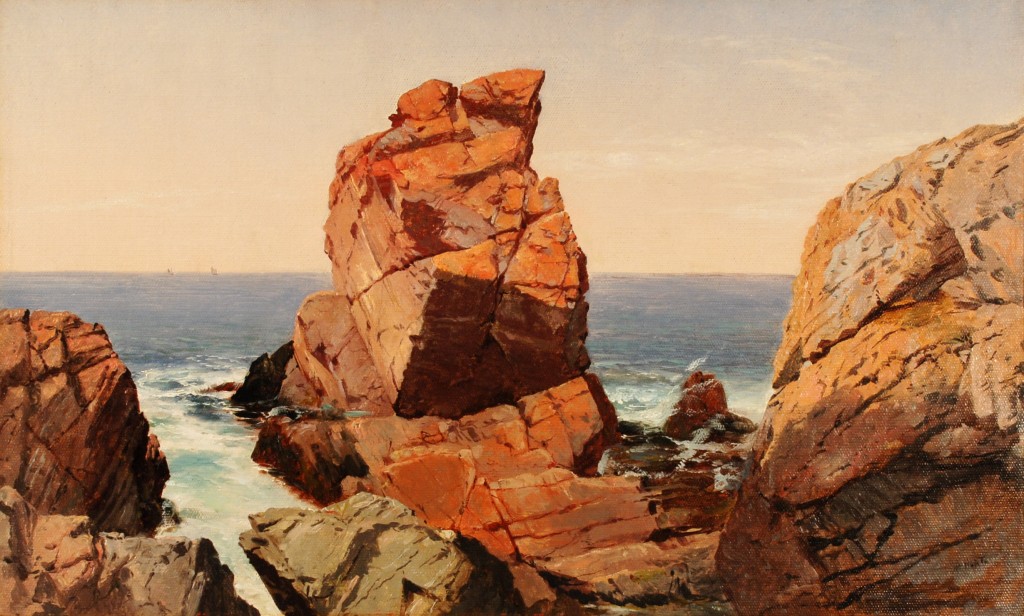 .
Some of the details that emerged brightly:
.
The signature in the lower right corner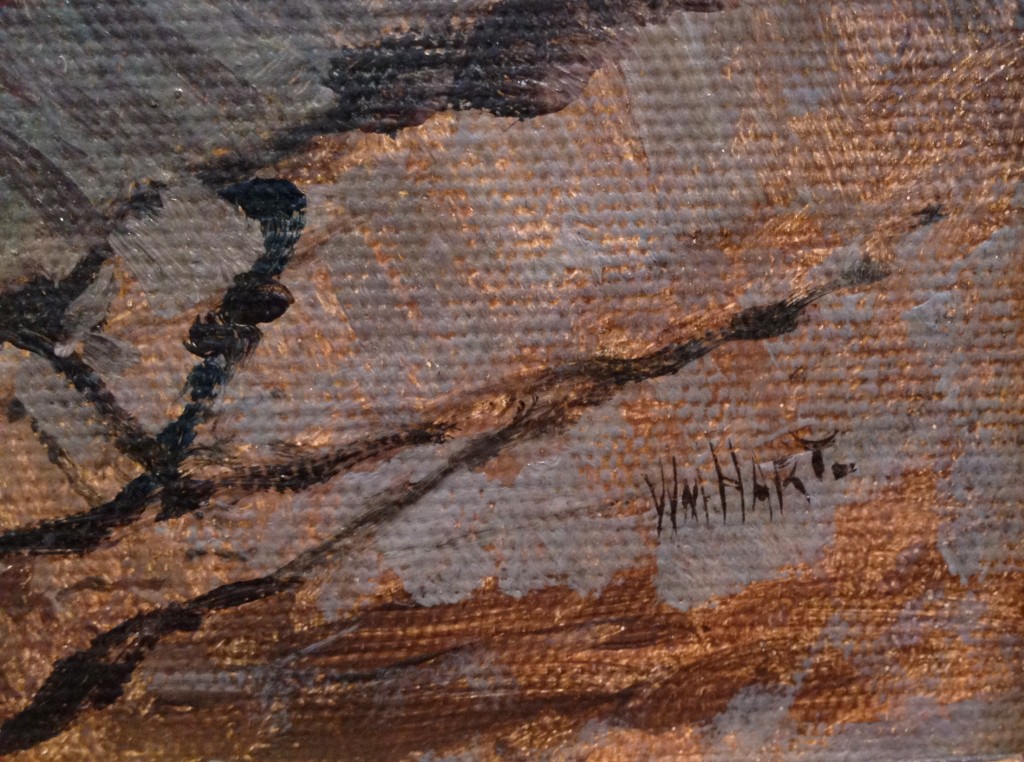 .
Pencil outlines now clearly visible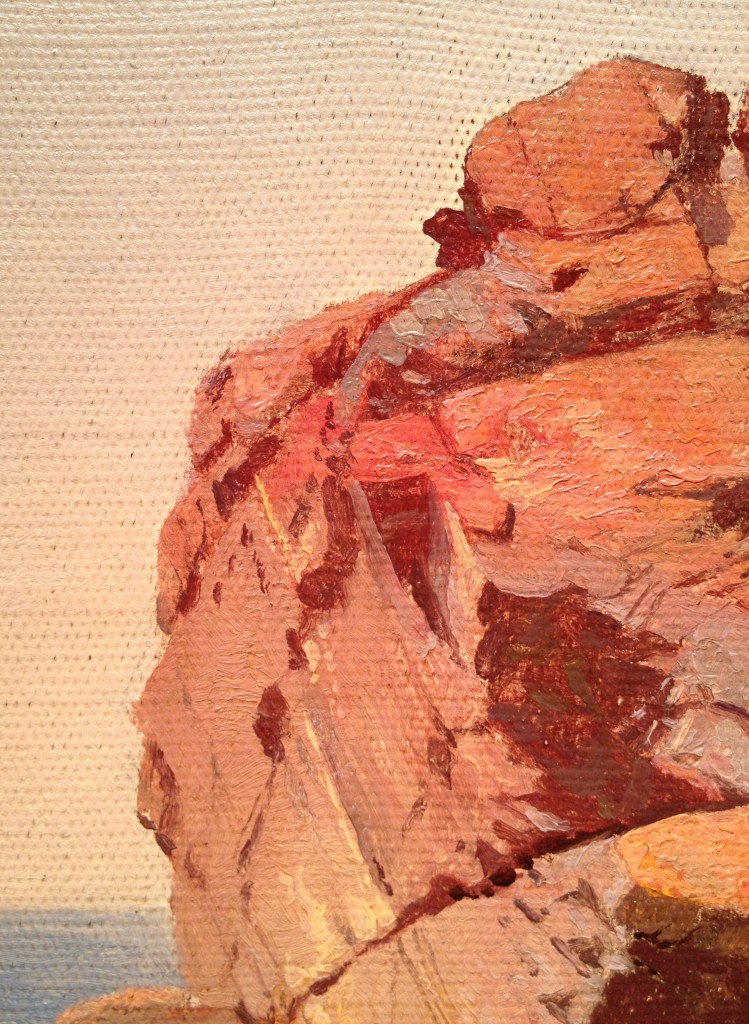 .
Hart's joyful facility in handling a colorful, paint-laden brush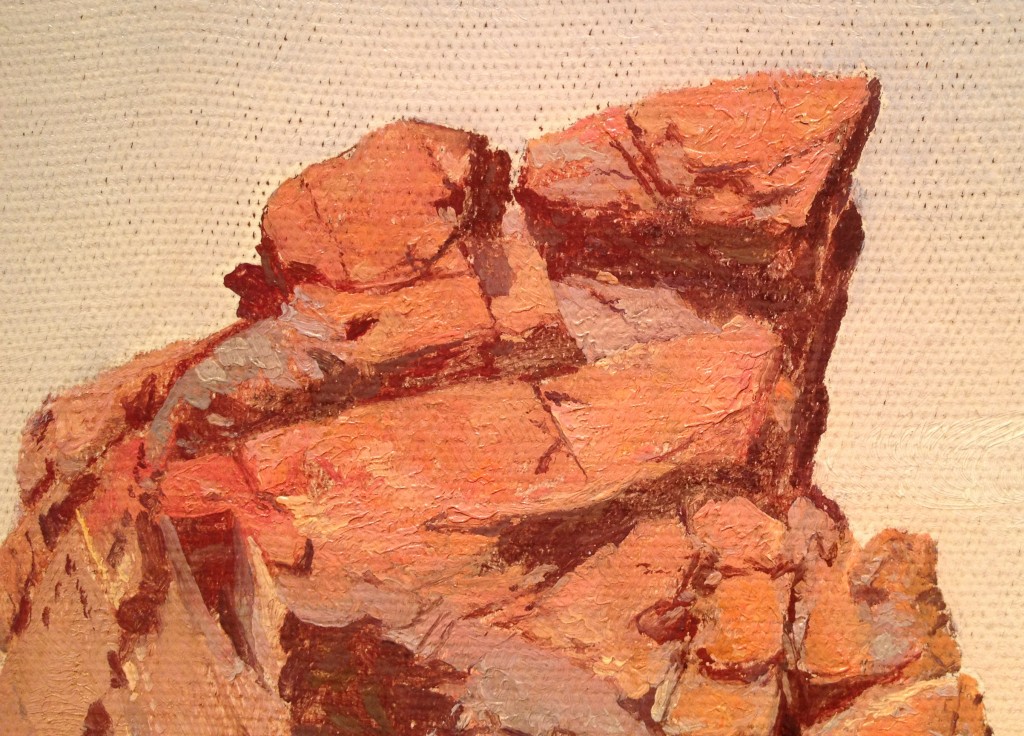 .
Hart's attention to the smallest phenomenon, such as grasses rooted in the boulder's crevices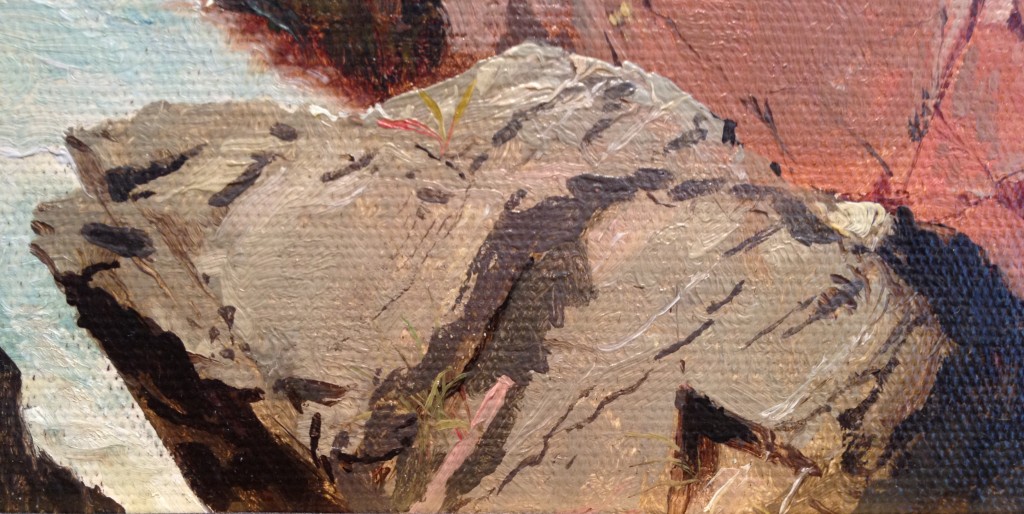 .
The second discovery I made was the location Hart chose to capture in paint. As I'll explain, the path to the correct site was not smooth: the search was first waylaid by a false positive.
Unfortunately, other than the artist's signature, no inscriptions appear on the canvas verso or recto, nor on its original stretcher. Determining the scene's location and the date Hart painted it would have to depend on external sources linking back to the powerful view right before my eyes.
The auction catalog's description of the piece contained a bit of speculation:
"This fine example of the subject [of a rocky shoreline] by Hudson River landscapist William M. Hart, a Scottish emigre who settled with his family near Albany, New York, [...] probably records a spot of coast in Maine, near Grand Manan where he frequently painted."
I, too, thought Maine was a good guess. But exactly where in Maine? Surely such a dramatically wrought promontory, whose every cut and curve, plane and shadow, was meticulously traced by Hart's eye and hand, must be some familiar spot. Most likely it would have have been known and appreciated by Hart's fellow artists who traveled up and down the coast in search of scenes picturesque and sublime. Was there at least one other artist drawn to record this vista?
Surfing online for answers, I found other examples of Hart's own paintings of rock cliffs meeting the sea:
.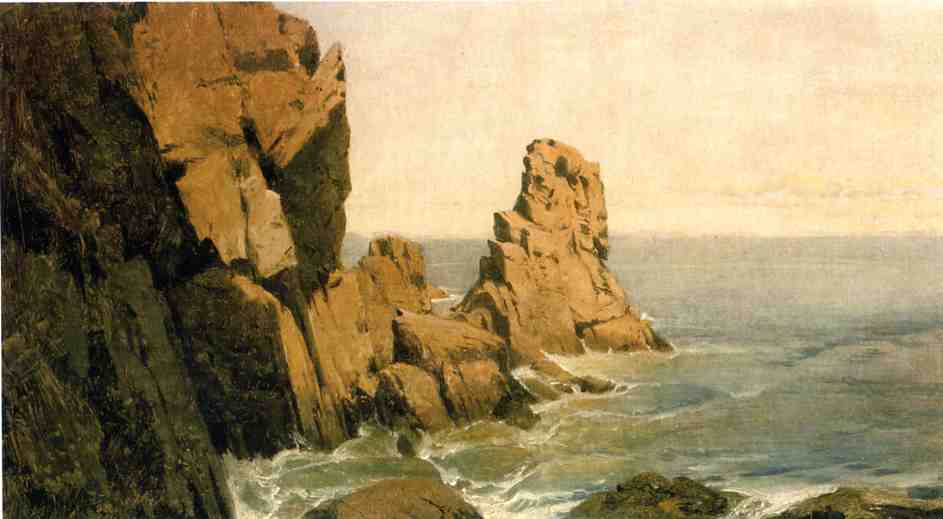 .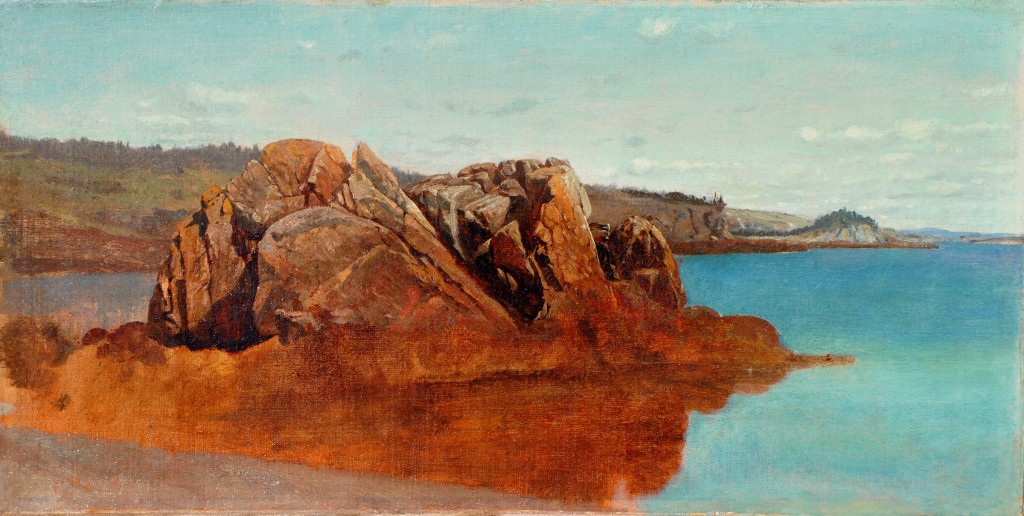 .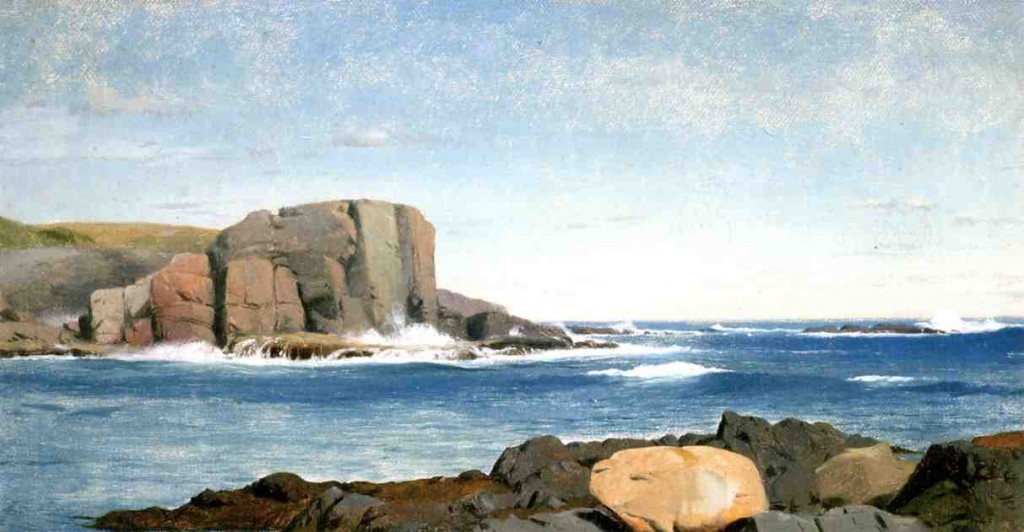 .
But these paintings were of different formations and none of the information connected to them pointed to the location of my painting.
Then, a Eureka moment.
(Or so I thought at the time.)
Paging through John Wilmerding's "The Artist's Mount Desert: American Painters on the Maine Coast" (1994) (currently out of print), I came to the chapter devoted to William Stanley Haseltine (1835-1900). Haseltine, like Hart, was a member of the second generation of the Hudson River School, America's first native school of landscape painting. He is best known for his precise renderings of the rocky coast of New England. Starting in the late 1850′s and continuing well into the next decade, Haseltine traveled from Maine's Mount Desert Island to Rhode Island's Point Judith, executing along the way drawings and sketches that he used as source material for larger studio works. Bold rock formations of particular locales were his inspiration and his forte.
On page 112 of Wilmerding's book there is an illustration of one of Haseltine's beautifully rendered drawings from 1859: "Thunder Hole, Mount Desert Island" (pencil and grey wash on paper, 15 1/8 x 21 9/16 inches, private collection):
.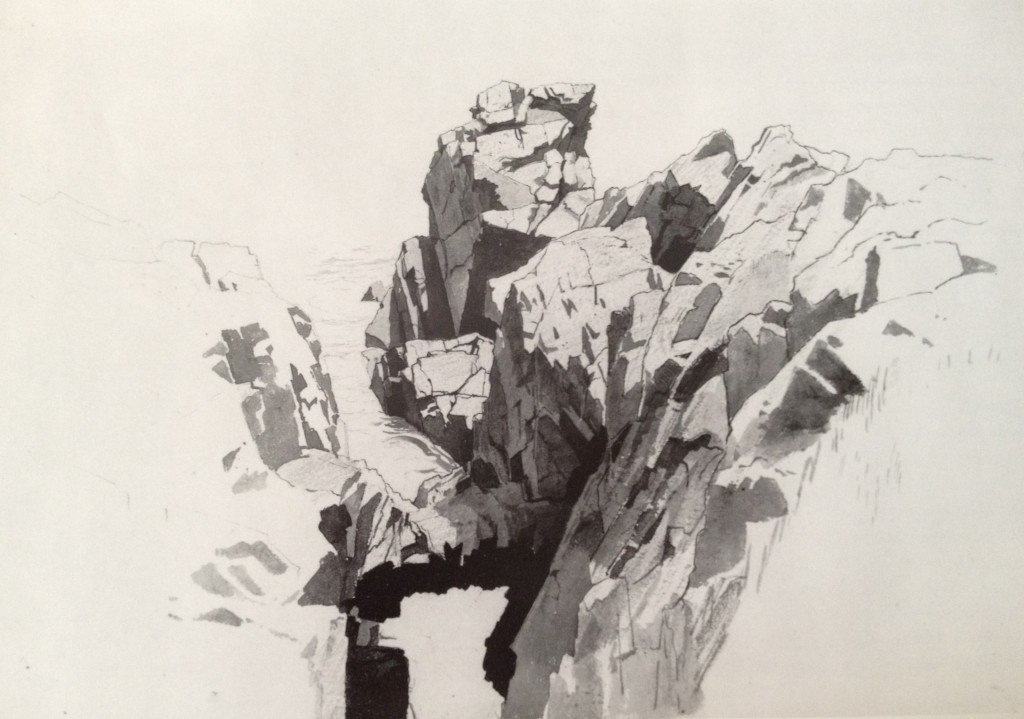 .
Look at the monolith at the end of our line of sight. Yes, it is a match.
When Haseltine recorded this view of the cliffs overlooking the sea, it appears he stood further back from the water than did Hart. He also positioned himself a bit to the right. This means slightly less of the left face of the huge cubic mass at the apex of the composition is visible compared to the view recorded by Hart. Regarding that central craggy monolith, there's no mistaking the fact that it revealed all its interesting facets to Haseltine and Hart in identical fashion. I'm hard pressed to find any significant differences.
.
.
.
.
.
.
.
.
.
Both artists recorded the site at about the same time of day; the sun casts shadows of similar direction and depth. Yet I sense Haseltine was the more faithful transcriber of the position and shape of the flanking structures on the left and right. Beyond the focal point that intrigued him, Hart may have taken some liberties. This is understandable when you realize Haseltine's aesthetic approach entailed creating an interesting black, grey and white design that floats upon the white expanse of a flat sheet of paper. To the extent Haseltine wanted to reformulate the actual scene in front of him, he could accomplish that not by rearranging the physical matter before him, but via modulation of tone — assigning various shades of grey to each stationary component in service to his two dimensional design. Hart, in contrast, enjoyed the added resource of color. While beholden to the spatial imperatives of mid-19th century painting, he would allow his composition to stray from the actual. He felt free to rearrange matter at the behest of superior values.
In a later chapter in "The Artist's Mount Desert" Wilmerding grants only passing mention to William Hart, though he does say records show Hart was painting at Mount Desert from 1857 to 1860.
With these bits of evidence falling into place (and with Wilmerding's supportive scholarship in hand) I was fully prepared to re-title this William Hart painting, "Thunder Hole, Mount Desert" (ca. 1859).
And yet there was one question that bothered me. A lingering question that birthed doubt. It was this:
Why does Thunder Hole look so different today?
.
Today, Thunder Hole is a tourist stop for visitors to Acadia National Park on Mount Desert:
Nothing symbolizes the power of Acadia National Park as much as Thunder Hole does. When the right size wave rolls into the naturally formed inlet, a deep thunderous sound emanates. The cause is a small cavern formed low, just beneath the surface of the water. When the wave pulls back just before lunging forward, it dips the water just below the ceiling of the cavern allowing air to enter. When the wave arrives full force, it collides with the air, forcing it out, resulting in a sound like distant thunder. Water may splash into the air as high as 40 feet with a roar!
Videos of the phenomenon are available here and here.
Thunder Hole is on the east side of the Island, south of Sand Beach and just north of Otter Cliff:
.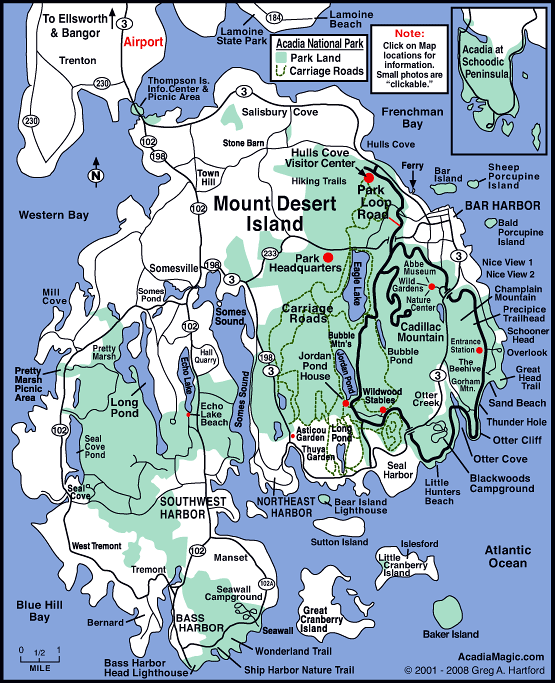 .
Changes in light and moisture can modify the color of the cliffs from grey to pink to yellow to orange to red:
.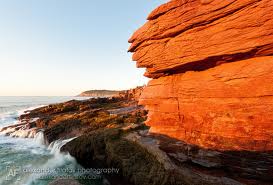 .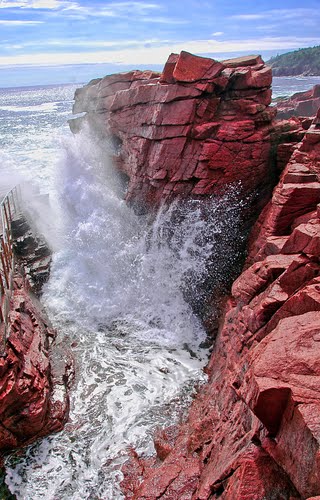 .
Change defined the site. But still I wondered, did the passage of time and the carving of wind and water so alter the shape of these structures since the time William Hart preserved them in paint on canvas that the distinctive central rock formation was transformed into . . . this?
.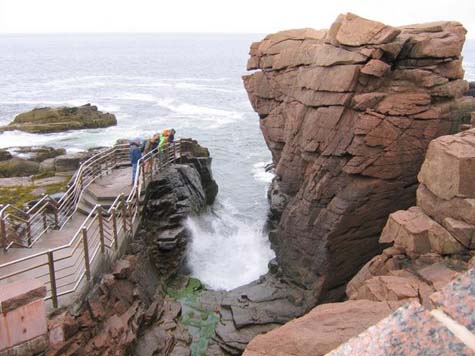 .
To cut to the chase: my doubt was justified.
.
Nearly two hundred miles to the southwest of Mount Desert Island, on a peninsula called Nahant on the coast of Massachusetts, there long existed a geological formation known familiarly as Pulpit Rock. Destroyed in a fierce winter storm in February, 1957, it, along with a Natural Bridge that connected nearby rocky features, had been attracting tourists and artists for more than a century. Among the earliest of those artists was Haseltine. In 1865 he finished a major painting that depicted the scene with reverential awe, setting the principal rock in divine illumination (Pulpit Rock, Nahant, 1865, oil on canvas, signed and dated 'W.S.Haseltine/1865′ (lower right), 28 by 49 3/4 inches; the basis for the title is discussed in the Overview and Lot Notes sections of the auction listing, here):
.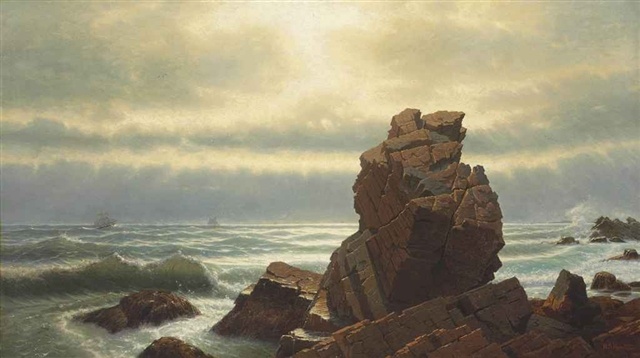 .
Several photographic views of the striking scenes at Nahant's Natural Bridge and Pulpit Rock were published during the post-Civil War craze for stereoviews. Here are a few found on Google Images:
.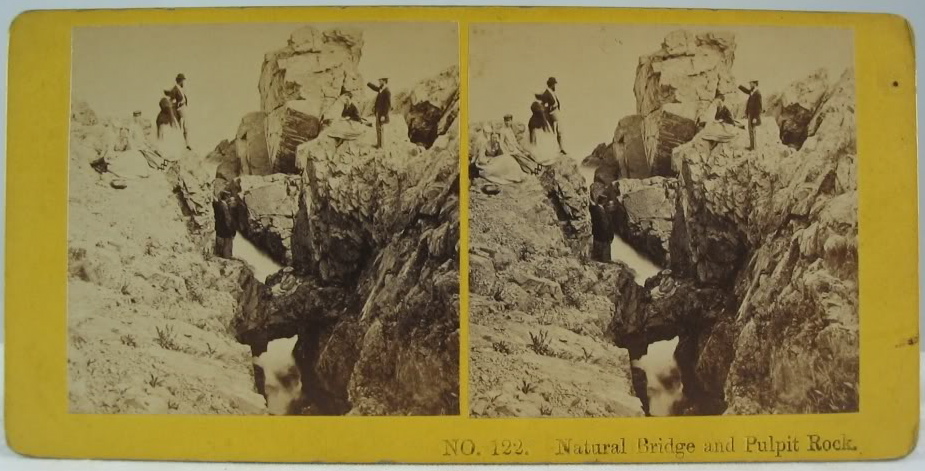 .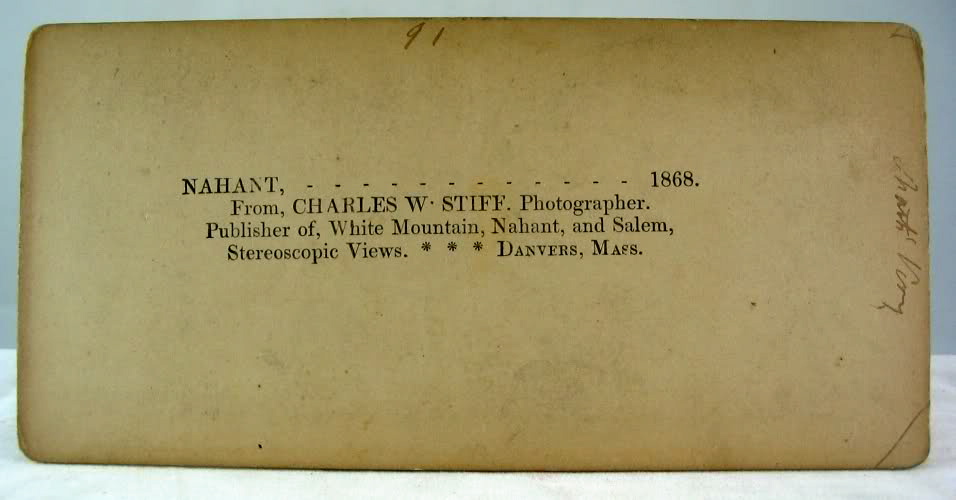 .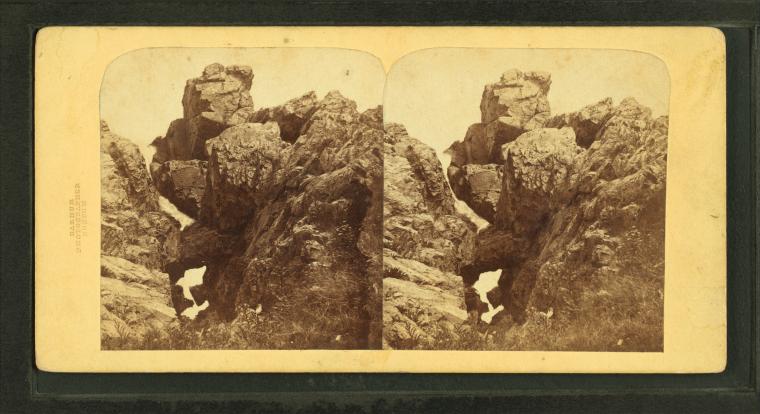 .
.
The first of the twinned photographs, above, captured the scene in 1868 from virtually the same perspective as Haseltine did a decade earlier when he drew his pencil and grey wash drawing:
.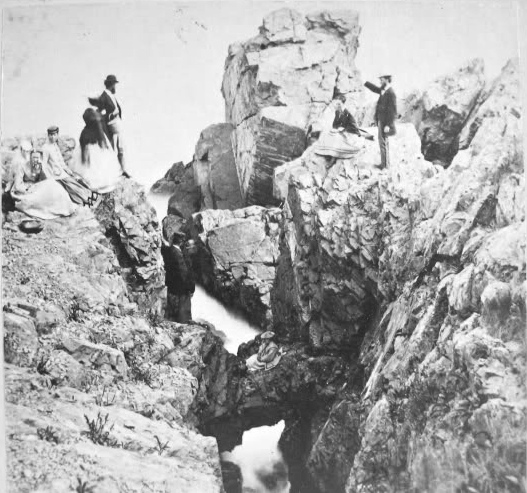 .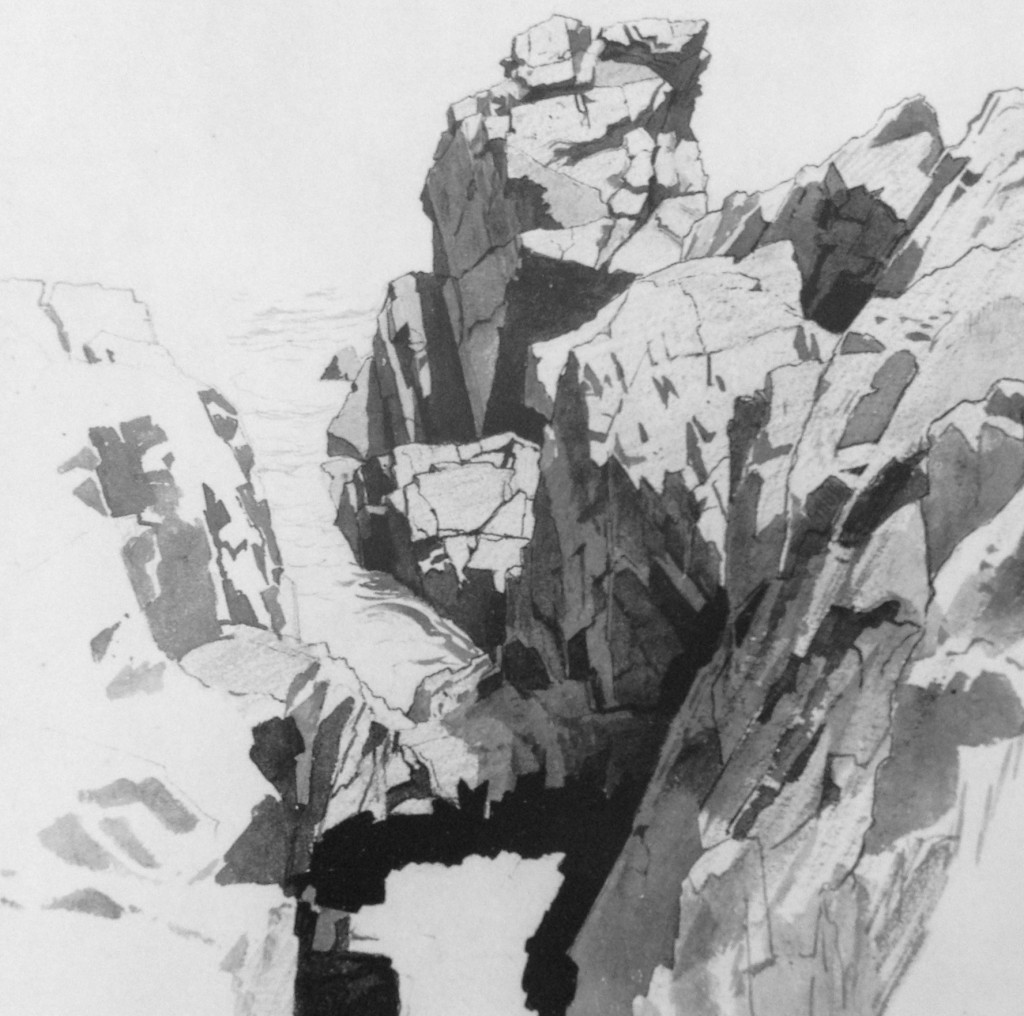 .
It's quite likely Haseltine used his drawing as a template when, a few years later, he began to compose a studio painting of Pulpit Rock, one that would strip away all but the central monolith, re-staging the site for dramatic effect.
Other American landscape and seascape artists were lured to the site. In 1876, for example, William Trost Richards positioned himself on a different vantage point to create this small watercolor (Pulpit Rock, Nahant, signed with initials 'W.T.R' and dated '76′ (lower right), inscribed with title (lower left), 6 x 5 inches):
.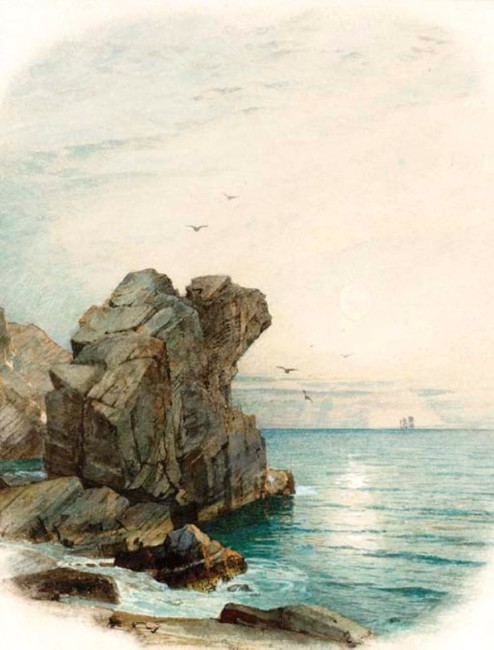 .
Souvenir postcards spread the renown of Pulpit Rock and the Natural Bridge into the twentieth century:
.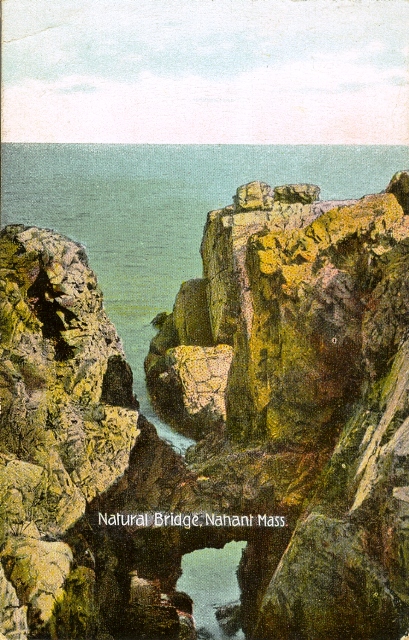 .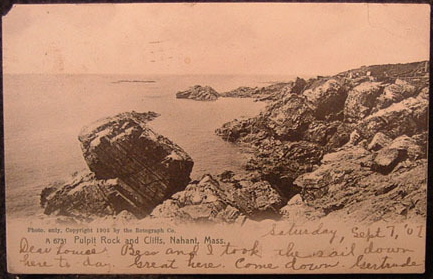 .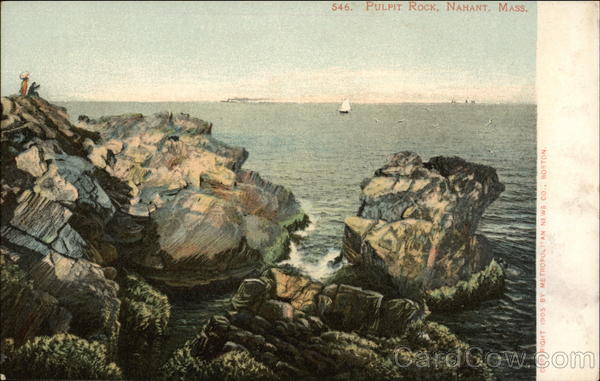 .
Plainly, Wilmerding was wrong in believing the Haseltine drawing reproduced on page 112 of his book, "The Artist's Mount Desert: American Painters on the Maine Coast," depicted Thunder Hole on Mount Desert Island, Maine. Regrettably, in his text (pages 118-119) Wilmerding offers a lengthy narrative and commentary on the piece, entirely premised on that erroneous notion. He concludes, "this drawing achieves a particularly powerful sense of location, capturing the face and personality of Thunder Hole."
I do not know whether Wilmerding's mistake stems from his unfamiliarity with Pulpit Rock, or from the unfamiliarity of the site to the book's editor and its pre-publication reviewers, or from misdirection by an inscription on the drawing itself — or from some unfortunate blend of all three factors. In any event, the error needs to be corrected.
Is there an inscription on the drawing itself? What's frustrating is the incomplete information Wilmerding chose to provide to interested readers of "The Artist's Mount Desert." Here is the description of the piece found in the list of Illustrations (p. 188, ill. 110):
110. William Stanley Haseltine, Thunder Hole, Mount Desert Island, 1859. Pencil and grey wash on paper, 15 1/8 x 21 9/16 in. Private collection.
That description presumes to assign a definitive title to the work (Thunder Hole, Mount Desert Island). Yet, here within an ostensibly scholarly narrative, one finds no information justifying the title given to the object — none of the data that, nowadays, even commercial auction houses routinely provide. Such data include whether the piece itself is inscribed and, if so, where the title appears on the piece (none is visible in the reproduction of the drawing on page 112); what medium was used in making the inscription (pencil, ink, other); whether the inscription appears to have been made contemporaneously with the drawing's completion, or is there something to suggest (or establish) that the inscription was added years later; and whether the inscription is by the hand of the artist, or by another hand. This information is essential to provide a base for subsequent scholarship. Attention to these points is not an exercise in minutiae; it is critical to the avoidance of factual error.
.
I have retitled my William Hart painting, Pulpit Rock, Nahant, ca. 1859.
.
NOTE: This essay, originally posted on September 9, 2012, was revised on December 1, 2012.