Archive for the 'Media' Category
Friday, July 4th, 2014
The Jeff Koons retrospective opened at the Whitney Museum this week. Positive reactions were expressed by our two smartest art critics — Peter Schjeldahl ("Approaching the work with eyes and mind open, you encounter Koons's formidable aesthetic intelligence") and Jerry Saltz ("One can't think of the last 30 years in art without thinking of Koons, a lot.").
I haven't been to the show (yet) but I have seen many of the artist's signature pieces in person (starting years ago with a Basketball Total Equilibrium Tank at the Chicago Art Institute). In the series of works he's created since then, Koons has been able, more often than not, to communicate his vision convincingly enough that I begin to see the world through his eyes, however briefly.  (This is one test by which to judge the success of an artist.)
In her review of the Whitney exhibition, Roberta Smith reminds us that in the world of Koons you often come across a "collision" of art with religion, or sex, or kitsch. Examples from the kitsch category include:
.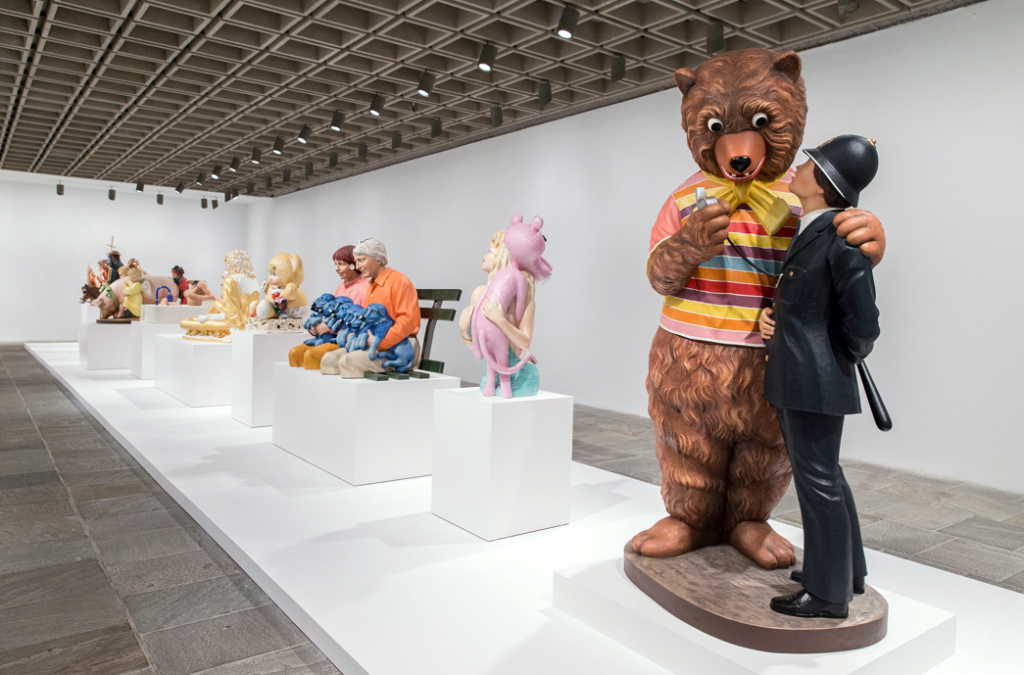 .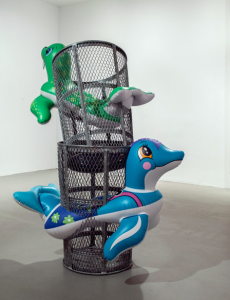 .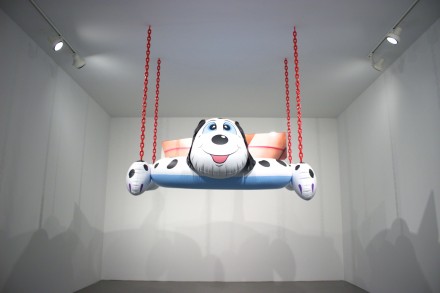 .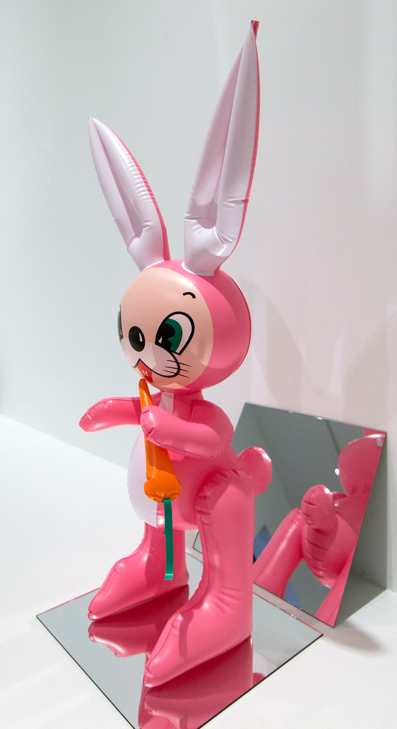 .
While reading a magazine today I came across the new advertising campaign for the Toyota RAV4. It features a huge pink unicorn/Pegasus riding atop the vehicle.
.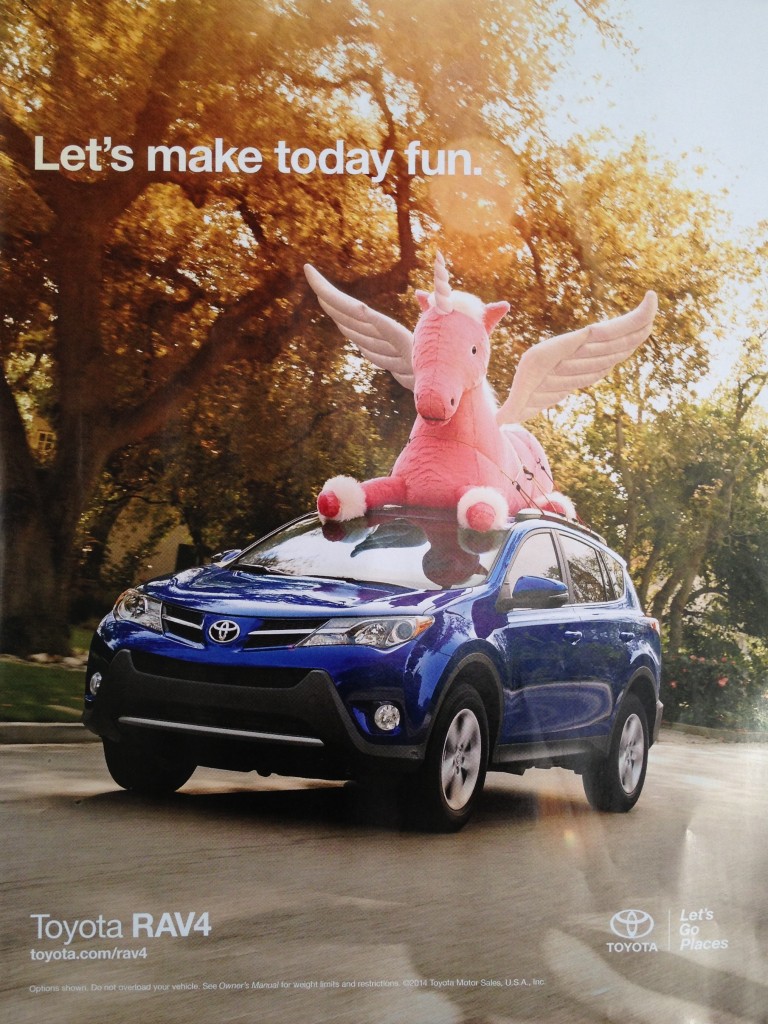 .
A television commercial of the same subject ("Lady the Unicorn") can be viewed here. A still from that TV spot:
.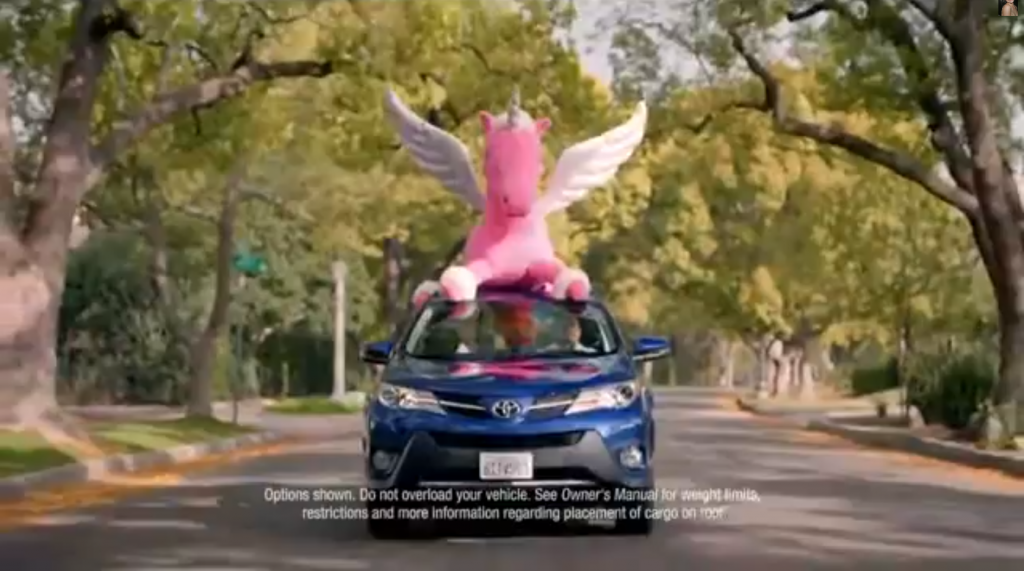 .
It is a vision out of the mind of Koons, don't you agree?
If the campaign's art director was channeling Mr. Koons, the copywriter was in sync as well. A habit of Koons that drives interviewers, especially grumpy ones, batty, is his penchant for childlike, bright-eyed and affirmative utterances. Jerry Saltz refers to them as Koons' "Twinkie-like quotes." For example, when asked what he felt as the 150+ pieces were being installed throughout the Whitney Museum, Koons replied, "I'm enjoying every moment of this. I enjoy it because I really believe in art, I really believe in the transcendence that it's given me. It's taught me how to feel, to enjoy the senses, and … it's taught me how to enjoy ideas and also experiences, a very ethereal, ephemeral realm of ideas." Similarly, in an interview last year Koons enthused: "Every day I wake up and I really try to pinch myself to take advantage of today and to use that freedom of gesture to do what I really like to do."
So what is Toyota's ad-friendly restatement of Koons' cheery sentiment?
"Let's make today fun!"
.