.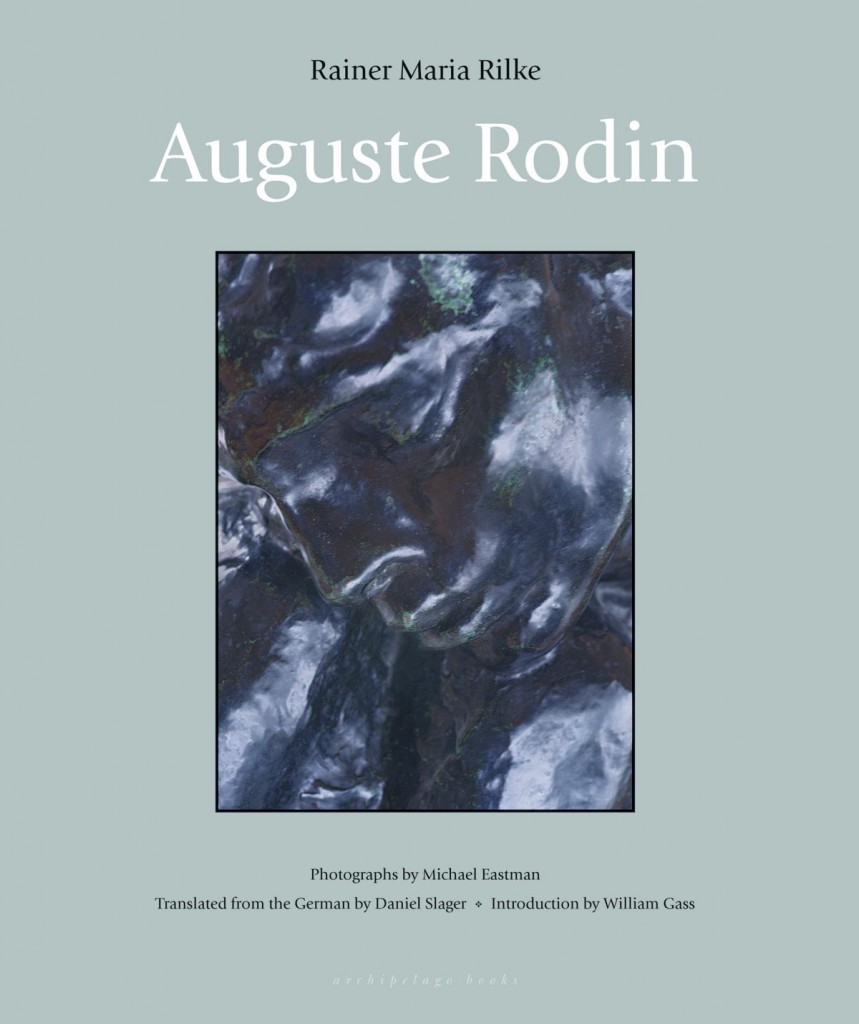 .
Here is a volume smartly conceived by its small press publisher, Archipelago Books. The book is nearly square in size to accommodate long-lined text printed on quality paper. It is sturdily bound in a partial cloth binding. This has the look and feel of a gift book, and one with the surprise of sophisticated content. If the editor's plan was to see what happens when you assemble in one package the work of three powerful communicators — a living master essayist on matters literary, a titanic sculptor who ushered in new forms, and a poet striving to understand and explicate the invisible — that plan succeeds in sparking insights.
The book opens with an Introduction by William Gass, a long-time Rilke maven and an unsparing arbiter of things cultural. Gass stylishly fulfills his setting-the-stage duty. Using multiple perspectives (historical, aesthetic, biographical, psychological) he helps the reader understand why the young poet developed an awed appreciation for Rodin (the man and his work). We learn how Rilke absorbed the sculptor's personal and aesthetic credo ("il faut travailler, rien de travailler") with lasting effect on his mature poetic output.
All that Rilke learned from Rodin he expressed to the world in two significant pieces which make up the bulk of this book: an essay written at the very start of his personal association with the elder artist in 1902; and a public lecture written at the end of their relationship in 1907. Daniel Slager provides fine new translations from the German of both of these texts. Also found tucked within the pages of this book are four groups of eight glossy color photographs by Michael Eastman: a total of 32 close-up images of major pieces by Rodin that Rilke (and Gass) discuss.
The book contains 88 pages of text; this modest nominal count is misleading since in fact the material is the equivalent of about 150 pages in a standard-sized book. As a reading experience the book feels large thanks to the breadth of Professor Gass' encyclopedic observations, paragraph after paragraph, and thanks to the seemingly unstoppable eruption of Rilke's insights, sentence after sentence. Rilke reconnoiters the mountain of Rodin, tossing off witticisms ("Fame is no more than the sum of all the misunderstandings that gather around a new name"), evocative imagery (on The Burgher of Calais: "The figures withdraw within themselves, curling up like burning paper"), and grand judgments ("The artist's task consists of making a world from the smallest part of a thing"). There are extended passages, describing pieces of art and art making, in which Rilke's prose itself achieves a mountainous beauty.
True, the pieces that make up this assemblage are available elsewhere: Rilke's essays are available in other volumes (for example, Where Silence Reigns: Selected Prose); Gass's Introduction is reprinted in his book of essays, A Temple of Texts (American Literature Series); and there are many illustrated art books devoted to Rodin's work. But as a package, I consider this particular book to be a fine and rewarding enterprise.
.