.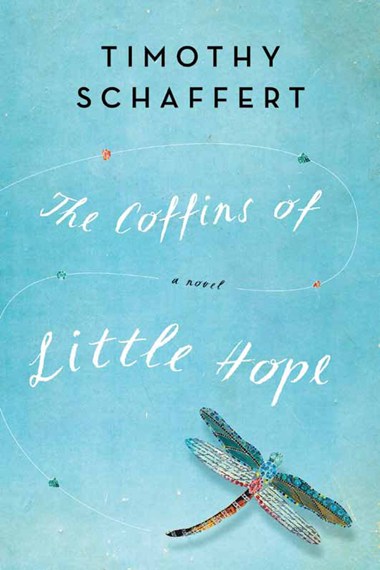 .
Timothy Schaffert's "The Coffins of Little Hope" is a bang-up novel: smart, funny, sad, and magical.
The book's intelligence, its melancholy, its subtle, down-home humor, and its manifold charms, are exhibited in many forms. There's the unsentimental depiction of small rebellions in a small town in Nebraska, where "everything falls apart." There's a page-turning mystery about the fate of a missing 11-year-old girl named Lenore who may or may not be real (yes, the name is an allusion to Poe, and not the only one in the book). There's a clever subplot involving the secret publication of the final volume of a best-selling series of Young Adult Gothic novels whose plucky protagonists, Miranda and Desiree, have captivated many in the community. There's a light, fairy tale dusting that covers the town and its inhabitants, casting a spell that gently dislocates the reader's sense of what exactly is going on. There is, front and center, the rueful yet wise voice of the novel's 83-year-old narrator, Essie Myles, matriarch of the town's newspaper and writer of its obituaries. Her spirit, simultaneously sinking ("I've come grim-reaping") and unsinkable ("I'm happy to be sad"), dominates the book.
Let me add a few observations to the growing praise the novel is receiving:
The narrator, her philosophy and her family
The first is to note the rare quality of the narrator's voice. In contemporary fiction the outlook of youth or middle-age predominates, and so it is refreshing to come across a successful novel grounded in the perspective of old age. Over the course of what Essie calls her year of "minor havoc," the two people she holds most dear — her 38-year-old grandson, Doc, and her 14-year old great-granddaughter, Tiff — grow and change. But Essie remains, steadfastly, Essie. This means the book traces the slow unfolding of her essential self, contradictions and all.
Essie combines the wisdom of age with a writer's appreciation for how contradictory terms often appear in conjunction. It is through Essie that Schaffert makes sport of this oxymoron called life. Not a page goes by without some remark about incongruities, pluses and minuses, the unavoidable either/or of living. Essie sees a man's "gruff demeanor, which disguised his sweet, soft heart." She observes how middle age has rendered Lenore's mother "wasted and lovely both." It frustrates her to realize that "now a parent can be doing the wrong thing even when she's doing the right thing." She spies a man "strumming an unplugged electric guitar." At a funeral of an old friend, while sitting with her remaining pals, she confesses, "we were nearly moved to tears by our own lack of emotion." So here is a test:  If you grow bored around the elderly when they start in talking about their philosophy of life, steer clear of "Coffins." If, on the other hand, you miss a grandmother who stood her ground, spoke her mind and remained sharp to the end (and you miss her), then I think you'll get hooked by this book.
A second notable aspect of "The Coffins of Little Hope" is how much it is about family. Essie begins Chapter 8 with a chart of her family tree. She is obliged to label it, "Little Family Tree," since it has been reduced to only four living members. The most poignant relationship in the book is the loving bond between Essie and Tiff (though we are aware of the gap of seven decades between them). At times I was reminded of the sundered, incomplete families found in the novels of John Irving and Anne Tyler's novels.
Shades of John Irving, shades of Anne Tyler
The Irving connection is felt in the violent accidents that chopped off limbs from Essie's family tree, the sort of shocks that are a routine part of Irving's generational sagas. At one point in "Coffins," Tiff mistakenly hears the word "undertow" — which recalls the "undertow/under toad/unter tod" motif in "The World According to Garp." Of course, no one can best Irving when it comes to being an "author lover" who must, in every novel, include a main character and/or supporting characters who are writers of some sort: novelists, journalists, children's book authors, diarists, family historians, etc. (On this point, check out the chart of "Recurring Themes" in the Wikipedia article on John Irving, here.) In "Coffins," Schaffert launches a challenge to Irving, marshaling the obit-writing Essie AND the reclusive Wilton Muscatine (author of those Miranda and Desiree books) AND the dead but still resonating lady novelist of the Plains, Myrtle Kingsley Fitch AND Lenore's mother Daisy whose alternative M&D manuscript Muscatine covets.
As for the connection to Anne Tyler, Schaffter's examination of Midwestern family dynamics made me think of Tyler's Baltimore which, as portrayed by her in novel after novel, somehow still feels like a small-town. Schaffert even includes a version of Tyler's trademark comic scenes — the awkward moments that arise when a member of a tight-knit family dares to bring home to a family meal someone new he's met. Other echoes of Tyler are found in the early mid-life crisis of Essie's grandson Doc; the nostalgia some characters express about a past filled with better days; and some characters' clasp of the quotidian in hopes of holding time's swift hand back. A kinship between Schaffert and Tyler is also evident in the finale to "Coffins," which brings the reader to the cusp of a wedding (a ploy both writers smartly steal from Jane Austen). And I could have sworn I was reading a page out of Tyler when Schaffert closes chapter 54 with this "she-leaves-in-a-huff" ending to a family breakfast:
"Penny for your thoughts'" Ivy [Essie's grand-daughter and Tiff's mother] said.
"I've always hated that expression," [Essie] said. "It's aggressive. And what's worse, it's disguised as a little piece of friendly adorableness in needlepoint stitch."
"Wow, tell us what you really think," Ivy said.
"I hate that expression even worse," I said. "Practically for the same reasons."
I then caught sight of them all exchanging quick glances and raised eyebrows, as if they were collectively declaring me a senile crank. "You think I don't see that?" I said, making matters worse.
So, if Schaffert's book tour should bring him to Washington, DC, and if the event allows for questions, I'll bring to the microphone this one: "Mr. Schaffer, what do John Irving and Anne Tyler mean to you?"
An abundant writer
If there is a fault to be found in "The Coffins of Little Hope" it is that Schaffert's elliptical path travels through all too many stations, its narrative has all too many diversions. So the reader must be willing to encounter a variety of riches, for that is what you get with Schaffert. On every page, he displays an easy wit and imagination, relayed through an engaging writing style. Once again, it is Essie who provides the starring "voice," best of all when she unspools regional colloquialisms and some bad puns. She's embarrassed by her "disgraceful fur coat, a mink that had long been on its last legs." She describes her grand-daughter's escape to Paris: "Ivy had just up and left." She admonishes herself for an "infantile need to know everything before everyone else." Schaffert's applies an economical hand to character descriptions and scene-setting: "Ivy mourned her parents by falling in love, dangerously so, with a man beautiful but demented, and she then became pregnant." Someone else's daughter "had married poorly, ruined her life early on, and thickened herself on bad food from drive-through windows." Note, too, the author's tidy parallelisms: The Miranda and Desiree series comprises eleven books and "Coffins" contains eleven "Parts."  (BTW, there is a webpage devoted to M&D, here.) On page one, Esther Myles informs us that if she were to reduce her full name to just one letter, the surviving letter would be "S" — a condensation also befitting the author.
This guy is good and this book is a delight.
.
[A shortened version of this review is posted on Amazon, here.]