.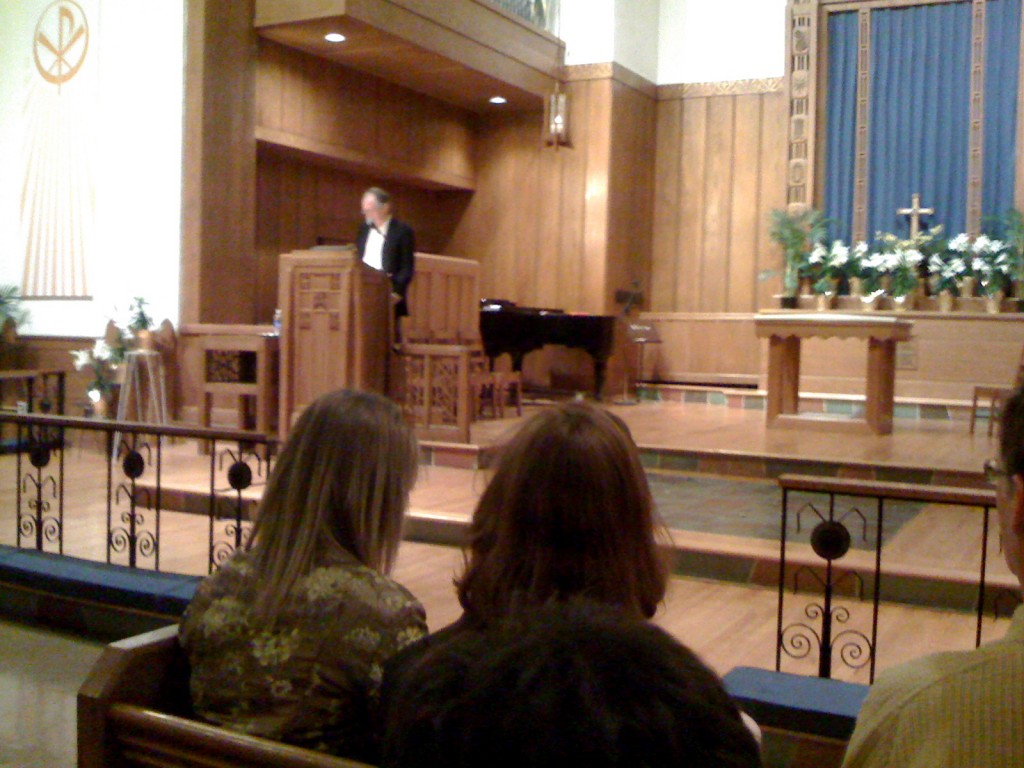 .
Yesterday Ian McEwan came to Washington, DC, for an evening appearance at the Folger Shakespeare Library, an event sponsored by the PEN/Faulkner Foundation. This was one of four stops on McEwan's American tour promoting his new novel, "Solar".  I was part of an overflow crowd of 400 people that descended on the Folger Theatre. We were rerouted to a larger venue — a church across the street. The inside of The Lutheran Church of the Reformation was warm. I sensed its walls releasing the heat of a day whose temperature had exceeded 90 degrees. Adding to the heat was radiation from the bodies of hundreds of acolytes. In my mind there arose a vain thought:  The heads of intense readers must radiate a heat more intense than that of non-readers.  A moment after I took this photo, McEwan succumbed to the heat and removed his suit jacket.
After introductions, McEwan spoke a bit about the genesis of "Solar" and then read a section from the book. He chose the episode that begins with the protagonist ruminating upon London's past, present, and future as his plane circles Heathrow, and ends with amatory daydreaming as he is processed through Customs.
A handful of questions from the audience closed out the hour. McEwan and his attending entourage briskly exited by a side door. (McEwan is a hiker; he may be the sort of man who camouflages discomfort and impatience with long-strided walking; healthy and happy is such a man.) The group scooted across the street to the Folger Library where they set themselves up for the reception and book signing.
Earlier, as McEwan stood on high before us, I could not help but wonder whether anyone among us pew dwellers was offended that an atheist had taken control of the pulpit for an hour. I was reminded of a passage in a Nick Hornby novel describing the sad emptiness of British churches nowadays, when no faithful assemble to warm cold stone. But as for my question, the smart comeback is, Do you really think this is the first time a nonbeliever occupied the pulpit? And so there were no rumblings of unrest. The quiet crowd adopted instead "the intimate politeness with which Americans excel." (I borrow that formulation from among the many charming observations about America and Americans McEwan includes in "Solar").
It occurred to me that for believer and nonbeliever alike, the pleasure of sitting quietly inside a church (this church or any other church) rests, in large measure, in the power of the setting to take us out of time, to suspend time.
Twice during the Q & A session McEwan compared himself to the late John Updike. If there was a cynic in the audience, he would have been tempted to read this as a would-be successor's grab at the mantle of writers' writer, wordsmith without rival. Or as a foreigner's attempt to curry favor with us Yanks. I read it as a genuine, guileless statement — one not lacking in support.
The final questioner asked McEwan about the inspiration for the framing device in his most loved novel, "Atonement." There was a moment of awkwardness. Earlier it had been made abundantly clear to attendees that this was a Solar day. We were to bring only that book for signing, thank you very much. But McEwan gave an expansive answer. At one point his voice veered outside its natural baritone placidity. This was when he chided critics of "Atonement" who thought the book's ending was equivocal. "I am an empiricist!" McEwan said, adding that no reader should doubt the lovers die in the war (he at Dunkirk and she in a London bombing raid). There was in McEwan's demeanor an air of satisfaction common to the empirical wing of the enlightened.
.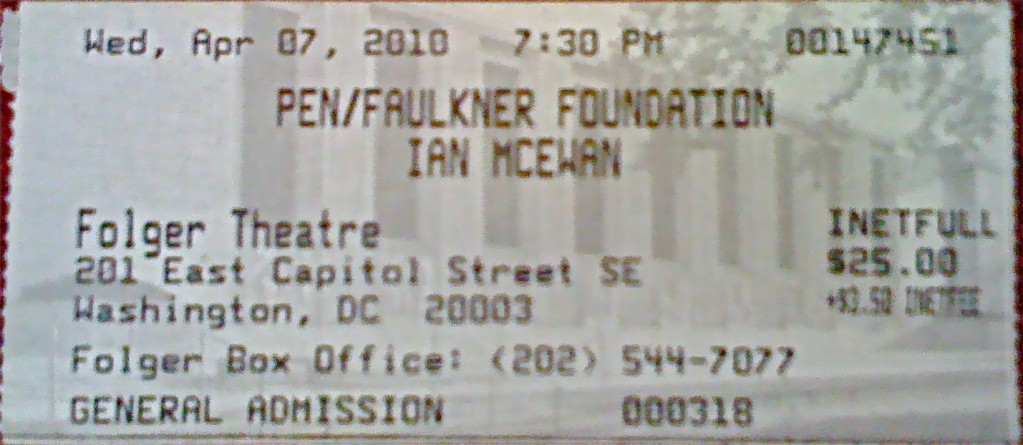 .