The 2015 reopening of the Renwick Gallery in Washington, DC, was celebrated with an exhibition featuring the work of nine contemporary artists. Five women and four men created site-specific installations that occupied and transformed the museum's refurbished gallery spaces. Over a period of 8 months, visitors found themselves immersed in wonders indeed. Official photographs of the event can seen at the online gallery, here.  Below are photos of three of the nine rooms that I took during my visit in April, 2016. Descriptions of the artists' works quoted below are borrowed from the Renwick Gallery's wall texts, found here.
Maya Lin, Folding the Chesapeake (installation, 2015)
"Growing up in Ohio in the 1960s, Lin watched her father participate in the fledgling studio glass movement then gathering steam in nearby Toledo. The marbles used in this installation are the same industrial fiberglass product Henry Huan Lin and other glass-blowing pioneers experimented with then, which were soon abandoned by artists as technical knowledge matured. Folding the Chesapeake marks their first use by Maya Lin and a new chapter in her decades-long investigation of natural wonders. By shaping rivers, fields, canyons, and mountains within the museum, Lin shifts our attention to their outdoor counterparts, sharpening our focus on the need for their conservation."
 .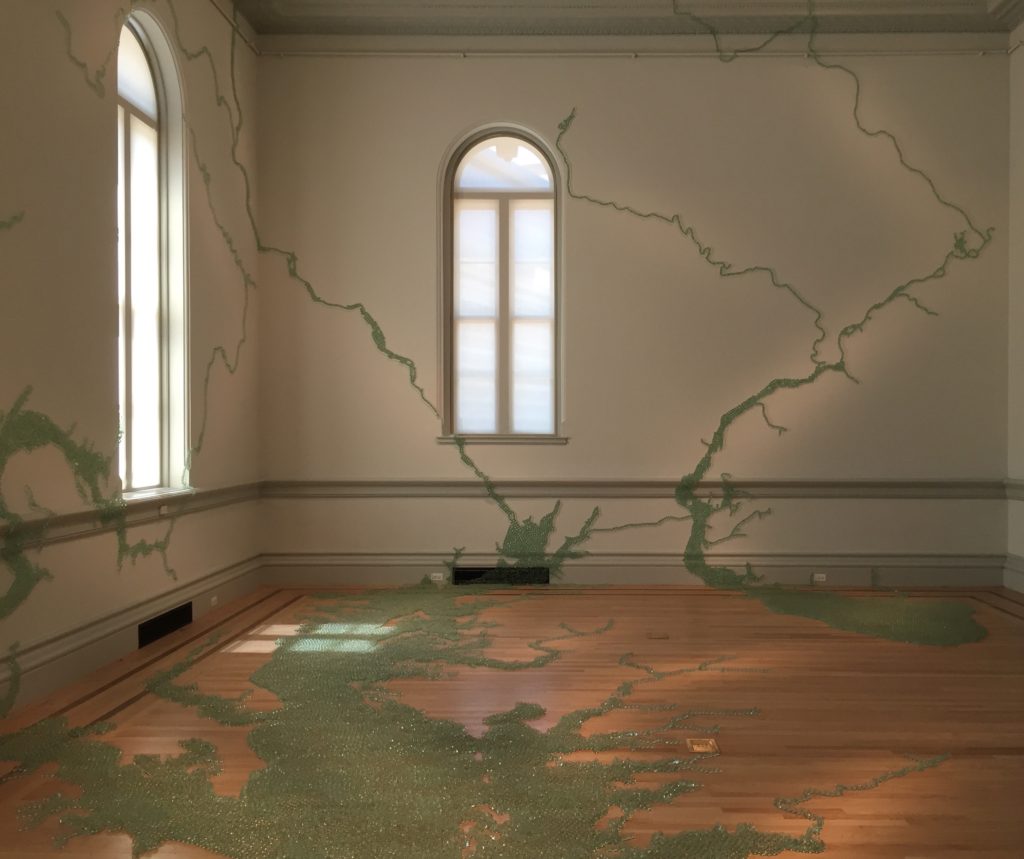 .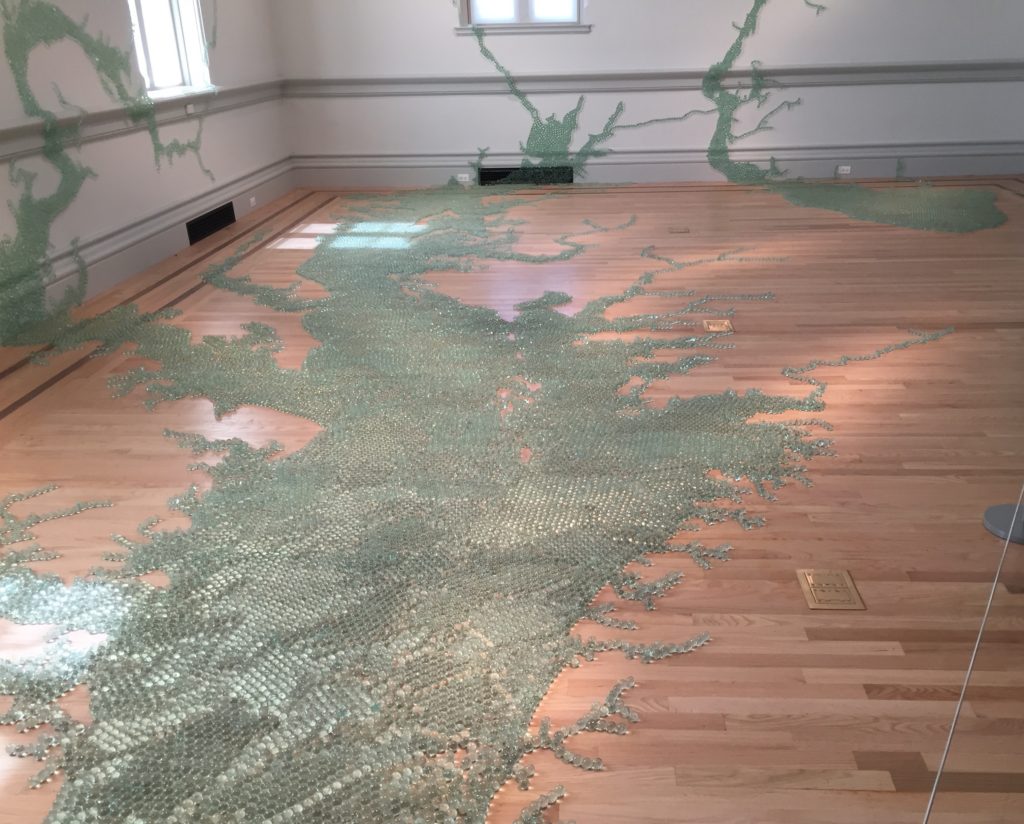 .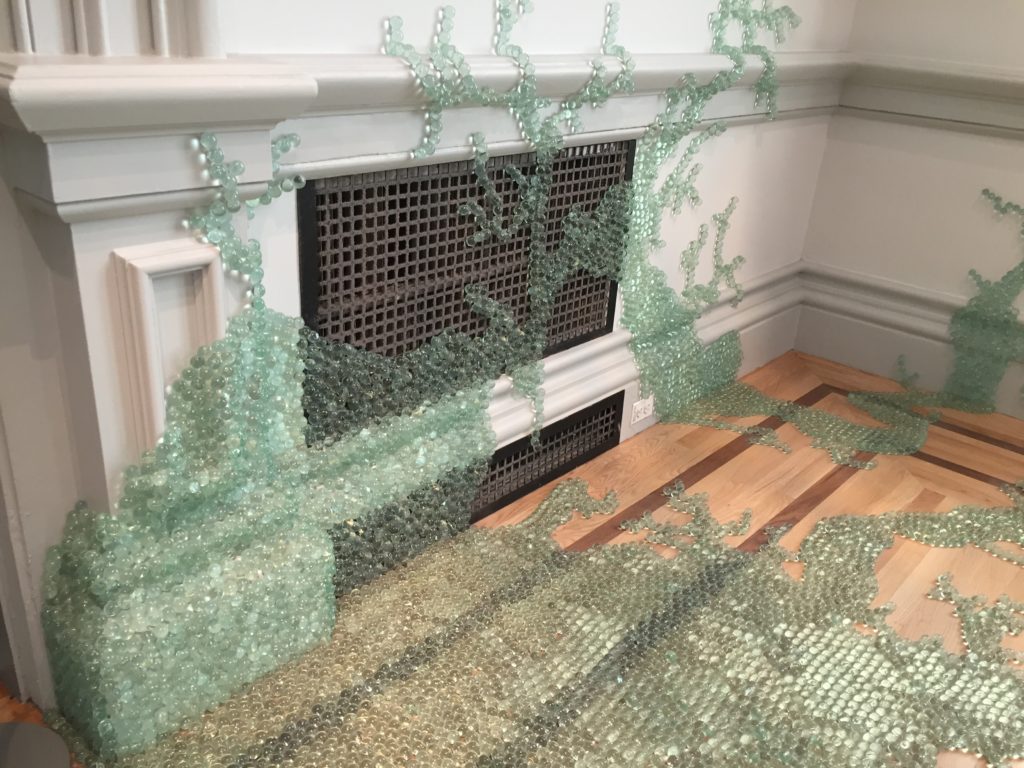 .
Gabriel Dawe, Plexus A1 (installation, 2015)
"Dawe's architecturally scaled weavings are often mistaken for fleeting rays of light. It is an appropriate trick of the eye, as the artist was inspired to use thread in this fashion by memories of the skies above Mexico City and East Texas, his childhood and current homes, respectively. The material and vivid colors also recall the embroideries everywhere in production during Dawe's upbringing."
.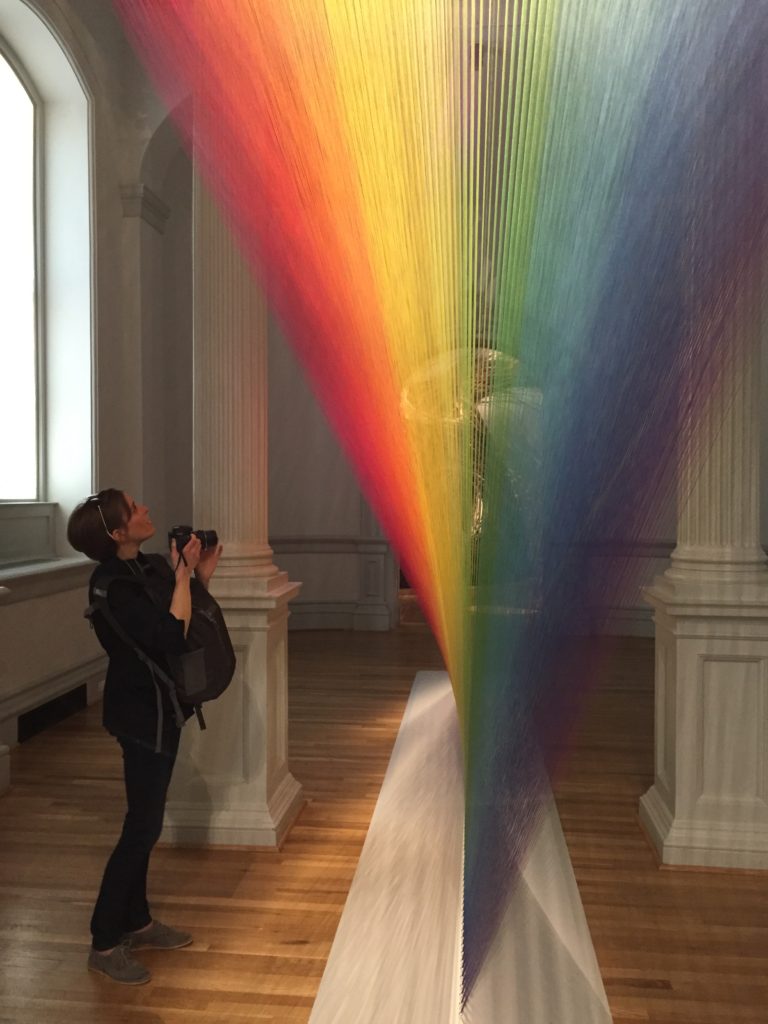 .
.
.
Tara Donovan, Untitled , 2014, © Tara Donovan, courtesy of Pace Gallery
"Employing mundane materials such as toothpicks, straws, Styrofoam cups, scotch tape, and index cards, Donovan gathers up the things we think we know, transforming the familiar into the unrecognizable through overwhelming accumulation. The resulting enigmatic landscapes force us to wonder just what it is we are looking at and how to respond. The mystery, and the potential for any material in her hands to capture it, prompts us to pay better attention to our surroundings, permitting the everyday to catch us up again."
.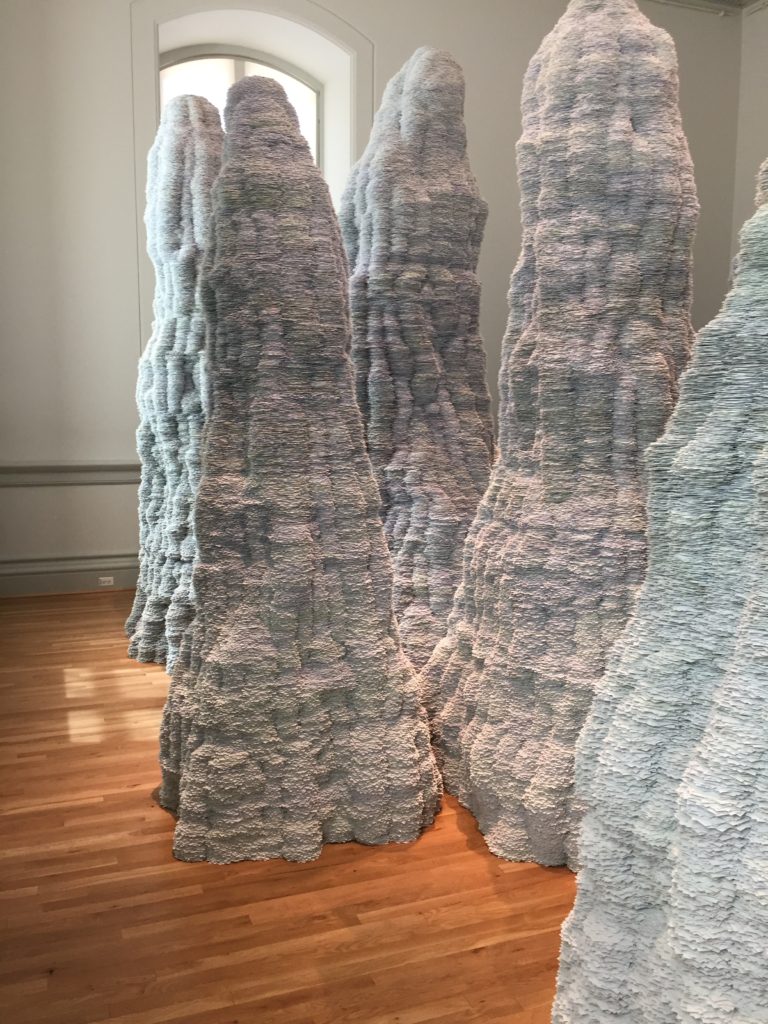 .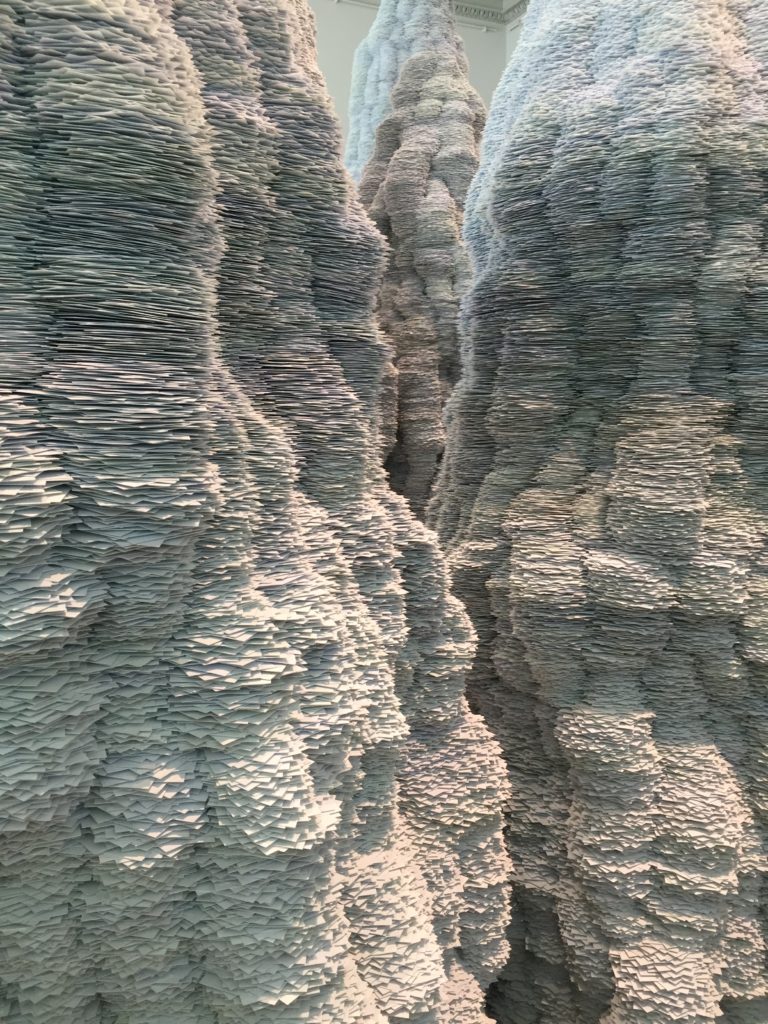 .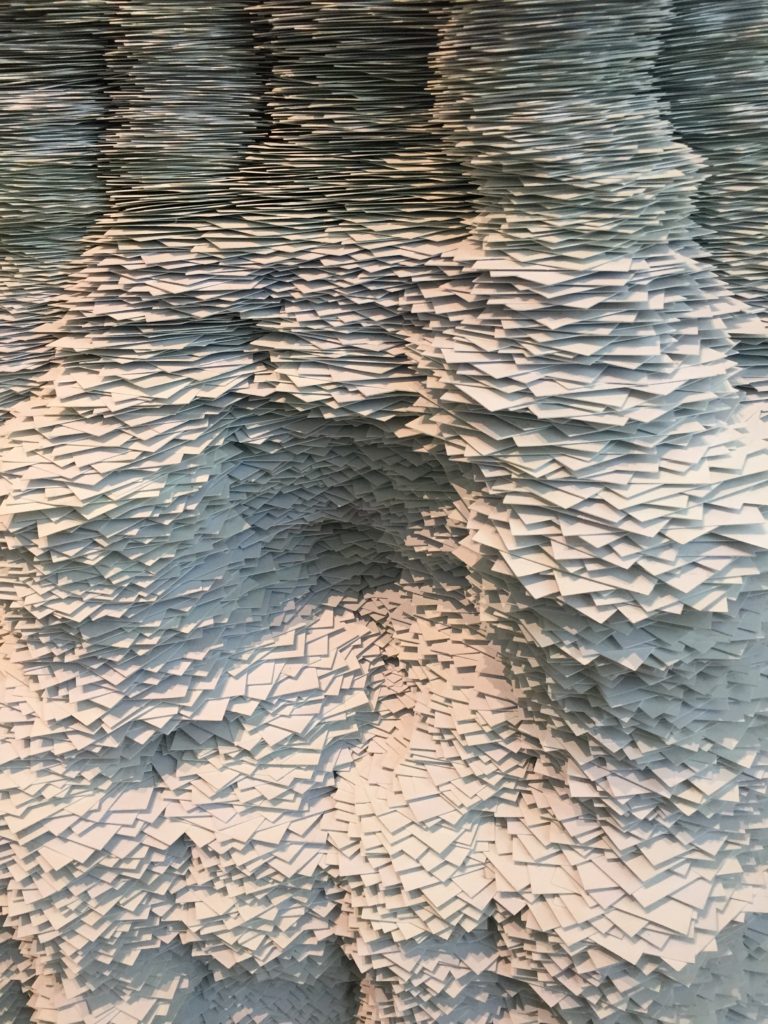 .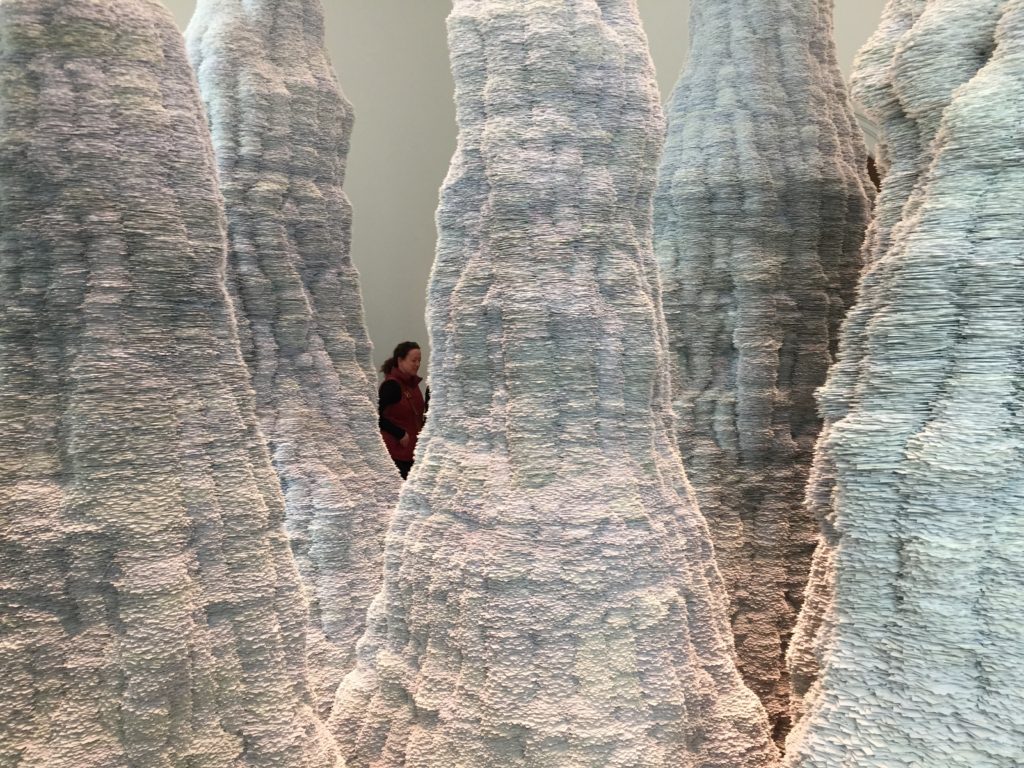 .