In modern societies today women read, yet we should not forget that in earlier periods of those same societies this was not the case. There was a time when women were not expected to read, were not taught to read, and were in effect forbidden to read. Even today there are 30 nations where the female literacy rate is less than 50%. Cultural factors are responsible for some of this shortfall.
As with all human liberation movements, the history of the rise of female literacy is a story with many heroes and heroines. It occurs to me that among those assisting the movement have been artists who created images of women engaged in the quiet and sometimes defiant act of reading. Art has the means to do good, even if those means are hidden.
While surfing online this morning I came across a painting by Jean-Baptiste-Camille Corot (1796-1875), Jeune fille assise lisant, les cheveux sur les épaules (oil on canvas, 12 3/4 x 9 3/4 in.; 32.3 x 24.7 cm):
.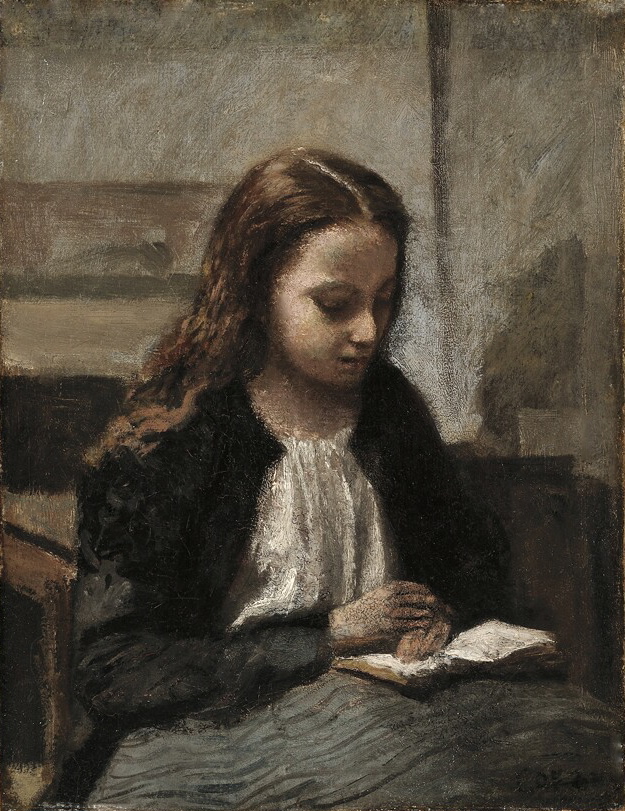 .
As depicted by Corot, the girl has settled into a pose commonly found in portraits of readers. The pose establishes a stable, triangular composition. The sitter's torso turns slightly and her head tilts downward. An engaged viewer of this work searches first for the person's eyes. That search leads to the sitter's eyelids whose expressiveness communicate a fixed regard. Our gaze follows her gaze, alighting upon her gentle hands hovering over (and ultimately touching) the object of her regard.
There is something familiar about the composition. It somehow feels natural, comforting. The activity depicted — a person caught in the act of quietly contemplating something that powerfully demands attention — seems worthwhile and worthy.
Now suppose a male of pre-modern views, one who believed a woman should not be caught reading, came face to face with Corot's composition. I believe something subtle but quietly powerful would have happened, because the painting's formal qualities contain an antidote with the power to subvert his views.
What hidden thing in the composition exerts this counter-pressure? What, subconsciously, softens the viewer's opposition? What might engender feelings of acceptance? The answer, I propose, is found in the body of images cherished in the viewer's memory, such as this:
.
(Giovanni Bellini, Madonna in Admiration of the Sleeping Child )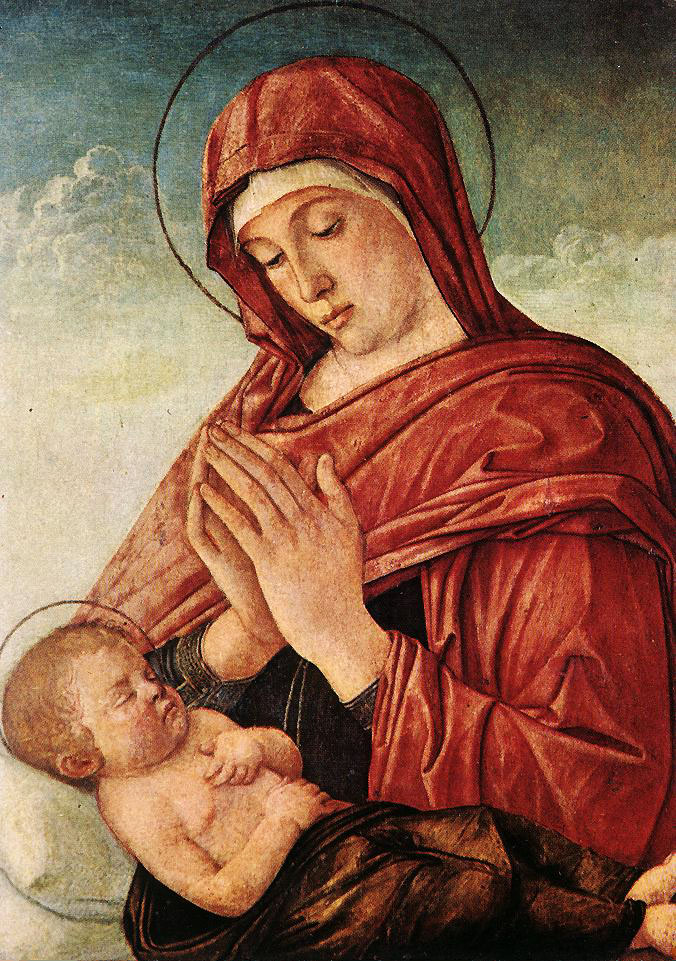 .
Thus can artists leverage the power of composition to normalize new thinking.
.