Winifred: now there's a name that conjures up a lost era.  If you're thinking the Great Depression, you're right on the money. 
Winifred Milius (born 1914) is an American artist and writer who first made her mark in the 1930s producing prints in sympathy with the WPA era social realist school.  Here is a photo of her marching in an Artists' Union Rally in 1935. 
This morning I successfully bid at auction for a 1937 woodcut of hers entitled "Newsboy."  It's a close-up view of scurying street life, rendered in a loose expressionist style suitable to the woodcut medium.   Smack dab in the center of the chaos Milius places a kid hawking papers.  Depicting this occupation was a favorite of urban artists of every stripe.  In an earlier period the subject produced some awful, sentimental pictures meant for the walls of Victorian parlors.  By the 1930s the subject could be used symbolically in the fight for economic and social justice.  A newsboy offers a two-fer:  he's a hard worker fending for mere coins, and also a kid whose formal education has been sidetracked so he can develop the street smarts needed to support his family.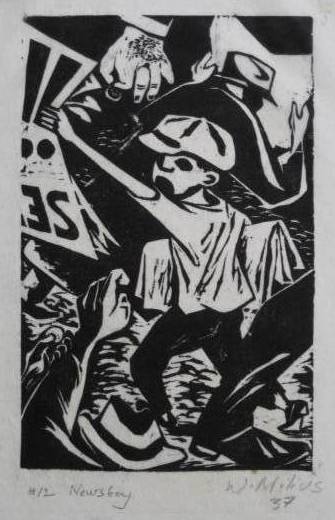 [Winifred Milius, "Newsboy," woodcut, 1937, signed and dated lower right, numbered (#12) and titled lower left, 8 1/8 x 5 1/4″.  Acquired at Rachel Davis Fine Arts – Paintings, Prints, and Sculpture at Auction, March 21, 2009, Lot 202.]