.
FIGURE 1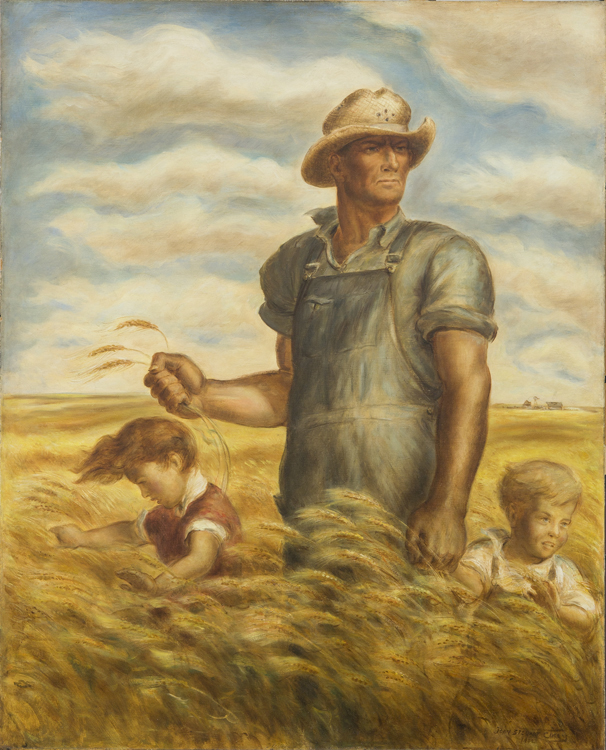 John Steuart Curry, Our Good Earth, oil on hardboard, 60 1/8 x 48 1/8 in. (Chazen Museum of Art, Madison, Wisconsin)
.
I.  Introduction
The most recent museum survey of the work of American artist John Steuart Curry (1897-1946) occurred 15 years ago. [1]  For the title of that exhibition, John Steuart Curry: Inventing the Middle West, the organizers assigned to the artist the formidable task of creating, through art, a durable image of the American heartland. Did he live up to that promise? Though his career was tragically abbreviated, I believe Curry acquitted himself well in that effort. This was especially true when his works of "invention" were informed by tradition.
My favorite image created by Curry — one that bears traces of art history and is all the stronger for it — is a work called Our Good Earth. It was a commissioned painting, made for a federal government project at the start of World War II. The project called on leading American artists to create paintings that would encourage popular support for the nation's war effort. [2]  Curry's response was simple yet powerful. He painted what one commentator, decades later, described as "a representation of the contemporary yeoman farmer descended from those who founded and developed this country; his placement in a field of waving wheat surrounded by his children presents the Midwest as an energetic, fertile land, inhabited by heroic people of unlimited potential." [3]
II.  The Image and its Progeny
Our Good Earth exists in several forms. There is the oil painting (fig. 1), which I've given pride of place at the top of this article. The painting was the basis for a photo-mechanical color lithographic poster, produced by the U.S. Government Printing Office (GPO) in both a large version (fig. 2) and one or more smaller versions, copies of which were distributed nationwide. The same image was used as a cover illustration for a GPO informational booklet directed to farmers. The final version, though to my taste the most evocative despite its small size, is a lithograph on stone (fig. 3) that Curry created in 1942. It was published in an edition of 250 by Associated American Artists. [4]
.
FIGURE 2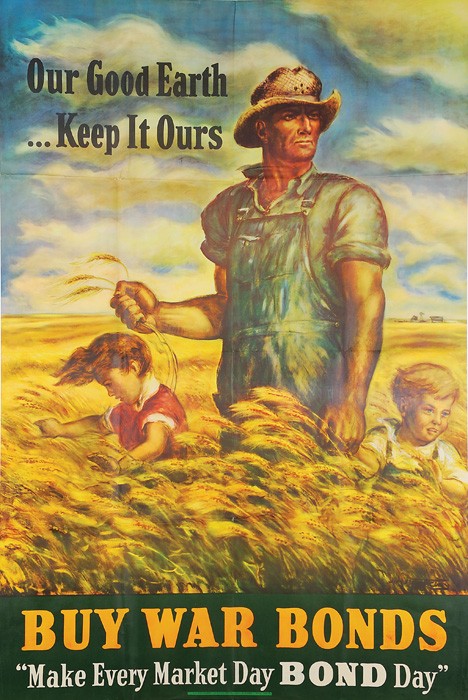 Our Good Earth … Keep It Ours, signed and dated in the plate, 1942, photo-mechanical color lithograph, 59 3/4 x 39 1/2 in. Printing Office U.S. Government Printing Office: 1942-O-472519 WSS 509-B
.
FIGURE 3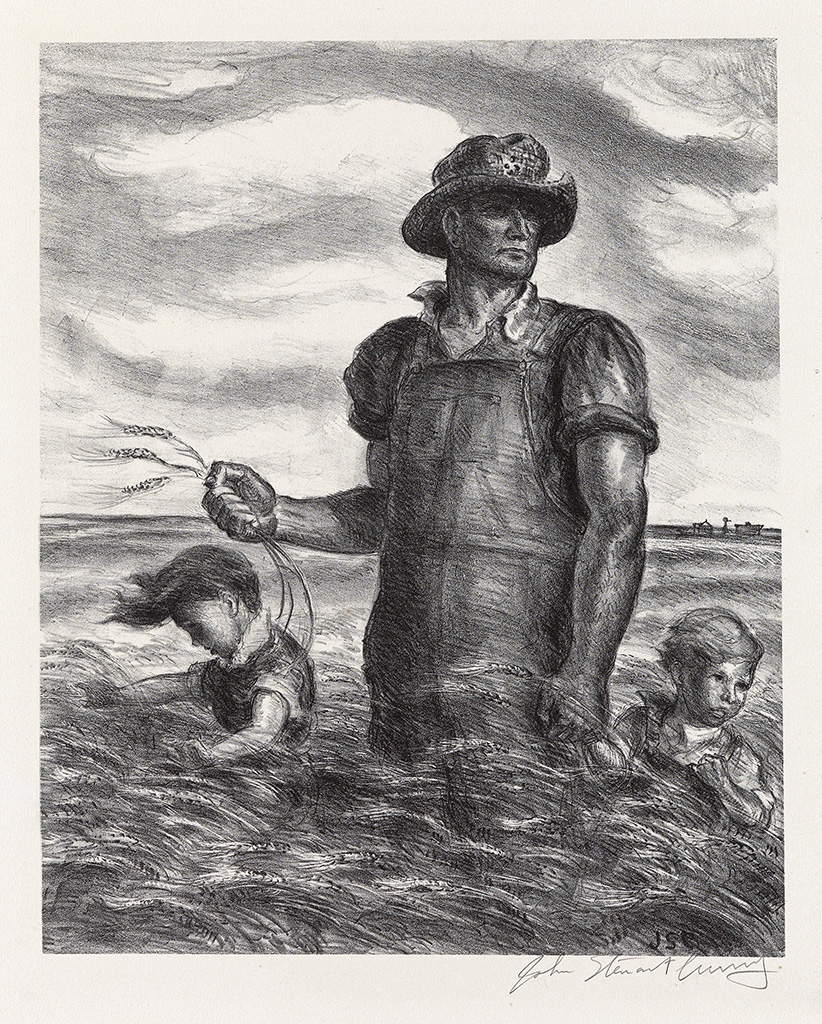 Our Good Earth, 1942. Lithograph, Cole 36. 12 3/4 x 10 1/8 (sheet: 16 3/4 x 12 5/8). Edition of 250 published by Associated American Artists.
.
III.  Speculation about the Source of the Image
Some observers have speculated about the originality of the composition. Was Our Good Earth an entirely home-grown image? Or was it largely patterned upon or at least inspired by prior achievements of other artists? Two art scholars contend the work is not an entirely new conception. They assert Curry not only was inspired by, but also borrowed heavily from, other works of art. Interestingly — and I believe to the disservice of their arguments — both commentators do not consider the composition as a whole. Instead, their exclusive focus is on the central figure of the farmer.
One of the art historians who has written about the painting is Robert L. Gambone, most recently director and curator of the Cahoon Museum of American Art. In "The Use of Religious Motifs in Curry's Art," an essay he contributed to the catalogue to the 1998 Curry exhibition, Gambone argues that the artist's source for the farmer is to be found in the figure of Adam in a 1504 engraving, Adam and Eve (fig. 4), by Albrecht Dürer. [5]
.
FIGURE 4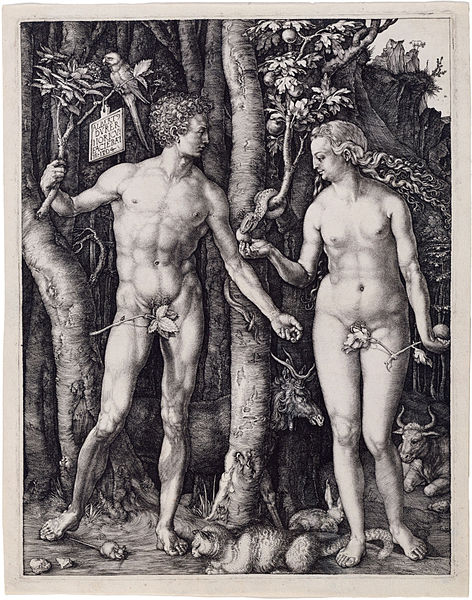 Adam and Eve, 1504
Albrecht Dürer (German, 1471–1528)
Engraving; 9 7/8 x 7 7/8 in. (25.1 x 20 cm)
.
Gambone writes:
"Once America entered the war, Curry attempted to rally to the cause, reworking a 1938 lithograph into a painting entitled Our Good Earth for a U.S. Department of the Treasury propaganda poster. In it, a muscular young farmer stands in a wheat field, two children playing at his side. [...] The farmer's noble form recalls idealized images of Renaissance humanism and, by implication, the optimistic understanding of human nature implicit in Renaissance art. Specifically, the figure recalls Adam in Albrecht Dürer's engraving Adam and Eve (1504). Although Curry reverses the pose and places the left arm closer to the body, the turn of the farmer's head, his flexed right arm holding the agricultural produce, and his massive upper body all stem from Dürer. [...] Curry's source in Dürer is significant."[6]
There are, however, many problems with the theory that Curry's farmer is copied from Dürer's Adam.
It is telling that Gambone cites no writings or other archival evidence from Curry or his circle, directly confirming his speculation. While the essay includes a healthy section of footnotes expanding on other points made in course of a wide-ranging look at the religious content of the artist's oeuvre, Gambone's analysis of Our Good Earth is devoid of any supporting information.
But the problem goes beyond the lack of foundation. When one closely examines Dürer's engraving, the purported similarity between Curry's farmer and Adam dissolves as a falsely imagined construct. There is, for example, the inconvenient fact that the Midwesterner's left and right arms more closely mimic the arms of Eve than of Adam. There is the awkward fact that the immobile, totemic stance of the farmer, squarely anchored against the buffeting wind, is the antithesis of Adam's pliant posture. Adam's weight is poised on one leg, and we see how Dürer's delight in S-curves impart a supple, balletic feel to the pose. Adam is about to move; the farmer will stand his ground.
Notice also how the viewer meets Adam's visage face-to-face, on his level (we are him, after all). In contrast the viewer looks up to meet the farmer's countenance (a viewer-to-figure relationship Curry used most famously in his mural and lithograph depicting John Brown). Significant as well is the lesson of Curry's body of work: when seen in that context, his treatment of the farmer must be seen as simply another instance of the solid figuration the artist routinely used when depicting working men, whether they were agricultural workers, athletes on the gridiron, or aerialists under a circus tent.
Curry did not have to reach across four centuries and an ocean to find a model for his farmer. One was much closer to home — literally. The stalwart body (or, to be more Kansas-colloquial, the "stocky" body) that Curry chose for his farmer belongs to his father, Smith Curry. [7]  Here is The Stockman (fig. 5), one of several portraits the artist painted of a man he always looked up to [8]:
.
FIGURE 5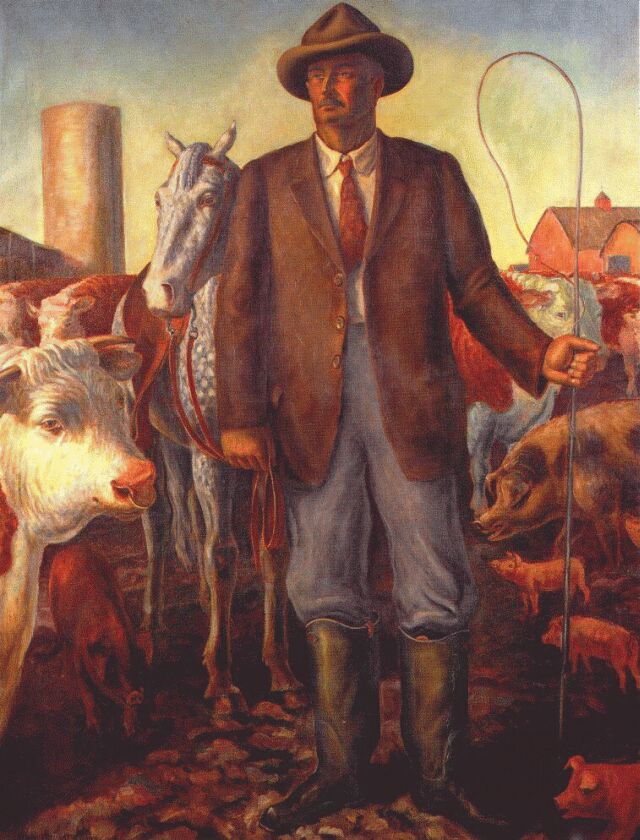 The Stockman, 1929, oil on canvas, 52 x 40 in., signed lower left: JOHN STEUART CURRY, collection of the Whitney Museum of Art, NY
.
For me the key passage in Our Good Earth is the gesture formed by the farmer's right arm (fig. 6). The arm is bent at the elbow, the forearm projecting laterally, the fingers of the hand curled into a purposeful fist.
.
FIGURE 6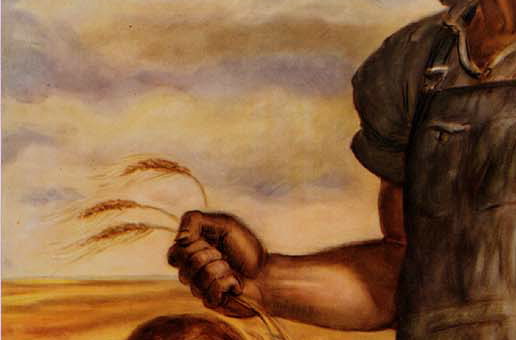 Detail of Our Good Earth (poster)
.
The fist clutches three stalks of wheat, and we may notice that each stalk is structured like a handle ending in a tuft. [9]  Is there a reason for this?
Gambone supposes that Curry was copying the hand of Dürer's Adam who grasps "agricultural produce." But a second art scholar, Bill North, has argued the "likely source" for the protagonist of Our Good Earth is Michelangelo's sculpture of David, a man whose hand holds something different. In the catalog for a 1997-1998 exhibition devoted to the paintings of William Dickerson, at the Beach Museum of Art, Kansas State University, North examined a preliminary drawing for Our Good Earth, and came to the following conclusion:
"Curry, like Thomas Hart Benton and Grant Wood (the other two members of the Regionalist Triumvirate), was not adverse to coopting and transposing European examples. Michelangelo's David seems the likely source for Curry's heroic farmer, who, instead of holding a sling, is seen clutching three stems of wheat, possible a reference to Curry, Benton, and Wood, and, by extension, to the use of their art as a weapon." [10]
I believe both the Adam and David theories are a misreading of the visual evidence. When it came to devising the sign of virility central to Our Good Earth, Curry did not have to turn to Dürer nor to Michelangelo. Inspiration and a model were, literally, closer at hand. The immediate source of the arm and grasping hand is the image of Curry's owns body when he, like the farmer, stood among the products of his own labor. It is the pose Curry habitually struck when drawing and painting the self-portraits he made regularly throughout his adult life (fig. 7). [11]  It's a stance the camera caught as well (fig. 8, 9).
.
FIGURE 7
Self-Portrait, 1935, oil and tempera on canvas mounted on board, 30 1/4 x 25 1/8 in., signed, dated and inscribed lower left: SELF/1935/JOHN STEUART CURRY, Chrystal Bridges Museum, Bentonville, Arkansas
.
FIGURE 8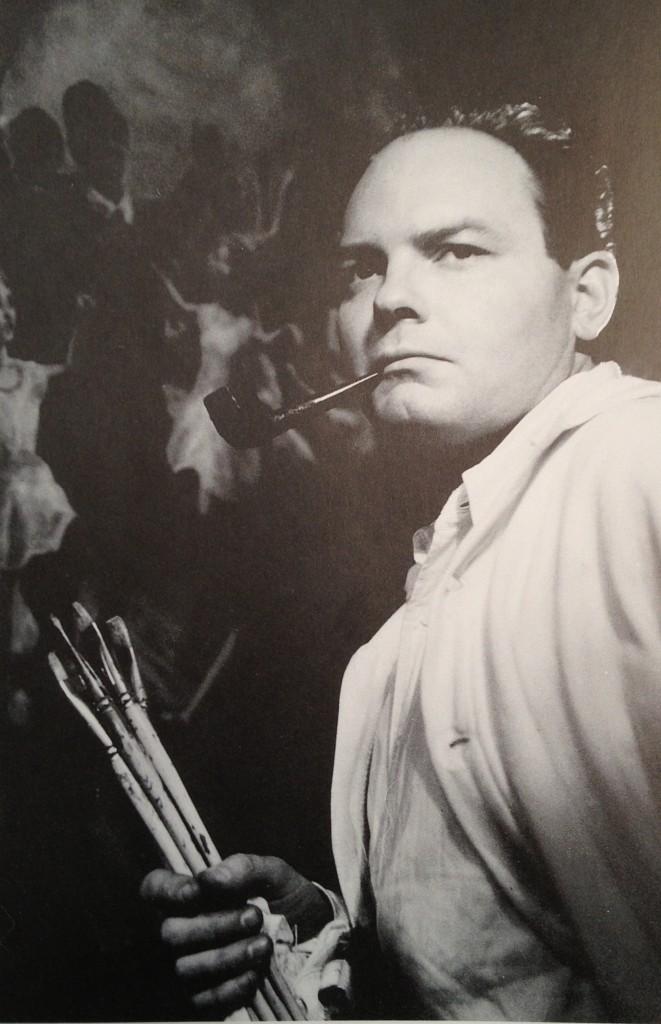 Curry in his studio c. 1929
.
FIGURE 9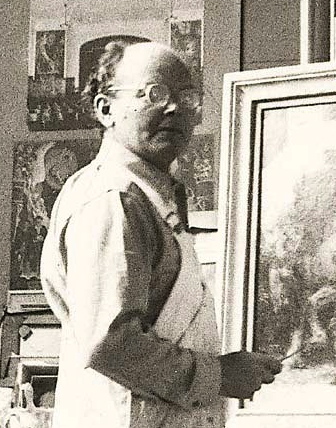 Curry at his easel, May, 1941
.
Well documented is the painstaking care with which Curry planned and adjusted his compositions, at every stage from conception to final execution. [12]  What Robert Gambone and Bill North (and I as well) are speculating about is the initial source or sources Curry relied upon when conceiving and working out the scheme for the picture that would become Our Good Earth. We are assuming this planning was guided by inspirations and templates and previous compositional solutions. We know there came a point, late in the process, when the planning culminated in the need to place something on the canvas — to begin to paint. In the case of Our Good Earth, a photograph (fig. 10) survives to show this final stage. Jack Delano, a photographer for the Farm Security Administration/Office of War Information photography projects, took the photograph in April, 1942 at Curry's studio in Madison, Wisconsin. A live model was present. The model's purpose was not to serve as a "source" or "inspiration" for the picture, of course, since by this point Curry had already worked out the fundamentals of the painting and presumably most if not all of the strategies by which its meaning would be conveyed. So the photo is not evidence to prove or disprove the arguments made by Gambone, Hill or myself. Still, in a homespun way, the snapshot is noteworthy. I note the absence of any suggestion of Adam … or David. [13]
.
FIGURE 10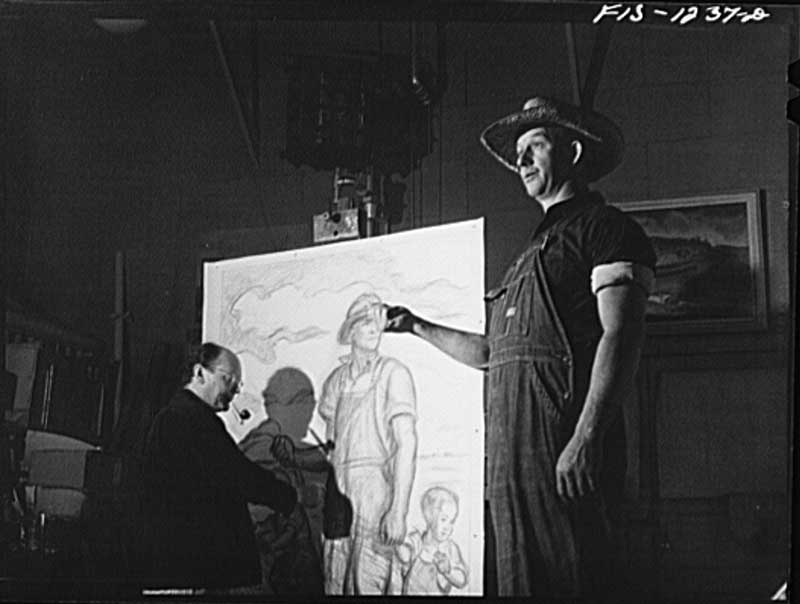 Mr. Malcom I. Ross, farm foreman at the Department of Agriculture at the University of Wisconsin, modeling for John Steuart Curry, April 1942, Madison, Wisconsin (photographed by Jack Delano for the Farm Security Administration/Office of War Information
.
IV.  The Search for the Source
To conclude that Our Good Earth does not in any meaningful sense owe a debt to Dürer or to Michelangelo is not to foreclose the possibility that its composition bears the marks of art history. In fact, I suspect that it does. Further research may well uncover convincing connections.
A path that may prove fruitful is to consider the origins of social realism in American art of the Depression era, in both its urban and rural manifestations. Some historians trace the movement, which was embraced by both urban and rural adherents, the latter including the group of Regionalists of which Curry was a prominent member, back to the development of realism in the art of the 19th century. This suggests a promising area to examine is the territory occupied by European realism. An important aspect of European realism is the work of the French artists Honoré Daumier, Gustav Courbet, and Jean-François Millet.
That Millet may have influenced Curry, and that this influence manifested itself in fully-resolved compositions on the part of the American, is an intriguing proposition. Consider, for example, one of Millet's canonical depictions of agricultural workers, The Sower (fig. 11). Painted in 1850, it is generally considered the artist's first masterpiece.
.
FIGURE 11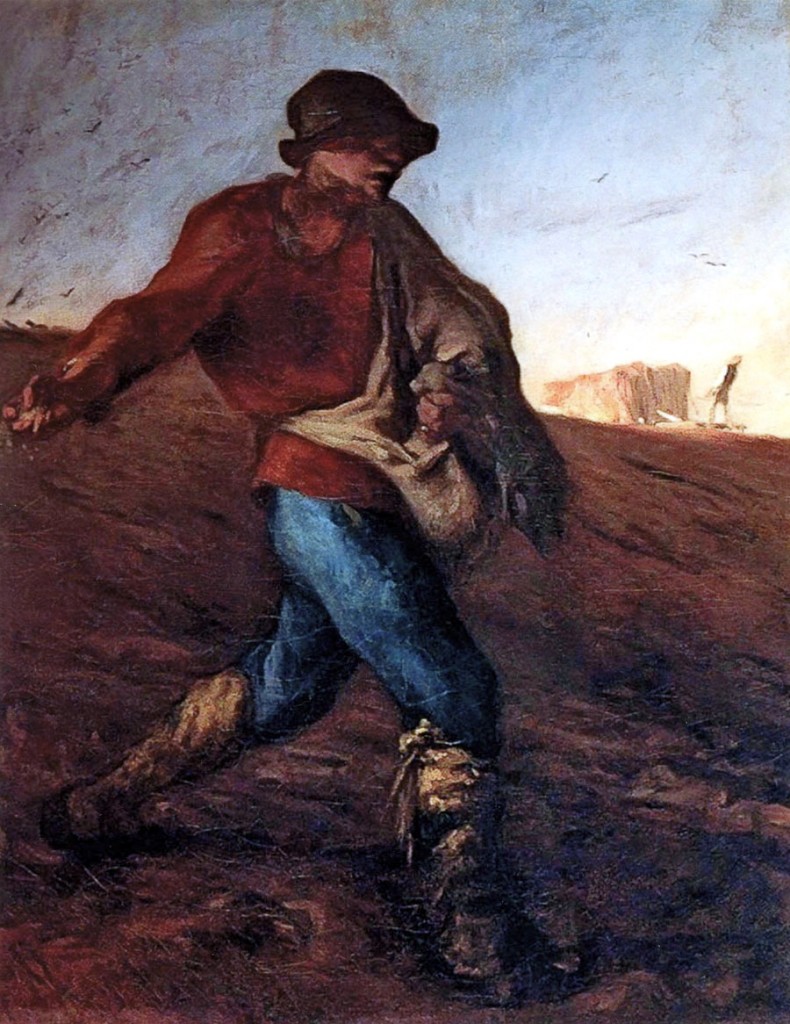 Jean-François Millet, The Sower (1850), oil on canvas, 40 x 32 1/2 in., Museum of Fine Arts, Boston, MA
.
As is the case with Our Good Earth, the image of The Sower exists in multiple iterations. Millet himself executed a few copies of the work in oil on canvas, after completing the apparent "original" (fig. 10), which made its way to America as early as 1851-1852. [14]  In addition, there are preliminary drawings (fig. 12), a lithograph (fig. 13), and a gouache (fig. 14). Engravings and photo-mechanical reproductions were widely available to the public. These were especially attractive to American tourists who visited France in the second half of the 19th century and brought back to the U.S. these tokens of high culture (fig. 15).
.
FIGURE 12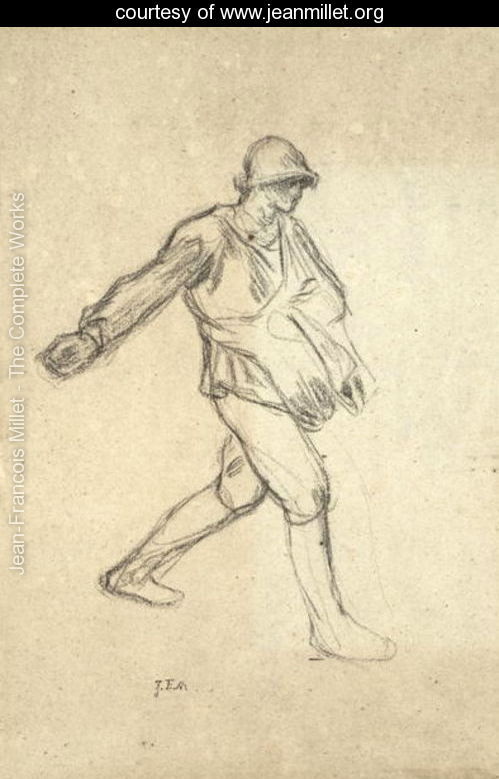 Millet, The Sower, preliminary drawing
.
FIGURE 13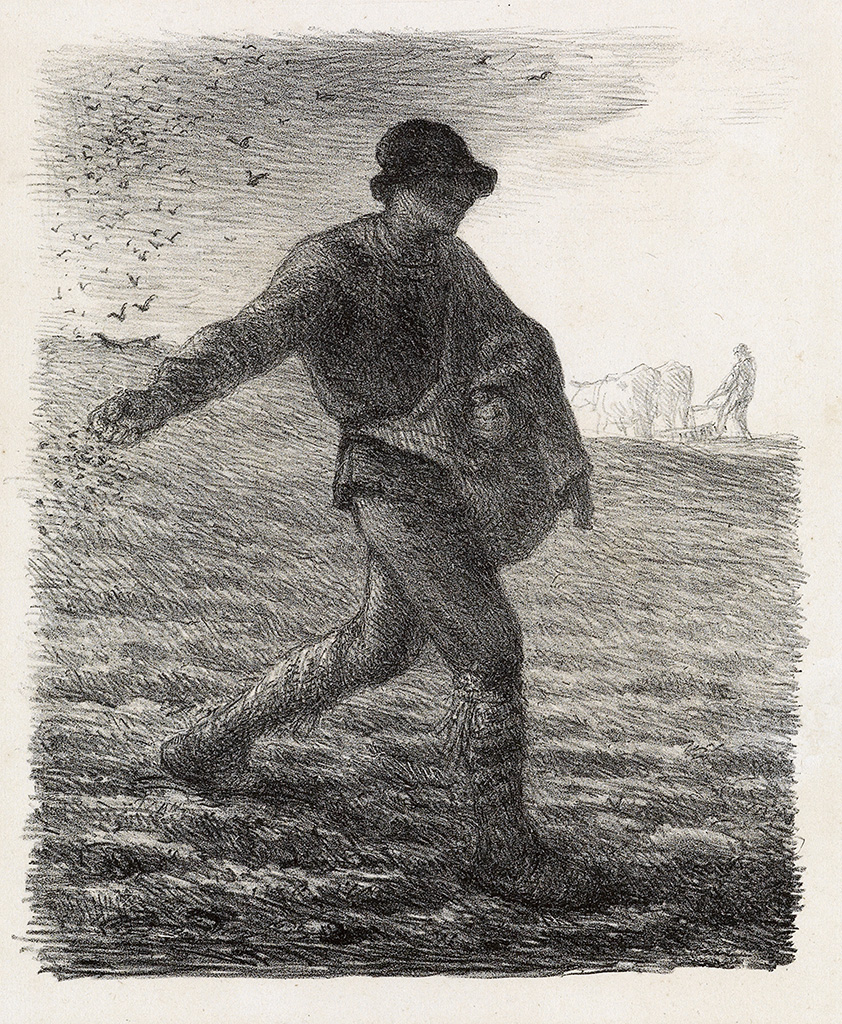 Millet, The Sower, lithograph
.
FIGURE 14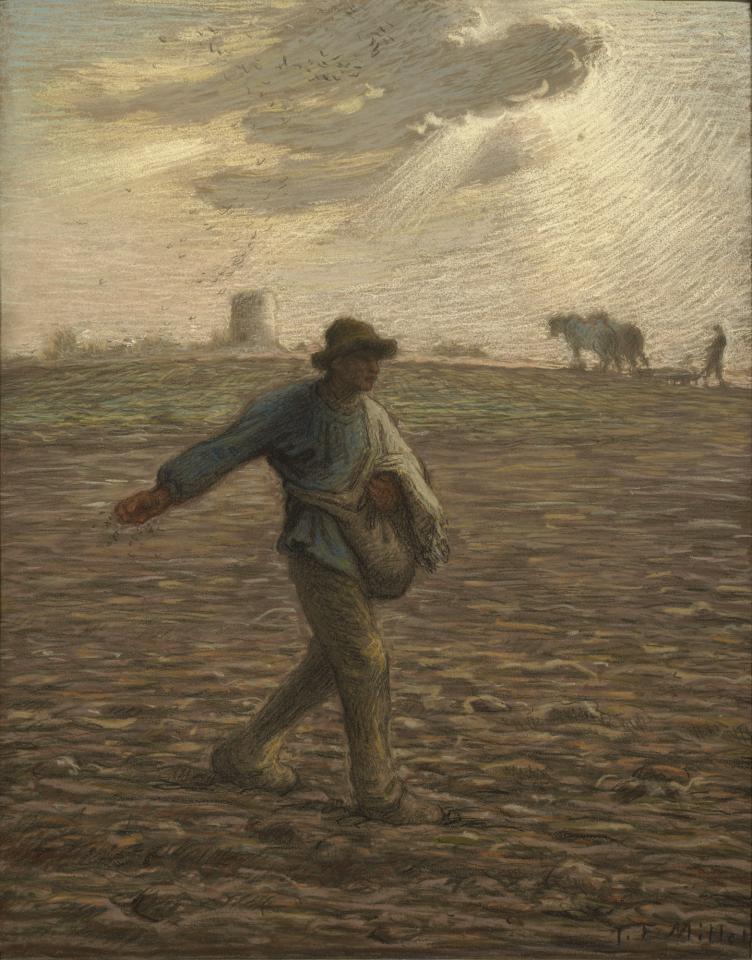 Millet, The Sower, 1865
.
FIGURE 15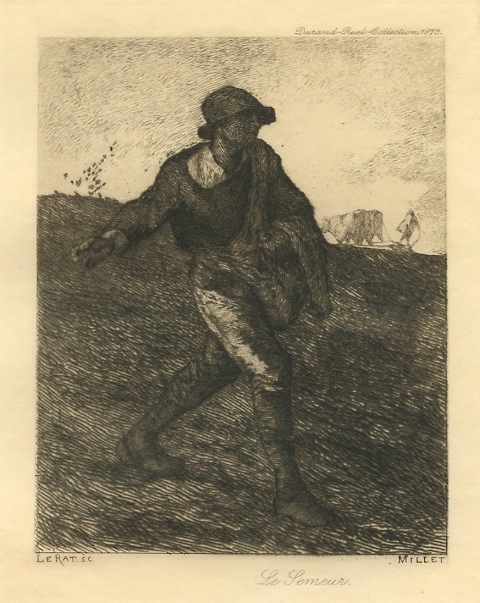 Millet, The Sower, engraving, 1873
.
The Sower achieved immediate renown, not only among many of Millet's fellow artists in France but also in the eyes of a public with a growing interest in art. It was not long before the picture became one of the most widely-disseminated images in popular culture. In the second half of the 19th century and during the initial decades of the 20th century its omnipresence was aided by advances in image reproduction technologies. The availability of inexpensive copies of The Sower provided newer generations of artists an easy way to appropriate the image or elements of it, for new purposes.
Vincent Van Gogh revered Millet. [15] Of the many works he based on The Sower (21 by one count), some are copies after the work, while others are inspired by it, as when Van Gogh chose the central figure of the farmer and placed him in a newly-imagined setting. When Van Gogh himself became a hero to new generations of artists, his practice of honoring though creative reuse the heritage of Millet was not lost on American artists.
Among Curry's generation of art makers in America (those who came of age in the 1920′s and 1930′s) the example of Millet was an essential part of their common education. It is not an exaggeration to say The Sower belonged to everyone's visual literacy during that period, which meant its resonance could be tapped for many needs. Image-makers who "alluded to," "borrowed from," or flat-out copied from The Sower were legion — from  the photographer Walker Evans (fig. 16, 17), to the political cartoonist Gregor Duncan (fig. 18), to Curry's fellow-Regionalist and fellow-propagandist on behalf of the nation's WWII effort, Thomas Hart Benton (fig. 19). [16]
.
Figure 16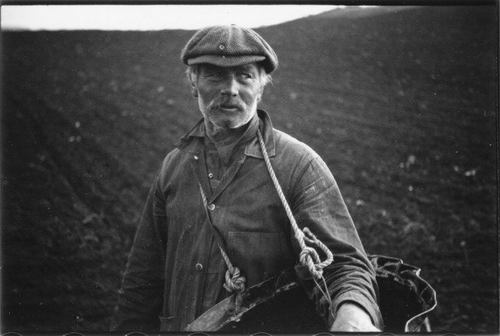 Walker Evans, Sower, Copake (1933)
.
Figure 17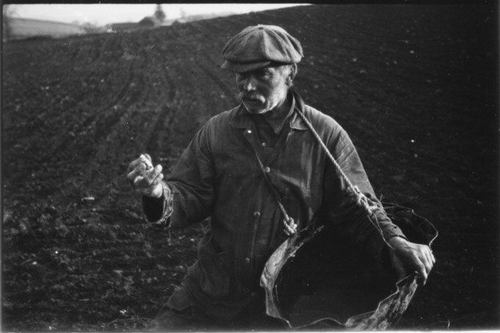 Walker Evans, Sower, Copake (1933)
.
Figure 18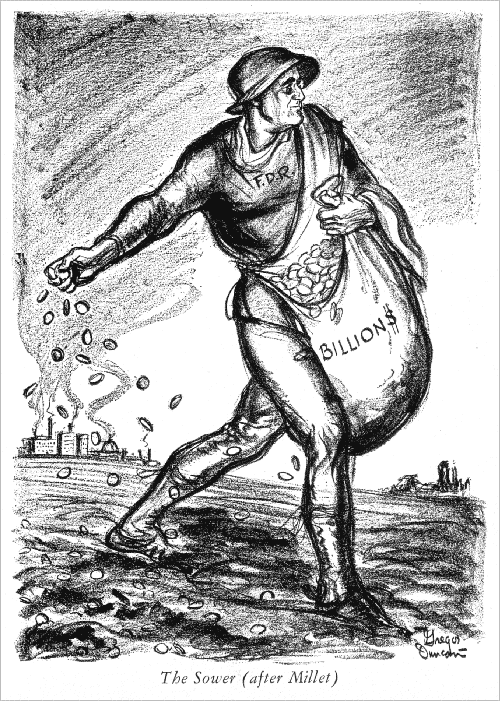 Gregor Duncan, Life Magazine, April 1934
.
Figure 19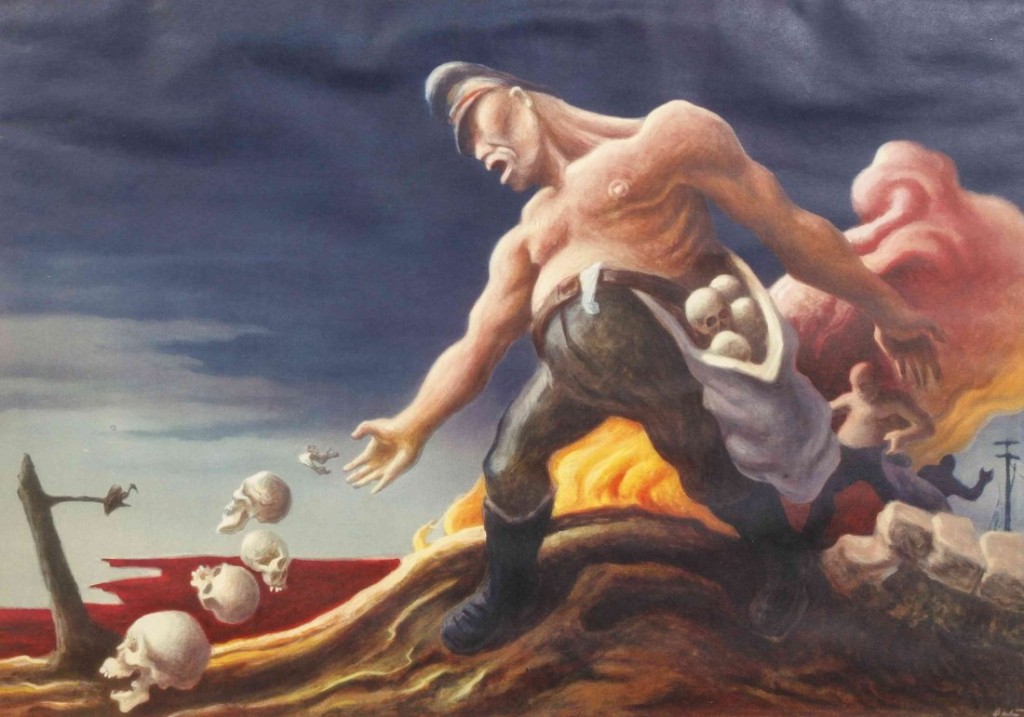 Thomas Hart Benton, The Sower (1942), tempera, for a poster commissioned by the U.S. Governement
.
V. The Curry-Millet Connection
That Curry had an attachment to and productive relationship with The Sower is well documented. His exposure to the picture may have begun at an early age, for we know that his visual imagination was stimulated by daily exposure to one or more reproductions of Millet's work that his parents had framed and hung in his childhood home in Kansas. In an interview in 1935 Curry spoke approvingly of the art prints his mother and father brought back from their European honeymoon, sometime in the 1890s. He explained:
"My mother was also a remarkable woman. She brought back from that trip good reproductions of the best art of Europe. Instead of grain and feed calendars in our house as the only art, we had Rubens, Bellini and Millet. That was unusual and had a great deal to do with forming my future." [17]
While I've found no evident that it was The Sower that each day greeted the young Curry as he grew up (other plausible candidates would be The Gleaners, Man With a Hoe, or The Angelus), it is beyond dispute that The Sower would have been part of Curry's education as an art student and his ongoing development as an artist. During his years on the east coast starting in 1920 (when he was just 23), and during his time in New England starting in 1924, he most likely traveled to Boston, where he would have seen The Sower at the Museum of Fine Arts, where the painting had resided since 1917. A bit later, when he visited Paris in 1926, Curry could have seen one of Millet's other painted versions of the picture. [18]
It is likely that when Curry was commissioned in 1937 to begin work on a set of murals for the Kansas State Capitol, he knew and appreciated the fact that he was following the in footsteps of George Melville Stone, a Kansas artist of the previous generation whose 1920 painting, The Pioneers, was hung in the statehouse and who was popularly known by the moniker, "The Millet of the Prairies." [19]  In fact, by the mid-1930′s, Curry had already incorporated the figure of the sower into two mural commissions. [20] The first, Labor of the Common People (oil on canvas, 10′ x 14′, 1931, destroyed) was produced for the Centennial Exhibition held in Washington, DC, in 1932 (fig. 20). Its busy composition includes in the lower right quadrant a figure patterned on the farmer in The Sower. Five years later Curry incorporated a nearly identical figure into the lower portion of the vertical composition of Ancient Industry, one of two murals Curry completed for Norwalk High School in 1936 under the sponsorship of the Public Works of Art Project (fig. 21).
.
FIGURE 20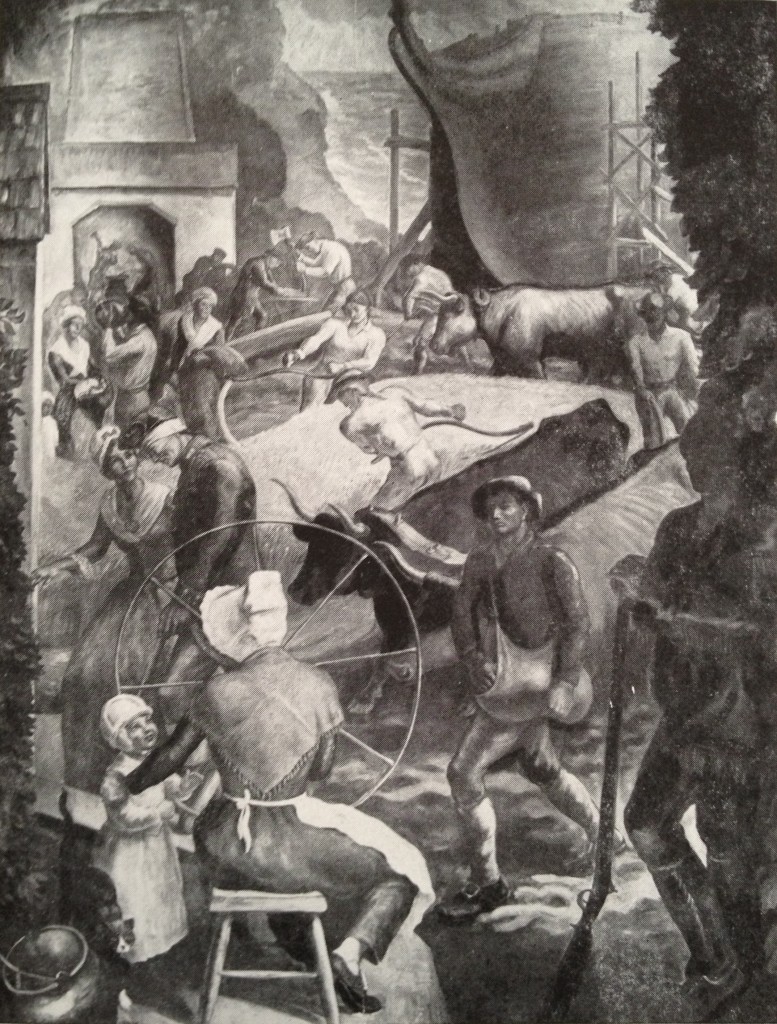 Curry, Labor of the Common People, 1931 (destroyed)
.
FIGURE 21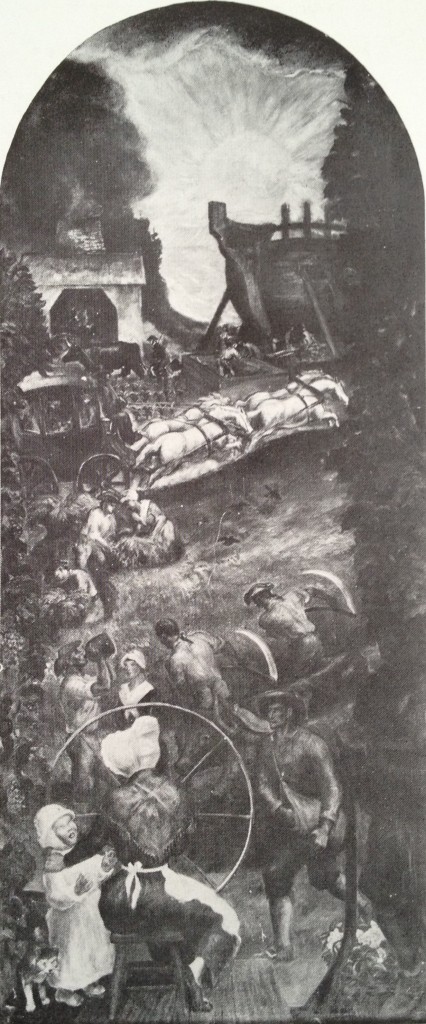 Curry, Ancient History, 1936, Norwalk High School (mural)
.
Was Curry aware of Van Gogh's frequent use of Millet's image of a farmer in a field? [21]. In one of those works, After Millet's The Sower (fig. 22) Van Gogh smooths Millet's hilly fields into a Kansas-like flatness, and then inserts a blazing sun that fortuitously mimics a Kansas-grown sunflower. [22] There's an intriguing parallelism with Our Good Earth insofar as what's placed on the horizon line by Van Gogh is similar to what we see in Curry's preliminary drawing for Our Good Earth in the Smithsonian Museum of American Art (fig. 23). However, while in both compositions the placement of tiny buildings on the horizon emphasizes the vastness of the fields, the meaning Van Gogh conveys by threading the horizon line through the head of the farmer (fig. 24) is modified by Curry, who suggests an alternative meaning by superimposing on the horizon the farmer's muscled forearm and his seed-bearing right hand (fig. 25).
.
Figure 22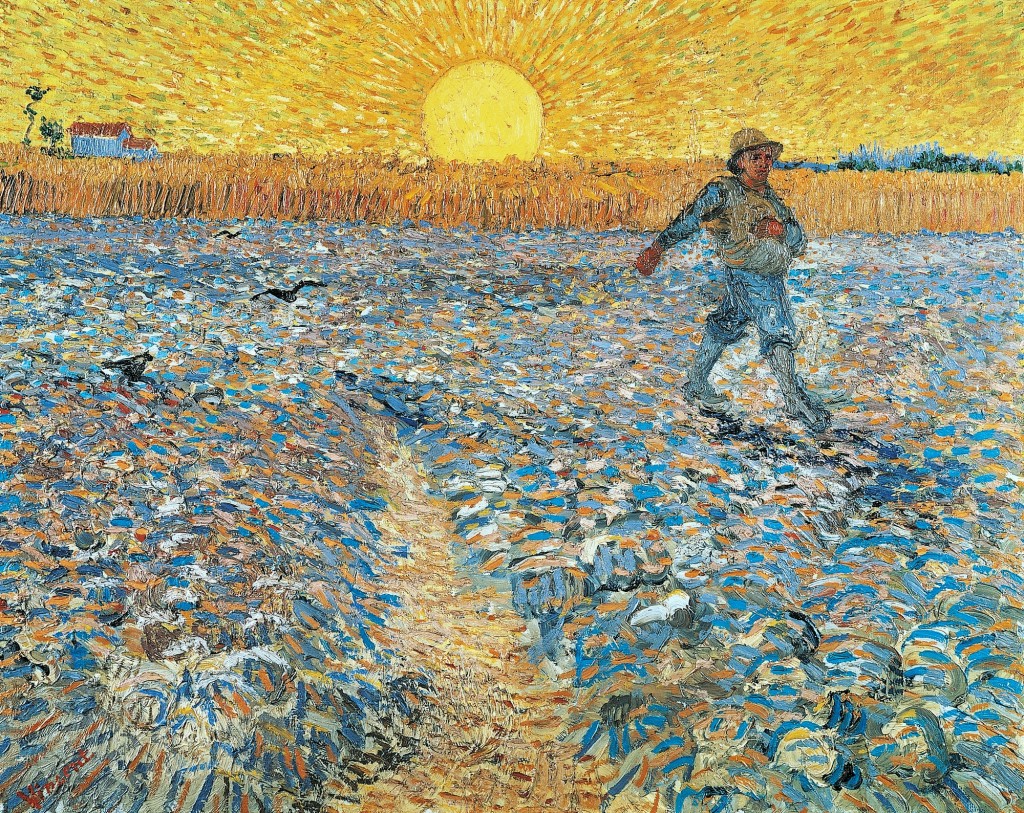 Vincent Van Gogh, The Sower, 1888
.
Figure 23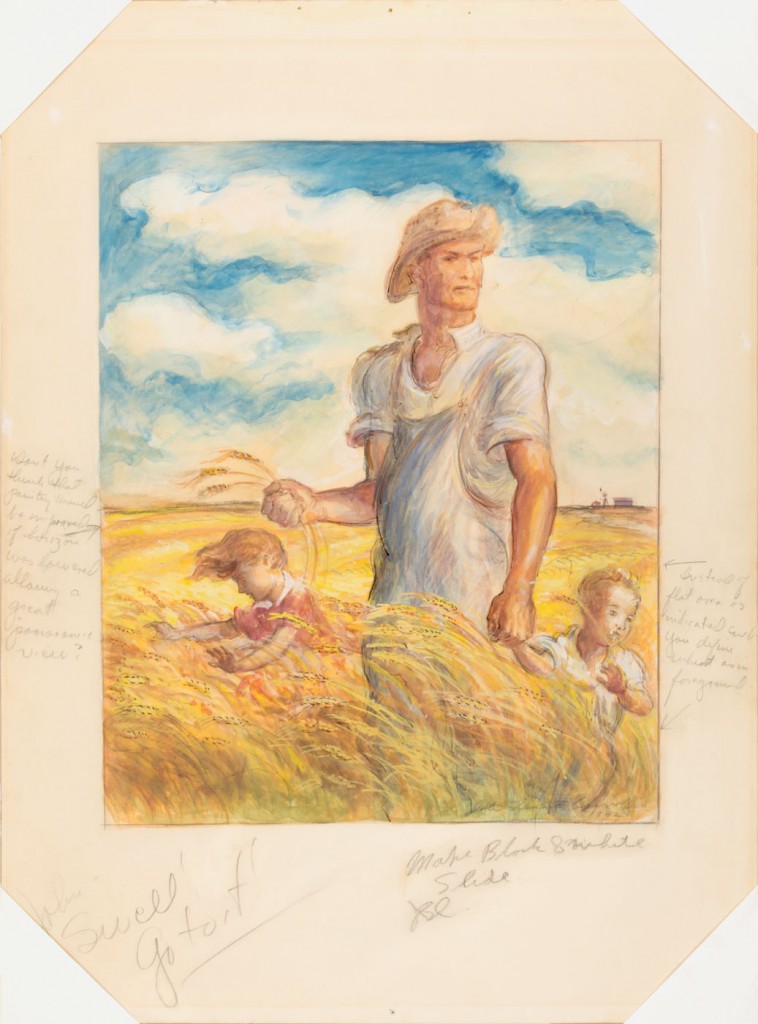 John Steuart Curry, preliminary drawing for Our Good Earth
.
Figure 24

Van Gogh, The Sower, 1888 (detail)
.
Figure 25

John Steuart Curry, preliminary drawing for Our Good Earth (detail)
.
VI.  Curry's Americanization of Millet
So I propose the following: Our Good Earth is Curry's re-interpretation of Millet for an American audience. Our Good Earth is not an imitation of Millet so much as it is an optimistic refashioning of Millet's sympathies and values.
Many French writers who were contemporaries of Millet recognized the epic power of The Sower. One of them was Théophile Gautier (1811-1872), who was not only a poet, dramatist and novelist, but who was also a leading art critic of the period. He described the painting in this manner:
"The night is about to fall and to spread abroad its gray veils over the brown land. The sower marches in rhythmic step, casting the grain into the furrow; gloomy rags are his covering; his head is coifed by a sort of bizarre bonnet; he is bony and meager underneath this livery of poverty, and yet life springs from his broad hand, and with a proud gesture he, who has nothing, is spreading over the earth the bread of the future. At the other side of the hill, a last ray of light [...]. This glimmer is the only clair of the picture bathed in a sorrowful shadow [...]" [23]
This language, Gautier's attempt to capture in words the meaning of the painting, its affect and effect, is sodden with romantic pessimism and paternalism. Needless to say, a clear-eyed American artist — especially one commissioned to rally his fellow Americans in a time of emergency — would have little if any use for such sentiments. Of course the fundamental message of Millet is retained by Curry and expressed with equal: here is man "spreading over the earth the bread of the future." But an American artist, thoughtfully planning how to depict his American farmer, might freely modify the incompatible choices that inspired Gautier's sentiments. I believe it was an unadorned image of Millet's farmer that remained in Curry's consciousness. And that farmer, when realized by Curry's pencil and brush, was enveloped in his vision of the Midwest.
Consider, for example, the time of day Millet depicts. It is dusk, and a far-gone dusk at that. A last ray of light struggles feebly to aid our perception. There is a chill in the air as seed is placed in its winter bed. This, if literally transcribed, obviously would not do as a statement of America's strength and destiny. So Curry set the scene in the heart of the day, a glorious summer day of high clouds aloft and robust wind below. The hill behind Millet's sower, daunting and confining, is leveled by Curry to create an unlimited horizon (the same adjustment that Van Gogh made).
Gautier was especially struck by the "black soil" from which Millet's sower naturally arises. Estelle M. Hurll, an American observer, noted in a commentary written in 1900 how in all of Millet's canonical works, "landscape and figure are interdependent, fitting together in a perfect unity." [24]  Two decades later the American writer Edna Ferber questioned this sort of sentimental vision, in her novel, So Big (1924). [25] Ferber described how farmers in her fictional midwestern community of High Prairie work in their fields until they "take on the very look of the rocks and earth among which they toiled." Curry's challenge was to split the difference between sentimentality and its opposite. While essentially accepting Millet's conception of harmony between man and environment, Curry chose to demonstrate this differently. He grounded his American figure, at the risk of cliché, in amber waves of grain. Man emerges from the land, yes, but with the crucial difference of mastery of nature, shown in his successful cultivation of a crop.
The French peasant's tattered "livery of poverty" is exchanged for the clothing of American midwesterners, crisp and clean. The "bizarre bonnet" worn by the sower is alluded to in the farmer's cockily-shaped straw hat. We interpret this detail not as a woeful sign but as a humanizing touch, a comical eccentricity. One imagines the farmer's unseen wife regularly threatening to toss that silly old hat to the pigs. Yet another adjustment comes about when Curry flanks the farmer with his son and daughter, dismissing the atmosphere of lone and lonely heroism in The Sower and replacing it with something different.
Curry presents a more realistic and balanced image, one less vulnerable to sentimentality. We see a man showing off his accomplishment in the company of his family (significantly, the next generation of his family) in a composition whose title — OUR Good Earth — reminds the viewer of the communitarian nature of American success.
Curry's picture finds Millet's peasant farmer re-planted in American ground — a soil that in our foundational American myth breeds a new type of free yeoman farmers.
Imagine, if you will, a museum exhibition in which The Sower and Our Good Earth face each other across a room. Two iconic farmers, displaced in time and space, enter into an exchange. The seeds sown by one farmer in a prior century on European soil have now fulfilled their promise in another farmer's bountiful harvest in America.  Do you hear a call of duty?
_______________________
NOTES
1. The exhibition, John Steuart Curry: Inventing the Middle West, was organized by Patricia Junker in association with the Elvehjem Museum of Art. Opening at the Elvehjem Museum (March 7-May 17, 1998), the show traveled to the Fine Arts Museums of San Francisco (June 13-August 30, 1998) and the Nelson-Atkins Museum of Art, Kansas City, Missouri (October 11, 1998-January 3, 1999). It was accompanied by a catalog: John Steuart Curry: Inventing the Middle West, Patricia Junker with contributions by Henry Adams, Charles C. Eldredge, Robert L. Gambone, M. Sue Kendall, Lucy J. Mathiak, and Theodore F. Wolff, Hudson Hills Press, New York (1998).
2. Junker, John Steuart Curry: Inventing the Middle West, "Annotated Chronology," p. 236.
3. The Spririt of the Thirties: Selections from the Collection of the University of Maryland Art Gallery, 1982, unsigned essay related to the lithographic version of Our Good Earth, p. 20.
4. Primary information about the oil painting can be found at the Chazen Museum's website, here. Examples of the poster in its larger format (approx. 60 x 40 in.) can be found at http://www.wikipaintings.org/en/john-steuart-curry/our-good-earth-keep-it-ours-1942; see also here and here (with folds) and here. An example of the smaller format (22 x 14 in.) appears here. A letter dated October 5, 1942 from Reeves Lewenthal, Direct of Associated American Artists to Curry refers to "the three sizes of your war poster."    The booklet issued in 1942 to persuade American farmers to buy War Bonds, which re-uses Our Good Earth as the cover image, is described at http://ephemerastudies.org/gallery/war-bonds-for-farmers-1942-john-steuart-curry/. The stone lithograph is Cat. 36 in The Lithographs of John Steuart Curry: A Catalogue Raisonne, compiled and edited by Sylvan Cole, Jr., Associated American Artists, New York (1976). In the Introduction to that Catalogue Raisonne, Laurence Scheckebier observes how "for the most part the prints were not stages or experiments in the evolution of a given problem but they are rather the perfected solution." This, I would argue, is true in the case of Our Good Earth. [See Note 6 below one the unresolved confusion over the date of the lithograph.]
5. See Note 1; Gambone's essay appears on pp. 133-149 of the catalog. A brief but enlightening essay on Dürer's engraving of Adam and Eve can be found at: http://www.metmuseum.org/toah/works-of-art/19.73.1, where the author suggests that Dürer may have based his Adam on the Hellenistic Apollo Belvedere.
6. Gambone, pp. 145-146. The date 1938 Gambone assigns to Curry's lithographic version of the image is problematic. The compiler of the 1976 Catalogue Raisonne of Curry's lithographs (and long-time Director of Associated American Artists) Sylvan Cole attached the year 1942 to the print. However, writing in 1981, Joseph S. Czestochowski provided additional information:
"A measure of uncertainty exists about the date of this lithograph. In a catalogue accompanying a September 5 – October 15, 1946 exhibition of Curry's work at the Milwaukee Art Center, Our Good Earth was dated 1940-1941 (No. 170, lent by Associated American Artists, New York). Also, the impression in the Library of Congress collection is dated 1938. As such, it is quite possible that the composition was developed by Curry over a series of years, until the design was satisfactory."
Joseph S. Czestochowski, John Steuart Curry and Grant Wood: A Portrait of Rural America, University of Missouri Press, Columbia & London, 1981, p. 124.
7. For insights into the Curry father/son relationship, see Charles C. Eldridge's essay, "Prairie Prodigal," in John Steuart Curry: Inventing the Middle West, pp. 89-109. Eldridge finds the parental pose Curry captured in 1929  ("the father stands with booted feet squarely planted … amid his flock") to be one the artist returned to again and again, as in his composition of Our Good Earth and in his depictions of John Brown. To that list of examples I would add the commanding figure central to the lithograph The Plainsman, 1945 (Cole 40), based on his mural in the Kansas State Capitol in Topeka; the print was published by Associated American Artists one year before the artist's death in 1946: http://www.imamuseum.org/collections/artwork/plainsman-curry-john-steuart.
8. A photograph of the Curry family in John Steuart Curry: Inventing the Middle West (p. 91) shows the artist as an adult standing several inches shorter than his father.
9. See http://www.artistbrushstrokes.com/artist_brush_basics.htm.
10. Bill North, The Regionalist Vision of William Dickerson: Selected Paintings from the DeVore Collection, The Beach Museum of Art, Kansas State University (1997), pp. 15-16
11. The erect arm, plying the tools of his trade, also conveys the working artist's solidarity with workers in other fields. It was an often-used trope in the 1930s. The Thomas Hart Benton's self-portrait that appeared on the cover of Time magazine (December 24, 1934) featured a similar at-work pose: http://blogs.kcai.edu/125/2010/06/03/thomas-hart-benton/ (the magazine's cover story can be read here. Curry's hand again clutched several brushes, paint-laden with primary colors red, yellow, and blue, in a 1937 Self-Portrait: http://www.wikipaintings.org/en/john-steuart-curry/self-portrait-1937. Contrary to Bill North's conjecture, there is nothing symbolic or otherwise referential in the number of brushes Curry clutches. Self-portraits and photos exist that show him holding one, two, three, and four brushes; and in one of his self-caricature drawings he wields a single "brush" the size of a house broom.
12. See, for example, the voluminous preliminary drawings and the step-by-step development of compositions traced by Laurence E. Schmeckebier in John Steuart Curry's Pageant of America, American Artists Group, New York, 1943. Among the Curry correspondence recently digitized by the Smithsonian's Archives of American Art is a letter from 1944 in which the artist joshes, "Will see what can be done about a brand new picture for the opening. I might whip out a masterpiece over night, but usually it doesn't work that way."
13. The Library of Congress webpage on which this photo appears (http://www.loc.gov/pictures/item/owi2001003526/PP/) includes caption card information, including the title: "Madison, Wisconsin. Artist in residence John Stuart Curry, working on his painting entitled "Long may it wave," which he has been commissioned to do by the Associated American Artist. His model is Mr. Malcom I. Ross, farm foreman at the Department of Agriculture at the University of Wisconsin." This information adds to the mysteries surrounding Our Good Earth. What does it mean that the painting was "commissioned" by "the Associated American Artist"? If this is a reference to the New York gallery that represented Curry and published his lithographs, Associated American Artists, was AAA serving as a go-between (an agent) providing the link between the federal government's wartime project and the artist? Was the indicated title, "Long May It Wave" an interim title for the painting, later replaced with "Our Good Earth"?  Did Curry paint more than one version of the work? To what extent was the photograph "staged"? Might it have been a re-enactment, in April 1942, of a working session that had occurred previously?
14. For a history of The Sower subsequent to its creation, see http://www.examiner.com/article/van-gogh-travels-to-museum-of-fine-arts-boston-with-friends. Soon after The Sower was shown at the Paris Salon of 1850-51, the painting was purchased from Millet by William Morris Hunt of Boston (around 1851–52), and was later sold to Quincy Adams Shaw, the greatest 19th-century collector of Millet. The painting was donated to Boston's Museum of Fine Arts in 1917, nine years after Shaw's death, along with many other works by the artist. Boston became the largest repository of Millets in the United States with a collection totaling 190 works (39 paintings, 31 pastels, 56 drawings, nine watercolors, and numerous prints executed in a variety of techniques). I have not been able to learn whether Curry visited the museum to view The Sower in person. If so, it would have supplemented his certain familiarity with the image.
15. On Van Gogh's appreciation for Millet, see http://www.examiner.com/article/van-gogh-travels-to-museum-of-fine-arts-boston-with-friends.
16. Benton's execrable picture belongs to his "The Year of Peril" series,  .
17. [Royal Cortissoz,] "Kansas Heals Breach with a Native Son," New York Herald Tribune, February 5, 1935, quoted in Junker, John Steuart Curry: Inventing the Middle West, p. 212. Curry's boyhood is now a museum in Old Jefferson Town, Kansas: http://kansastravel.org/oldjeffersontown.htm;  material assemble to support the home's inclusion on the Register of Historic Kansas Places can be found at: http://www.kshs.org/resource/national_register/nominationsNRDB/Jefferson_TheJohnStewartCurryBoyhoodHomeSR.pdf.
18. If Curry in fact was able to carefully study the painting in person, that would explain the many coordinating colors found in The Sower and Curry's 1929 portrait of his father, The Stockman — starting with the golden glow on the horizon and ending with the matching palette Curry used when defining their matching raiments: the russet shirt/jacket, the blue britches, the calf-high leggings/boots.
19. http://www.kshs.org/kansapedia/george-m-stone/15549; see also http://www.kansasmemory.org/item/222018.
20. Both murals are illustrated and discussed in Laurence E. Schmeckebier, John Steuart Curry's Pageant of America, American Artists Group, New York, 1943, at pp. 272, 275-281. The two Norwalk High School murals have been restored; background and a color photo can be found at https://livingnewdeal.berkeley.edu/projects/norwalk-city-hall-ancient-industry-mural-norwalk-ct/.
21. Some examples are gathered here: http://underthegables.blogspot.com/2010/11/fine-arts-friday-sower.html.
22. Curry's Russian Giant, 1929, oil on canvas, 26 x 20″, depicts an orderly farm garden dominated by a massive sunflower plant, topped with a face-forward flower disc of yellow and orange.
23. Quoted in The Craftsman, October 1905, p. 80: http://digicoll.library.wisc.edu/cgi-bin/DLDecArts/DLDecArts-idx?type=div&did=DLDecArts.hdv09n01.i0016&isize=M.
24. Estelle M. Hurll, Jean François Millet: A Collection of Fifteen Pictures and a Portrait of the Painter With Introduction and Interpretation (1900), p. 3. (Projet Gutenberg eBook at http://www.gutenberg.org/files/13119/13119-h/13119-h.htm)
25. See http://www.thedailybeast.com/articles/2014/03/29/american-dreams-1924-so-big-by-edna-ferber.html.
.