.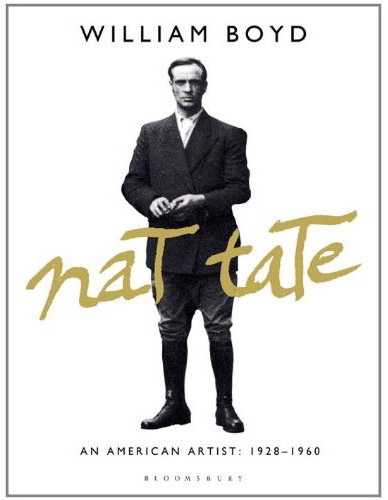 .
The mail brought me a catalog for an exhibition of paintings by Jack Roth (1927-2004) opening this month at Spanierman Modern, in New York. Roth "worked his way through the major developments in postwar American art, from Abstract Expressionism, through Pop, and ultimately through Color Field abstraction," yet today his work is largely forgotten. The catalog contains a well written essay — essentially a concise critical biography — by Thomas McCormick. It can be read (for free) here. As portrayed by McCormick, the artist had a strong personality, led a colorful life, and left a significant body of work (stored in a rural onion barn!). On the basis of the catalog's reproductions, I'd say the large and colorful paintings of his final years are impressive, and they deserve to be rediscovered.
By chance, my learning about Jack Roth coincided with my reading a new hardback edition of British novelist's William Boyd's invented artist biography, "Nat Tate: An American Artist 1928-1960," featuring a similarly forgotten (as he never existed) postwar artist.  Initially published in 1998 as a lark by the author in cahoots with friends David Bowie, John Richardson and Gore Vidal, this was a spoof intended to entrap and embarrass art world cognoscenti. And in fact the short-lived scam caused a minor commotion, as recounted here. But now, in 2011, what does this book offer us?
Not so much.
In book form, the text of the monograph, which originally appeared as an article in an art magazine, manages to occupy a mere 38 pages. More than half of those pages display only a few lines each. On those meager pages the remaining space is filled with fuzzy photographs or art reproductions. The total word count is less than 8,000, and the average reader can get through it in about half an hour. Is this the book's saving grace?
Yes.
Boyd relays the life story of Nat Tate with no joy and little finesse. It struck me as a shallow exercise, a paint-by-numbers effort. Of course Tate had a pinched childhood, his father disappearing before his birth (Roth's father died when he was four). Of course Tate's nascent talent is discovered by a discerning few (as was Roth's). Of course he brushes up against an idiosyncratic mentor (Hans Hofmann, at his summer school in Provincetown; in Roth's case is was Clyfford Still). Of course he hobnobs with the art pack at the Cedar Tavern; drinks too much; suffers and dies young, a suicide. What disappointed me is that in telling this tale Boyd displays little interest in granting the reader any relief from the dull proceedings. He dots his portrait with few details, and there's not much fun in the game of Where was this item cribbed from? (E.g., Tate's omnipresent bottle of Jack Daniels, borrowed from de Kooning and Rauschenberg). The fictional suicide of Tate failed to move me, while McCormick's simple description of Roth's end did:
"In the early 1990's, Jack Roth began to suffer early onset Alzheimer's disease and in 1992, he retired from teaching. He had great plans to keep working and wanted to study cellular biology. The disease slowly progressed, and one day he announced to his wife that he just could not paint anymore. She recalls that. true to form, he never complained. Roth became completely debilitated toward the end of his life and died in a care facility in March of 2004, just shy of his 78th birthday."
Disappointingly, Boyd does not illuminate any really new aspect of the New York art scene of the 1950's; he offers no psychological insights beyond clichés, no fine descriptions of places and incidents.With the exception of a quick cutaway moment when he inserts a funny parody of a Frank O'Hara poem (it spotlights the abstract expressionist circle, and its opening line asks, "What if we hadn't had such great names?"), Boyd's prose is uninspired, serviceable at best. Something of equivalent quality could have been concocted by any of several thousand other writers, after a minimal amount of research. All of which is to say this is a plausible biography but it's not very good. (By the way, how many would agree with Boyd's assessment that "the three great pillars of twentieth-century painting" are Picasso, Matisse and . . . Braque? And how many would consider Boyd's talent at describing Tate's paintings to be on par with the creativity of Michael Cunningham in summoning up the works of fictional artists in "By Nightfall"?)
Some might argue Boyd was compelled to write flatly in order to disguise his tongue-in-cheek designs. I'm not convinced: after all, by the time Boyd was conceiving Nat Tate, biographers had long since given themselves permission to use novelistic techniques to energize non-fiction. Biography is not inherently dull.
What the purchaser of "Nat Tate" is left with is a souvenir of a practical joke, a remnant of a hoax that once caught some people unawares. What is the appeal of such a thing? Is anyone today interested in reading Konrad Kujau's fake diaries of Adolph Hitler? Does this false artifact have any continuing hold over contemporary imagination and thinking? Isn't it telling that virtually all reviews of the book discuss it as an art world event, and say little if anything about it as a reading experience?
Buy this book if you want an object to talk about, a conversation piece.
– – – – –
An abbreviated version of this review appears on Amazon, here.
.
Tags: abstract expressionism, American Art, David Bowie, de Kooning, Gore Vidal, Hitler diaries, Jack Roth, John Richardson, Konrad Kujau, Nat Tate, Robert Rauschenberg, Spanierman Modern, Thomas McComick, William Boyd