.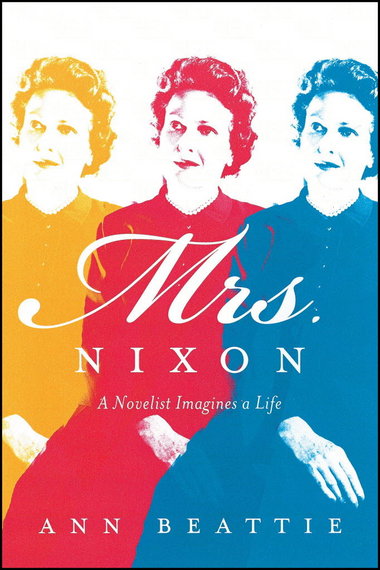 .
Ann Beattie set for herself a daunting challenge when crafting Mrs. Nixon: A Novelist Imagines a Life.
Three players occupy the book's 300 pages — Ann Beattie, Richard Nixon, and Pat Nixon. Each of these persons is known for practicing a strain of obscurantism, deliberately preventing the facts or full details of something from becoming known. For Beattie this has been an aesthetic choice (Jay McInerney once described this choice as a "refusal to overdetermine her characters, her reluctance to explain their behavior"). For President Nixon the practice was a political strategy that ultimately led him to the brink of impeachment. For his wife Pat Nixon this behavior was an emotional defense, the means she chose to preserve personal dignity in the face of prying inquisitors.
Ann Beattie and Pat Nixon: for this Novelist to imagine that Life, and then to deliver a relatively satisfying reading experience, is something of an achievement. Beattie jettisons the staid narrative conventions she long since mastered in favor of boldly litting out for new territory. She wills Mrs. Nixon likewise to escape her comfort zone. What emerges is an imaginative literary concoction that initial critics have labelled, accurately, as unclassifiable, genre-bending, playful and polymorphous, and unlike anything Beattie's written before.
What's to like? If you're a die-hard Beattie fan, my advice is dive right in. Part of your enjoyment will be finding just how suitably matched are the author and her subject (consider, for example, how many of Beattie's stories contain the incomprehensible mystery of an oddly paired woman and man). Mrs. Nixon is made up of a well-paced series of chapters, over 40 in all, each representing another attempt by Beattie to conjure up something, anything, of the elusive, real Pat Nixon. There are autobiographical glimpses as well: of Beattie's relationship with her mother, and husband; scenes set in the couple's house in Maine.
What may be of interest to readers beyond the circle of Beattie acolytes are the chapters that interrupt the experimental fictions and turn instead to a general examination of the art of writing. In these pages Beattie engages in literary analyses of her favorite authors (Chekhov and Carver especially) and her favorite short short stories. Reading these terrific asides is like auditing one of Professor Beattie's creative writing seminars at UVA. In a similar vein she offers haunting ruminations on the limitations of language and the limits, finally, of knowing anyone. All is not dour, however. The book is animated by Vaudeville-like antics, once its dark opening pages give way to story after story that reminded me of an experimental variety show. It's a stylistically diverse exhibition whose theme is, Who was Pat Nixon?
Beattie tells us her guiding spirit for these proceedings is Donald Barthelme, a writer whose stories she admires for their mix fact and fiction, high and low, art criticism and gossip and comic strips. A few chapters adopt Barthelme's brand of flash fiction, inserting Pat Nixon into exceptionally compact stories that focus only on incident rather than rolling out an arced narrative. You are in for a heady blend of serious dirge swirled with playful yelps (as in the chapter about Elvis's visit to the White House). One delight: you'll find Beattie's mimicry of President Nixon's speechifying (even in his private moments with Pat) to be as clever as that of Philip Roth in his Nixon-era satire, Our Gang. Her humor is more subtle, though, as apparent when she sums up Mr. Nixon: "This is not a little boy to whom you would have wanted to give an ant farm."
I wondered if Beattie wasn't also riffing on the Pirandello quandary of characters in search of an author. In a recent interview Beattie confessed: "I came to understand as I was writing that I too was a character in the book."
What's not to like? Well, Mrs. Nixon is not a book for history buffs nor is it a good choice for readers seeking a conventional biography. Beattie does not hold herself out as an historian, not even one of amateur status. She made little or no effort to uncover new facts or details about Pat Nixon and instead relied on existing published sources. In the Notes section she lists the material she read; the one book that looms largest is daughter Julie Nixon Eisenhower's loving biography, Pat Nixon: The Untold Story (1986). I recommend that as your better bet, especially if you want a biography as a gift to please a traditional reader. Certainly be wary of "Mrs. Nixon" if you were resistant to Dutch: A Memoir of Ronald Reagan (1999), Edmund Morris' unconventional and largely fictionalized biography of President Reagan. Mrs. Nixon is a book for the adventurous, literary minded reader.
A couple omissions should be mentioned. In an early chapter entitled "Major and Minor Events of Mrs. Nixon's Life," Beattie includes dozens of items but forgets to list the weddings of her two daughters. An odd oversight, I'd say.  Also, while the author says she was interested to find other writers who treated Pat Nixon imaginatively (for example, she includes a poem by David Kirby entitled, "Skinny-Dipping with Pat Nixon") , she does not mention the John Adams opera, "Nixon in China," whose libretto by Alice Goodman features Pat Nixon as perhaps its most fully formed character.
After the hit-or-miss quality of the middle sections of the book, I was struck by the simple power of its concluding two chapters. These serve as twinned goodbyes. In the first farewell Beattie presents some final personal thoughts on writing ("All writing is about altering time." "You erase yourself every time you write."). In the final goodbye Mrs. Nixon, "quietly loyal and enigmatic" to the end, is set free.
.
A shorter version of this review is posted on Amazon, here.
Tags: A Novelist Imagines a Life, Alice Goodman, Ann Beattie, Chekhov, David Kirby, Donald Barthelme, John Adams, Julie Nixon Eisenhower, Mrs. Nixon, Nixon, Nixon in China, Pat Nixon, Philip Roth, Raymond Carver, Richard Nixon, Skinny-Dipping with Pat Nixon